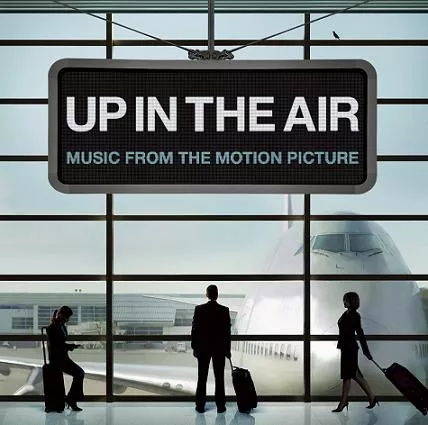 Rhino Records just sent over a press release with the tracklisting and cover art for the soundtrack of the St. Louis-shot Up In the Air . Due December 1, the collection contains cuts from Sharon Jones and the Dap-Kings, Elliott Smith and CSNY, among others. And as we reported recently, local Kevin Renick is also included with his song "Up in the Air," which the email describes like this:
UP IN THE AIR includes two previously unreleased tracks with unique personal connections to Reitman. The first is "Help Yourself" by Chicago-based singer-songwriter Sad Brad Smith. Reitman discovered Smith through his brother-in-law, who became a fan after seeing a performance by Smith at a Chicago coffee shop. The second track, "Up In The Air" by Kevin Renick, was personally handed to Reitman on a cassette during a speaking engagement in St. Louis. A recently laid off Renick had heard Reitman was working on a film adaptation to the popular book and had written this song with the story in mind. The track, complete with Renick's spoken word introduction included on the original cassette, now plays over the end credits.
Full tracklisting after the jump.
"This Land Is Your Land" - Sharon Jones & The Dap-Kings "Security Ballet" - Rolfe Kent "Goin' Home" - Dan Auerbach "Taken At All" - CSNY "Angel In The Snow" - Elliott Smith "Help Yourself" - Sad Brad Smith "Genova" -Charles Atlas "Lost In Detroit" - Rolfe Kent "Thank You Lord" - Roy Buchanan "Be Yourself" - Graham Nash "The Snow Before Us" - Charles Atlas "Up In The Air" - Kevin Renick