As
Jon Bream
emphasizes repeatedly throughout
Neil Diamond is Forever: The Illustrated Story of the Man and His Music
, Neil Diamond is not hip. That's probably why my parents liked him. Actually that's probably why most people's parents liked him, except for people whose parents ran off to Woodstock and lived on communes and never got over talking about how hip they were.
My
parents were so unhip, they referred to joints as "marijuana cigarettes" and left the one party they ever attended where said smokes were lit up.
When my parents got their first car with a tape deck (ca. 1984) and started building a tape collection for our family road trips, they relied heavily on their sense of nostalgia. Consequently, we listened to a lot of Neil Diamond. (Barbra Streisand, too, and Simon and Garfunkel, though no Beatles, owing to my father's longstanding bitterness from being a teenage boy in 1964 who sported a crewcut. After the Beatles arrived, girls no longer found this attractive. He covered his disdain by dismissing all Beatles compositions, even "I Want to Hold Your Hand", as "drug music.") While flipping through Bream's book, I found myself singing "Song, Sung Blue" and "Cherry, Cherry" and "Solitary Man" almost reflexively. How many times must you listen to a song -- even at an impressionable age -- to be able to remember it twenty-five years later with no effort whatsoever?
Neil Diamond is Forever
is not the sort of book that will damage innocent childhood memories or even make one think,
Hmmmm, a lot more was going on there than I realized
(as happens when one looks back on summer camp singalongs of "Yellow Submarine"). Yes, the phrase "Jewish Elvis" is bandied about, but I am pretty sure that when Neil Diamond dies, he will not be discovered hunched over on a toilet with a stomach full of pills. Neil Diamond is not that kind of guy. Or, at least,
Neil Diamond is Forever
is not the kind of book that report it if he were.
Neil Diamond is Forever
is a work of hagiography, pure and simple. As Bream, the longtime music critic for the
Minneapolis Star Tribune
, writes in the introduction:
There is a Yiddish word often used to describe Neil. It's mensch. His grandmother would have translated it as "nice Jewish boy who does everything his parents expect of him." But the dictionary defines it as a "decent, upright, mature and responsible person." That's the way he's impressed me in our series of coversations over the past thirty-four years."

He even tells Bream he should have followed through with his childhood dream of becoming a doctor!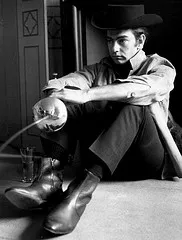 flickr.com/photos/neildiamond
No, he never played El Gallo in The Fantasticks. As a lad in Brooklyn, Neil was a competitive fencer. For real.
Throughout the book, you read a great deal about Neil's unfailing politeness, humility, dry wit, serious work ethic, appreciation of his audience (he once refunded tickets after a lousy concert) and commitment to psychological therapy (writing the soundtrack to
Jonathan Livingston Seagull
was apparently the breaking point that landed him on the couch, but who wouldn't seek professional help after being told to put themselves in the mindframe of a seagull?).
The subjects of drugs and groupies, important -- nay, vital -- plot points in any rock narrative from the sixties and seventies are never even broached. Did Neil inhale anything stronger than two packs of cigarettes a day? Who knows? Far more important: Yes, it is true, a photograph of Caroline Kennedy, age 11, was the inspiration for "Sweet Caroline".
Fortunately, there are pictures. Ticket stubs, from the days when you could go to a stadium concert for less than twenty bucks. Concert t-shirts (the baseball jerseys and silkscreened portraits from the eighties are actually kind of awesome). Album covers in a plethora of different languages.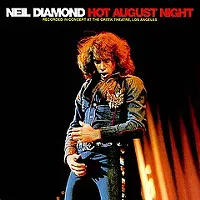 flickr.com/photos/neildiamond
And the portraits! Naturally, there are plenty of shots of Neil in his 1970's jumpsuited glory, though, strangely, not as many as one would hope. Bream did, however, include a watercolor based on the cover of the
Hot August Night
album, memorably described by Metallica's Lars Ulrich as "that live album where he had that denim suit on and he's holding the mic stand like a twelve-foot [expletive] between his legs".
Early on it appears that Neil was pimped out as a dark, brooding New York singer-songwriter and he looks -- dare I say it? -- hot. (Shirtless photo aside.) I must confess, though, that my favorite photo in the book is the one of Neil rehearsing for his 1979 concert tour. He's clad in a sweat jacket, short shorts and white gym shoes with white gym socks and accessorized with aviator sunglasses, a big gold pendant nestled in his chest hair and enormous headphones. He appears to be singing his heart out and there's something so endearingly dorky about it, something that encapsulates the essence of Neil Diamond.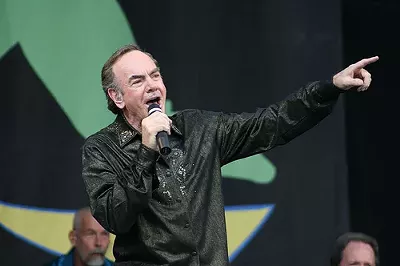 flickr.com/photos/whiper
At the Glastonbury Music Festival in 2008.
Neil Diamond is Forever
is what Serious Journalists would dismiss as a puff piece. It really is. And yet, upon finishing it, I somehow feel compelled to overcome the cringing distaste I have always felt for Neil Diamond (it didn't help that my younger sister was a fan) and think that maybe --
maybe!
-- I should give the old guy another shot and check out
12 Songs
and
Home Before Dark
, his two recent collaborations with Rick Rubin. Somehow Neil still manages to sound cool and funny, in a humble, self-deprecating way, despite all the honey Bream slathers on him. It's the rare rock star who can survive such a hagiography.