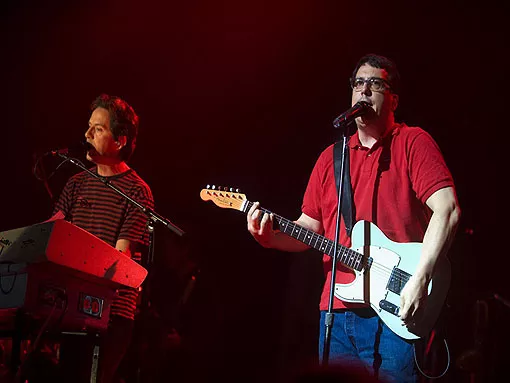 Jon Gitchoff
The two Johns: Linnell (left) and Flansburgh. Slideshow here.
They Might Be Giants has been playing all of its beloved 1990 album Flood in select cities on its current tour. St. Louis - long one of the most popular markets for the band - had the honor of hearing one of these performances last night at the Pageant.
This special enticement likely contributed to the show selling out. Although TMBG swings through town annually, the full house tickled the bespectacled John Flansburgh, who proudly mentioned it several times from the stage. The feel-good times continued for the next two hours, as TMBG mixed hit after hit with new tunes from this year's educational kids album, Here Comes Science.
After the rocking new song "Meet the Elements" and chestnut "James K. Polk" -- introduced as coming from a pre-Flood EP, but later popular due to its appearance on 1996's Factory Showroom - the sing-alongs started: cue "Theme from Flood" and the ageless pogo-pop hit "Birdhouse In Your Soul." Although keyboardist/accordionist/vocalist John Linnell promised Flood in order, that didn't quite happen -- the twanging boot-stomp "Cowtown" and a raucous version of "Why Does the Sun Shine?" (I believe the version rerecorded for Science) cropped up, and the sequencing of Flood's songs was haphazard.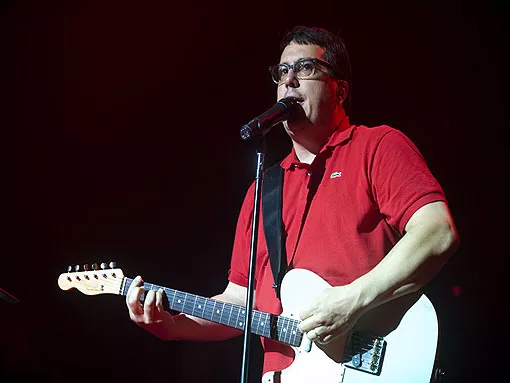 But TMBG's songs haven't aged - really, the only antiquated part of Flood is the opening salvo, "It's a brand new record for 1990" -- and their humanity remains relevant. Like the Muppets, TMBG functions on two levels: the whimsical and the adult. That explains the enduring appeal of Flood beyond simple nostalgia. "Twisting" addresses a particularly bitter breakup, while the ennui referenced in "Dead" - "I'm still alive, and there's nothing I want to do" - is somehow more poignant when delivered in Linnell's resigned, sighing monotone.
As for how the songs sounded, well, to put it this way: If you didn't like them on Flood, hearing them live probably wouldn't change your mind. And a few - including a rickety "Twisting" and "Hearing Aid" - sounded a bit rusty. But their diversity remained just as impressive; genres covered include ska/dub ("Hearing Aid"), Klezmer-indie ("Istanbul (Not Constantinople)"), Farfisa surf-rock ("Twisting"), sea-shanty ("Women and Men"), accordion-laden waltz ("Letterbox"), Spaghetti-western ("Road Movie to Berlin") and electro-calypso ("Your Racist Friend").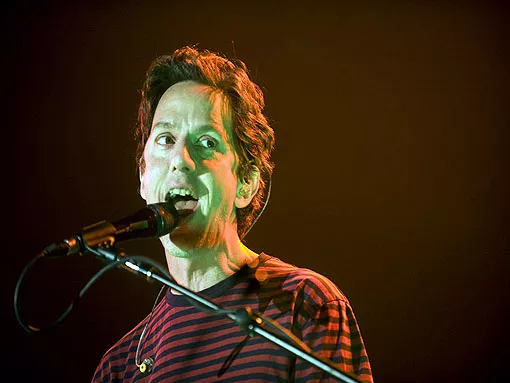 The consistency of TMBG's catalog stood out as well. The band's newer songs ("The Mesopotamians," "Damn Good Times" and everything from Science) fit in seamlessly - in fact, they may have been more rock/punk/intense than older stuff -- and Linnell's voice hasn't changed at all. It's a nasally, deceptively unemotional instrument that comes to life when paired with TMBG's kaleidoscopic music, and a perfect foil to Flansburgh's deeper, more authoritative voice.
The latter also demonstrated some serious guitar skills - he strolled around the stage like a wandering minstrel as he played. But the band surrounding the Johns keeps TMBG fresh and relevant. Wiry drummer Marty Beller showed off some awe-inspiring speed and precision throughout (and played electric drums with as much aplomb as he did the traditional kit), while long-time bassist Danny Weinkauf and guitarist Dan Miller handled the diverse genres with ease. The addition of veteran performer Ralph Carney - the uncle of Black Keys Patrick Carney and a legend in his own right; see the note below - also injected vibrancy to Flood's songs. Situated on a platform at the back of the stage - although he took every chance he had to march around the stage -- Carney contributed clarinet, saxophone, horns and plenty of joie de vivre to the music. (A blitzkrieg-worthy extended sax and drum solo at the end of "Istanbul" especially impressed.)
TMBG's skills were put to the test on set-closing Apollo 18 centerpiece "Fingertips." The patchwork tune finds the band juxtaposing lines like, "I'm having a heart attack" with crooning lounge music, and it jumps genres and moods like someone flipping back and forth down the radio dial. The absurdity of the song shouldn't work - but it does, and did last night, the perfect exclamation point on a fantastic night of music.
Setlist: "Meet the Elements" "James K. Polk" "Theme From Flood" "Birdhouse in Your Soul" "Lucky Ball and Chain" "Istanbul (Not Constantinople)" "Dead"
enter the Avatars! "Shoehorn with Teeth" "A Shooting Star is Not a Star"
back to Flood: "Someone Keeps Moving My Chair" "Twisting" "Hearing Aid" "Minimum Wage" "Letterbox" "Cowtown" (not Flood) "Whistling in the Dark" "Hot Cha" "Your Racist Friend" "Women & Men" "Why Does the Sun Shine?" (the new Science version) "Why Does the Sun Really Shine?" (this was played too, right?) "Sapphire Bullets of Pure Love" "We Want a Rock" "Particle Man" "They Might be Giants" "Road Movie to Berlin"
Encore one: "Damn Good Times" "The Mesopotamians" (snippet of the venue song?)/band introduction "New York City"
Encore two: "Drink!" "Fingertips"
Critic's Notebook: Ralph Carney was in the cult Akron, Ohio, band Tin Huey with Chris Butler in the late '70s. (The latter went on to found new-wavers the Waitresses - you know, "Christmas Wrapping" and "I Know What Boys Like.") In the past few decades, however, Carney's talents have helped him share the stage with an impressive list of performers: Tom Waits, Jonathan Richman, William S. Burroughs, Allen Ginsberg, the B-52's, Bill Laswell, Elvis Costello and Galaxie 500. He's also the uncle of the Black Keys' Patrick Carney and appeared on that band's 2008 album, Attack and Release. A documentary, called This is Ralph Carney: King of the New Wave Horn is in the works, judging by this trailer.
More notebook: Sometimes-RFT writer D.X. Ferris wrote about Flood for Rolling Stone, complete with interviews. The process of making the album is rather revealing -- and interesting. Go forth and read!
Also notable: At one point, eerie spotlights flashed and alien keyboards started swirling, to announce the appearance of two sock puppets dubbed "The Avatars." Speaking into a fish-eye camera lens -- and projected onto a video screen onstage -- the duo performed "Shoehorn with Teeth" and "A Shooting Star is Not a Star." (Controlling the "Avatars" were members of the band, so it wasn't as odd as one would think.) The pair's hijacking of the set was amusing; they traded witty banter about James Cameron directing the interlude and grumpily searched for cigarettes. They also coined the phrase "Rocks out with your socks out!" and then declared: "That phrase is t-m Avatar - don't use it on your blog. We'll be on your ass like the Walt Disney Corporation!" (I'm quoting this out of love - don't sue me, TMBG!) After the Avatars had their say, the multicolored spotlights flashed again and Flansburgh bellowed, "Return to Flood!!!" like Conan O'Brien's "In the Year 2000" sketch. Simultaneously head-scratching, hilarious, smart and surreal, it summed up TMBG to a tee.
Personal Bias: My tapes of Flood, Apollo 18 and Factory Showroom are still at my parents' house. I'm pretty sure I first heard about the dB's and Young Fresh Fellows via "Twisting." TMBG once played in the grassy quad outside my dorm in 2001 or 2002. Not enough people showed up, and it was sad.
By the way: Mad props to the dude on the Flansburgh side of the balcony (i.e., the east side), who was shaking what his momma gave him for most of the set. Riotous enthusiasm is what we like to see!