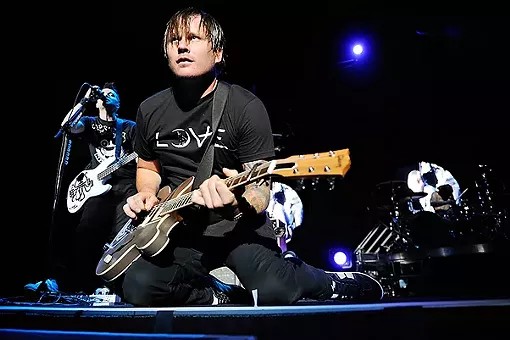 Two things, right quick: If going to concerts is already a form of idolatry -- and if going to reunion concerts compounds that idolatry -- then what did Blink-182 give the near-capacity crowd at the Verizon Wireless Amphitheater, who enjoyed and endured a roughly hour-long reunion show focused on drool (for your crush) and stool (from your ass)? And for that matter, what did that crowd make of the superabundance of ways singer and guitarist Tom DeLonge simulated dick-sucking, ball-fondling, and money shot-receiving? And by superabundance, I mean a number greater than three but not more than a dozen.
The answer to the first question is easy. After a five-year hiatus, Blink-182 (DeLonge, bassist Mark Hoppus, and drummer Travis Barker) has not matured one iota. Blink-182 was stupid; it remains stupid; it revels in stupidity. And in a show that encompassed the band's entire career, the crowd still got more than it probably anticipated: it got the idiot sublime.
View a slideshow from the Blink 182 concert last night.
After learned disquisitions and reschedulings and reshufflings, Blink finally came to town and played its pop-punky songs with candelabra smiles-- Hoppus and DeLonge were almost mushy with each other--and a sense of humor normally deployed by crayon-eating children. All except Barker. He was too busy bruising the air with his (impressive) drum fills.
Thawed from posterity, Blink's tight matrix of breakneck tempo and insta-melody needed little introduction. "What's My Age Again?" and "Man Overboard," just like most of the set, were both heedless and bighearted, delivered without much deviation or accessory compared to the album versions. But then, the day Blink adopts a horn section or hires out a triangle dinger is the day Blink would cease to exist.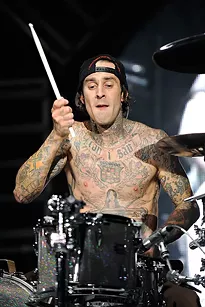 Adrenalized more by the older songs--a rousing "Carousel," "Josie" ("an old punk rock song")--than newer ones like "Feeling This" or "Stockholm Syndrome," Hoppus and DeLonge pogoed around the stage, modestly but artfully lit with six interlocking oval screens, and bent as angularly as their skintight jeans would permit. Only occasionally did DeLonge's strip-mall whine threaten to open a garage door; Hoppus's tenor, while flat as a board, carried much of the night's material: "Dammit" sounded as appealing and self-assured last night as it did when I first heard it, more than ten years ago.
Sure enough, it's also been a little over ten years since Travis Barker joined the band, and the miracle that is now Blink-182 is arguably the miracle of Barker's feral drumming. What energy the show did have--energy that was at times gravitational--was generated primarily from the sight of Barker's tattooed torso and the sound of his blurred hands. And that wasn't lost on his bandmates, who almost made a fetish of role-calling him frequently as "Travis Fucking Barker." Nor was it lost on the fans, whose biggest applause of the evening came during his featured breaks--"Down" was pumped up--or the mere whisper of his name. His encore drum solo, which left some around me slack-jawed, was a circus maximus of crashes and booms: hoisted high above the stage, Barker turntabled around until perpendicular to the floor, all the while hitting his kit precisely and sharply over a hip-hop track. (Fans camera-phoned the stunt with Zapruderesque attention; I'm sure there's a legion online.) [Ed. Note: Yup.]
As for Hoppus and DeLonge, they interacted very much like besotted friends, and their efforts to saturation-bomb the show with sex jokes ("I'm gonna go down on Oprah, I know it!"), shit jokes ("Obama could take a dump on my chest!"), and florid belches (mid-verse, pre-chorus, you name it) exhibited all the silver-tongue diction and staircase wit they've become known for. The great state of Florida, so you know, can suck Blink's "collective cock" because its weather was muggy. DeLonge suggested, flippantly, that they sing for the "sick babies." Hoppus inquired if DeLonge's mom "wants it faster." And after "Always," DeLonge offered the front rows a crew of naked men carrying thirst-slaking Gatorade. He then promised to crowdsurf in only his underwear, where people would be free to stick their fingers up his orifices. He did not. A tender mercy.
None of this was meant to be taken seriously, donchaknow, and the crowd--pustular teenagers to pleated office dudes--grokked this behavior with years of prior Blink exposure under their belts, as calloused to the lewd and vulgar as any red-blooded American. Which brings us to the answer of the second question: What did the crowd think of Blink's antics? This was harder to tell, but they appeared to be deemed funny. The repeated image of Tom DeLonge cupping a pair of phantom testicles and fellating an imaginary penis was greeted with chipmunk titters.
From the perch of the stage, it invited us to gawk and then it asked us to ridicule. But then again, this has always summed up a Blink show. And furthermore, when the band works blue, it's usually just dismissed as toilet humor and rationalized away as pop populism. It's excused as the method by which (male) adolescents communicate with one another and how nervous suburban kids deal with the shifting terrain of sexuality. Says who? It's regrettable, I think, that we must tiptoe around such cretinous behavior, especially from a band that is supposedly growing up themselves. After all, how much longer can this sort of toxic juvenilia enchant a reunited Blink-182?
Setlist: Dumpweed Feeling This The Rock Show What's My Age Again? Obvious I Miss You Stay Together For The Kids Down Always Stockholm Syndrome First Date Man Overboard Don't Leave Me Not Now All The Small Things Reckless Abandon Josie Anthem Part Two
Encore: Travis Barker's drum solo Carousel Dammit Every Rose Has Its Thorn (excerpt)