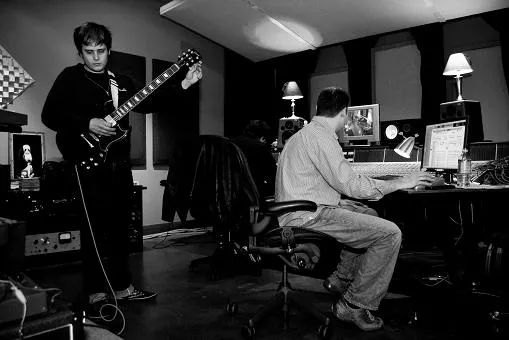 As I first hinted at in an interview earlier this summer, Building Rome's Jon Heisserer has come a long way from being an earnest kid fond of Jimmy Eat World's sweet love songs. His new album, Nightmare -- based loosely on Jacob's Ladder and recorded at Jason McEntire's Sawhorse Studios with producer Steven Haigler -- is quite a diverse (and even somewhat sophisticated) outing
"Streetlights" resembles the askew power-pop of Fountains of Wayne, while the acoustic-guitar-driven "Tired of Waking Up" and string-centric "Bring Me Home" (the latter of which features angelic female vocals as well) are sincerely affecting tunes. Less successful are some of the more rock numbers, which hew very close to Alkaline Trio's dark-punk (specifically, the album Crimson) and come across as too generic. Still, due to the presence of Ludo members here and there, Nightmare never falls too far into the emo abyss -- cheery vocals, layered harmonies and brief Moog lines ensure that.
MP3: Building Rome, "What Are We Fighting For"
Building Rome's CD release party is tonight at the Pageant, along with a few other bands -- who have stories of their own...
This is Energy also recently recorded at Sawhorse Studios, with Chris Testa (who's known for his work on Jimmy Eat World's Chase This Light). A three-song sampler the band sent to me isn't quite as successful as Nightmare. Although sonically flawless pop (think not as heavy as Building Rome, but not quite as lightweight as doe-eyed emo sweethearts such as Copeland or Mae), the songs did nothing to distinguish themselves from countless other bands of their ilk. Blame for this goes to generic lyrics, which often rely too heavily on cliches.
And then there's Without a Face. Signed to Ludo's Redbird Records label, the Houston young'un drew the attention of MTV for his Kanye West-Taylor Swift parody (which mashed together U2, Taylor, Beyonce and Kanye tunes with original lyrics about the incident). As the video below proves, WaF has quite a lot of talent to spare. I'll have more on him, Redbird and Ludo soon.
one heartless love song parody (taylor & kanye) from wafvimeo on Vimeo.