(Welcome to In the Studio, a section on A to Z that spotlights -- what else? -- local artists in the studio. If you are also recording/recently recorded -- or are a studio engineer/producer and working with people -- email me, with the phrase "In the Studio" in the subject heading.)
courtesy of Gentleman Auction House
Keyboardist Kiley Kozel
Band: Gentleman Auction House Album: LP 2, title TBA Studio: The Robotica Room, St. Louis When Recording: Throughout the rest of '09 Release Date: Somewhere in '10 With Whom: Doing it all ourselves, making gear stew The Band Says: "After traveling to D.C. to record our last full-length, we are opting to get reactionary and record this one ourselves, mostly at my house," says vocalist/songwriter Eric Enger. "With that record we were looking track a batch of songs that we had already been touring on for a while. Now, we want to have time to build a record of new songs, with no disclaimers. We've already recorded the first batch and I'm still writing, so it's a more fluid process.
"Most of us in the band are recording nerds with engineering backgrounds, so it's nice to get in there and tear our hair out together and have fun coming out on the other side. If there's a hole in the song that needs to be plugged, we have time to figure out what to plug it with. "Corn dogs?" You would say that."
Eric Enger, courtesy of Gentleman Auction House
"Anyway, songwriting-wise I am trying to be more responsible with my opportunity. The last record was written over a few years, in and out of chaos. This time, there's still a little of that, but if I'm going to run my mouth for three and a half minutes I better be able to stand by what comes out. We have some new toys, so we're having a lot of fun playing around with different sounds. Also making better use of having two drummers. And I'm never going to stop loving pop music, so I might still nick a Beyonce 808 fill here and there."
"Naturally, we all like records that get our attention and hold it. That's always kind of the goal i think. So far, we're very excited about how things are going. Just cross your fingers and hope that we don't put in any last minute guest raps."
courtesy of Gentleman Auction House
Bassist Eric Herbst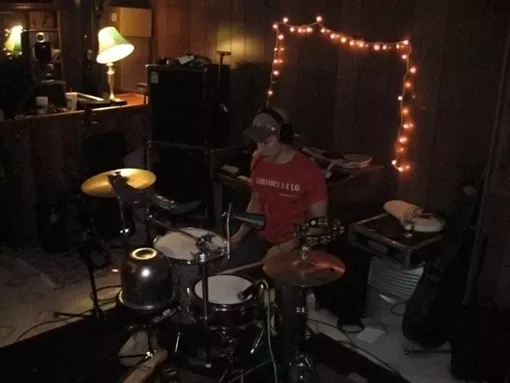 Drummer Stephen Tomko, courtesy of Gentleman Auction House