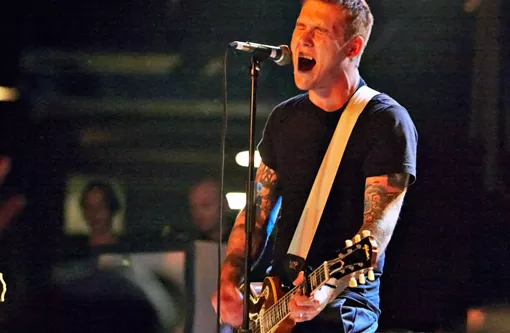 Gaslight Anthem vocalist Brian Fallon offered two thank-yous -- equally heartfelt -- last night at Pop's. The first thanked the crowd for "coming out on a Thursday night," as if the day of the week mattered to either the crowdsurfers or arm-folders, both of whom might sooner skip their grandma's funeral than miss a band as immune and bulletproof as Gaslight Anthem. Its set--no surprise to anyone familiar with its groundswelling popularity, here or in England--was as clean and accurate as a well-driven nail.
See more photos from last night's show.
But even less of a surprise was the second tribute. "Thank you, Boss!" Fallon shouted, almost to himself, before the encore break. That would be, of course, Mr. Springsteen (hallowed be His name). Chances are many of the attending at Pop's were not shocked themselves. By thy Bruce they have known thee. That His Bossness has not only taken these fellow New Jerseyites--Fallon, guitarist Alex Rosamilia, bassist Alex Levine and drummer Benny Horowitz--on tour but has also played with them is more than being ravished by luck: It's being given the confidence of an aircraft carrier. Talent, Gaslight Anthem had; a legend's blessing, until that gesture, it had not.
This isn't to say that the Gaslight Anthem doesn't have the goods. With Fallon's scuff-marked voice and chords big enough to live in, the group nods to stateside yarn-spinning but genuflects to British punk. Thursday's show pivoted off the throwback spirit of its most recent album, The '59 Sound. There were tales in "Casanova, Baby!" and "The Backseat," each a sobersided contemplation of mortality wrapped around first-name friendships and failed commitments. "Film Noir" and "Miles Davis & the Cool" ironed out fancy ideas--being lovelorn, having compulsions--into sweaty pursuits, both helped along by Levine's slashing impersonation (to be frank) of Clash bassist Paul Simonon. At each did Fallon's words tumble out, smooth as a worn Zippo. While none of these songs were as primordially punk as a drunk junkie, they did galvanize the audience -- it's rare to see a heart so far down a sleeve.
How else can we pinpoint the band's appeal? It's tempting to carbon-date Gaslight's provenance. "The '59 Sound," however, does not reference anything except the events surrounding a driving death. Even so, it's practically aromatic of pomade and starched gabardine and cigarettes that hang like tusks. But it ain't exactly Bobby Darin. Nor is it any more than nostalgia for a lost paradise that never existed, but needed to be invented in order to be eulogized. Never mind all that: the earnest way Fallon performs it live--nostalgia as something salvific for the tragedy of death--exerts a force that eludes closure. Gaslight Anthem makes death seem both momentous and mundane.
For all its macabre stories, though, you'd wouldn't say Gaslight Anthem is dangerous or threatening. Not that I mean physical harm -- because its soundprint is so broadly recognizable and faintly repetitious, Gaslight's instant accessibility leaves little residue. (Still, no need to worry about "Old White Lincoln" being Muzaked or whored out to a car commercial--but don't hold your breath.)
This is where opener Murder by Death's eclectic set was instructive: charged by singer Adam Turla's tubercular growl, its songs were acerbic and tough as cartilage, combining country gothic with honky-tonk rock. Neither are bubble-bath bands, but Gaslight's show was more curves than corners. And to half-ass Ben E. King's "Stand By Me" was to teased as much as to provoke: Can Gaslight record something as universal? Can it remain so sentimental and so narrative and also write something like "Rock the Casbah"? Does it want to?
In 1978 the Undertones sang of getting their teenage kicks right through the night. So does Gaslight Anthem--they, too, sing of girls & boys, of love gone bad, of luck gone bad, and of the blundering incompetence when you're young. All the better, in 2009, that this young band even thinks to bear witness to the consequences of those kicks.