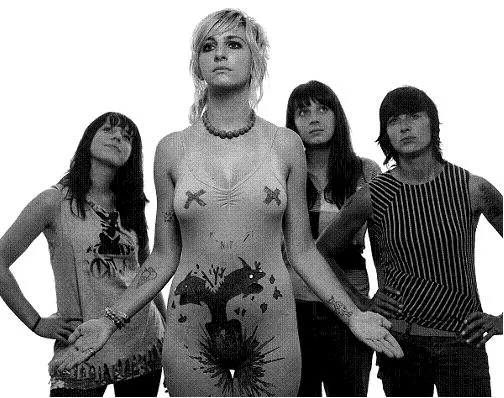 Bryon Miller
Hot Cha Cha, in the flesh
Cicero's
hosts a riotous bill of epic proportions tonight. First up are long-distance-locals the
Natural Selection
. If you missed
our feature a few weeks ago
-- or missed the band's show then -- here's your chance to catch the act's funk-da-fied dance party again. Also on the bill is Cleveland's own
Hot Cha Cha.
The band makes the Yeah Yeah Yeahs look like a coffeehouse acoustic act.
Says D.X. Ferris in last week's paper
:
The all-woman quartet's fuzzed-out guitars, can't-sit-still beats and Teutonic-angel vocals are accurately classifiable as ethereal indie-garage pop, melodic punk or raw-nerve alternative. Singer Jovana Batkovic says you check them out if you want to "cry, laugh or masturbate -- but mainly to actually see a live show and be entertained." The group's set is always a hot-and-bothered experience, and they throw in covers such as the Cure's "Boys Don't Cry."

MP3: Natural Selection, "Down Elevator"

MP3: Hot Cha Cha, "Ticket Away from Prague"