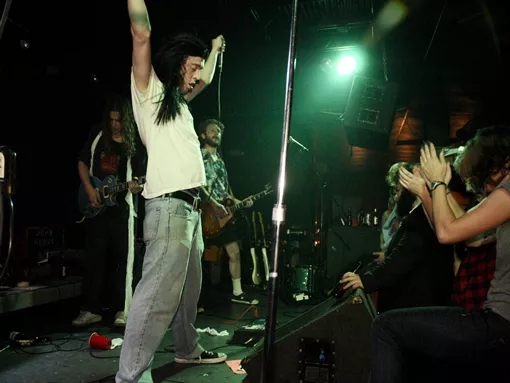 An Undercover Weekend and its like-minded events are fun for so many reasons. The concert series, in which local combos don the guise of a famous band/artist and play its/his/her music, allows bands to jump outside of their comfort zone, play to new audiences and pay homage to their favorite artists.
The audience is rewarded with a diverse lineup of talented musicians playing the music of acts that probably wouldn't share a bill on something short of Farm Aid. In short, great local bands + beloved music = a hugely entertaining show. Saturday's concert was no exception to this equation. The show featured the emerging talents of the Sham, the Dive Poets, John Henry & The Engine, Fattback and the Monads covering the songs of Tears for Fears, John Mellencamp, Creedence Clearwater Revival, The Talking Heads and Andrew W.K, respectively. All of the acts did their alter egos justice and made sure that nobody in the sizable crowd left unhappy.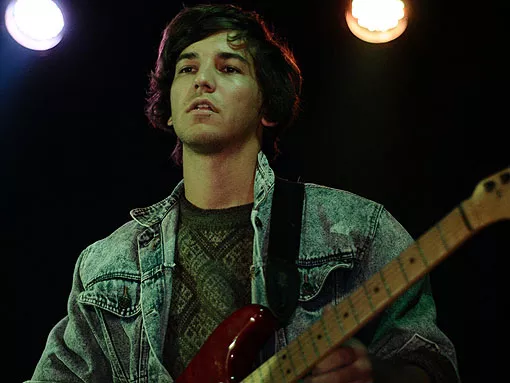 The Sham started things off with a quick but memorable five-song set as Tears for Fears. Singer/guitarist Chris Phillips hilariously started the set by introducing the band in character with a fake British accent. The for-the-night six-piece (The Sham is usually a quartet) then launched into "Everybody Wants to Rule the World" and sounded completely at ease with the Tears for Fears sound. Immediately, everyone in the band locked into the song's shuffling groove and just clicked as a unit. Powering through, "Head Over Heels," "Mad World," "Change" and "Shout," The Sham seemed to draw its strength from its rhythm section. Although the band's parts might not have been difficult, bassist Joel Burton and drummer Nathan Larson were perfectly in-sync with each other and air-tight, which created a solid foundation on which to build. It also didn't hurt that The Sham did a fantastic job of replicating the timbre of Tears' instruments. All that was left was for Phillips to nail the vocals, and for the most part he did. He gave a solid portrayal of both Tears singers and sold the blue-eyed soul of "Head Over Heels" well. Only during a few off-key sections in "Mad World" and "Shout" did Phillips struggle. Otherwise, The Sham was terrific as Tears (though I wish they wouldn't have been so faithful to the overly-long ending in "Shout").
The Dive Poets as John Mellencamp were next. I'm going to level with you: I don't care much for John Mellencamp. I've always found his voice and lyrics to be preening and cocky in a very unappealing way that overwhelms the few songs of his that I would otherwise enjoy. To be fair, my dislike of some of his bigger songs has kept me from giving his other tunes a chance. With this in mind, I tried my best to go into The Dive Poets' set with as open of a mind as possible, hoping that the group would expose me to a side of Mellencamp I hadn't seen.
Aside from "Rain on the Scarecrow," The Dive Poets did not convert me to the Mellencamp. What they did do was provide an energetic and soulful tribute to the Coug' that a non-fan such as myself could appreciate. Augmented by two female backup singers, The Dive Poets tore into rockers "Hurts So Good" and "Authority Song" with aplomb and deftly handled slower moments like "Small Town" and "Jack and Diane," the latter of which provoked a massive sing-along in the crowd. Having Rachel Parkin on the violin certainly helped on some of the ballads and her instrument provided an interesting touch on the songs that didn't have it to begin with. Eric Sargent also channeled Mellencamp voice well (too well for my taste). The Dive Poets closed on a rousing version of "R.O.C.K in the U.S.A." the merged into The Romantics' "What I Like About You," confirming my suspicion that they are indeed the same song. All in all, any Mellencamp fan would have loved this well-executed set and if they couldn't make me detest
Pink Houses
any less, they at least didn't make me hate it more.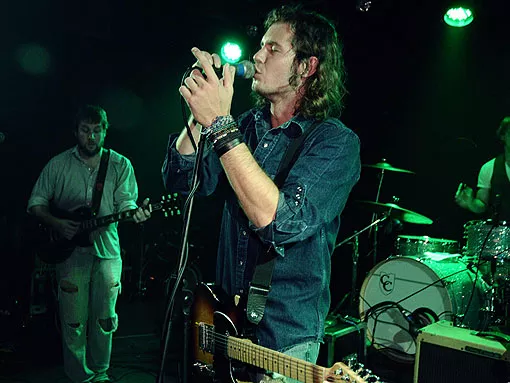 John Henry and the Engine took the stage as Creedence Clearwater Revival. This was pretty much perfect casting. Although the group is most often compared the Springsteen, CCR's rootsy rock is also a clear influence and John Henry's breathy, sincere vocals are a good match for John Fogerty's distinctive howl. This made it a little odd that keyboardist-turned-third guitarist Wes Wingate sang half of the songs, but his confident performance overcame the fact that his piercing voice was incongruent with Fogerty's. As expected, the Engine had CCR's sound down-pat and despite the group being from Missouri, you would have believed otherwise with their take on "Born on the Bayou." The guy who yelled "FUCK YEAH!" after they finished the song sure seemed to. They were in their zone playing songs like "Susie Q," "Green River," and the aforementioned "Bayou," but the set lost some momentum due to the fact that all of these songs traded in a similar sounding swamp-boogie. While it was nice to see a band not go for the obvious hits, "Lookin' Out the Back Door" and "Bad Moon Rising" would have sounded great in the band's hands and helped break up the monotony. "Travelin' Band" eventually achieved this goal before the band ripped into the set-closer "Fortunate Son." To borrow a word event organizer and emcee Mike Tomko used, John Henry and the Engine totally slayed the classic.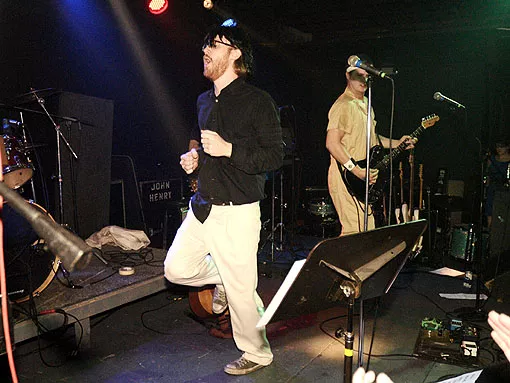 Tomko introduced Fattback (as the Talking Heads) as the only band that's played all three years of Undercover Weekend. From the first few notes of "Psycho Killer" it was clear that this group was experienced at dressing up as another band. John Joern in particular was uncanny at inhabiting the role of frontman David Byrne. The wig, the suit and the glasses all helped but he didn't need them when his vocal imitation of Byrne was that freakishly accurate. And while I'm not sure if Byrne used the dance moves and gestures Joern did, they all seemed quite Bryrneian and in character. Joern's fantastic depiction of Byrne and his natural stage presence made it easy to forgive his lame move of reading lyrics off of a music stand. The rest of the band was just about as good. Sean Dallmeyer got some great Talking Heads tones out of his guitar and Grady Breidanbach's keyboards were spot on. Even the additional percussionist that joined the group halfway through the set captured the nuances of the seminal New York band. The set stuck to the group's most recognizable songs; as expected, the audience heard "Once in a Lifetime," "Life During Wartime," "This Must Be the Place (Naïve Melody)," "Wild Wild Life," and "Burning Down the House," in addition to "Psycho Killer." Everything went smoothly except for "Once in a Lifetime." For a song that relies on a wall of sound, only hitting the hi-hat on the quarter notes and not doing much more on the cowbell isn't going to cut it. Then again, this was probably just my own nitpicky complaint because the audience was too busy dancing to either notice or care.
When I heard that the Monads were going to take on the music of Andrew W.K., I first thought that they were going to give his music a punky bluegrass makeover by playing with the group's usual banjo, fiddle, upright and guitar setup. Had I
done my homework
, I would have known that they plugged in for their rendition of Devo's music last year, but I was still a bit surprised when I saw electric guitars and keyboards. Maybe a little disappointed too (how awesome would bluegrass AWK be?). Still, the Monads rocked it. With Fattback's Dave Hagerty joining the expanded lineup on guitar, the Monads successfully thrashed out a faithful portrayal of the overwhelming AWK sound. Donning a long black wig to look the part, Pat flailed around and banged his head while conveying Andrew's message that "It's Time to Party," to "Party Hard," and then "Party til you Puke," all of which were soundtracked to furious pounding keyboards, booming drums and a ridiculously loud two guitar attack. The crowd was certainly receptive to this message. The dancing was chaotic and I even saw one guy slam a beer in the middle of the mosh pit. Pat gave a shout out to the wildest three partiers who were almost too much. One person in this group responded by getting on stage, putting his head between Pat's legs, lifting him up piggyback style and dancing for about 30 seconds to the beginning of one song. Thankfully he let Pat down more gently than he did another piggybacking crowd member when both toppled over in the descent. Although the rest of the crowd wasn't THAT enthusiastic, it was hard not to go nuts with the Monads driving at full speed. Drawing their set exclusively from
I Get Wet
(minus maybe one song), there were none of AWK's slower moments. As it should have been, the set was entirely made of hard-charging party jams and by the end of it the crowd's faces were sufficiently rocked off.
In total, this undercover night was a tremendous success for everyone involved and a blast to attend. You can't ask for much more.