Although the space has been having shows on a semi-regular basis for a few months now, new music venue the Fox Hole at Atomic Cowboy is set to have its "grand opening month" in September.
"We want it to be [a] band's favorite place to play," says Chip Schloss, owner of both Atomic Cowboy and the Fox Hole.
Booking is being handled by Josh Jennewein and Heather Lauby. (Jennewein was recently at Deluxe and before that the Feisty Bulldog; you know him by the moniker Punk Beer Rodeo.) Check below for a flyer containing the first month's schedule of shows.
If you're standing in front of Atomic Cowboy on Manchester, the Fox Hole is directly to your right, sandwiched between the popular bar and what used to be the diner After. Schloss notes that the venue is akin to the Duck Room at Blueberry Hill, in that patrons enter the venue by walking through Atomic Cowboy. (With this new venue annex, he now compares the smaller stage inside of AC proper to the relationship the Halo Bar has to the Pageant.)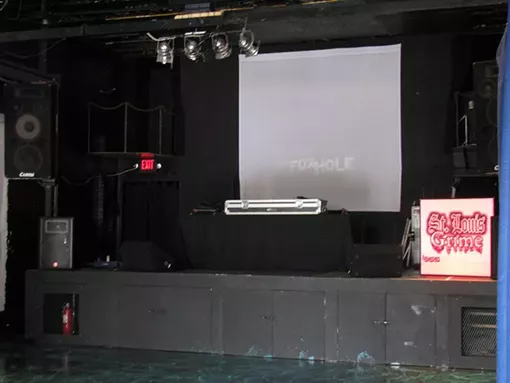 Schloss signed the lease on the venue in May and construction went on throughout June and July in the rectangular-shaped room. Amenities of the space include a stage that's 3.5 feet off the ground, two raised platforms known as the "crow's nests" flanking the stage and a two-story private green room off of Manchester, complete with a shower. (Load-in for bands happens in the front of the venue, via a ramp.) Plans are also in the works to turn the After space into a 24-hour diner that serves healthy food. (Since the space needs to be gutted, don't expect that before spring 2010.) The name comes from a neon sign Schloss found discarded in an alley near the building. According to him, the Fox Hole space used to be a biker bar -- and long before that, an engine-rebuilding shop (which explains the garage door in back of the space and the industrial decor). The cartoonish fox as part of the logo, meanwhile, is a play off of the Circle Jerks' logo. (Schloss' brother, Xander, is in the legendary punk group.)
The venue's groovy marbled floor.
Hours are 9 p.m. to 3 a.m. Tuesday through Saturday. Shows generally start at 10 p.m. Like Atomic Cowboy, the venue is non-smoking, although there is a patio out back.
The view of the back of the space -- that's the garage door, which can be raised for people to exit.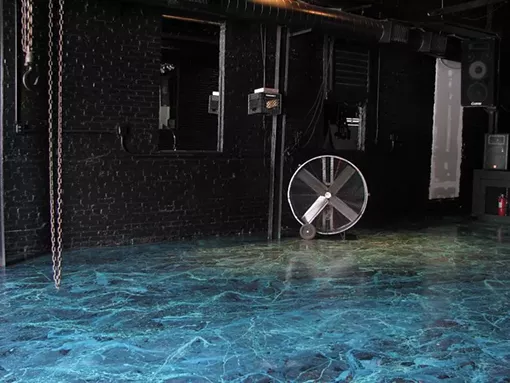 The far side of the venue; photo taken from where the venue's bar is going to be.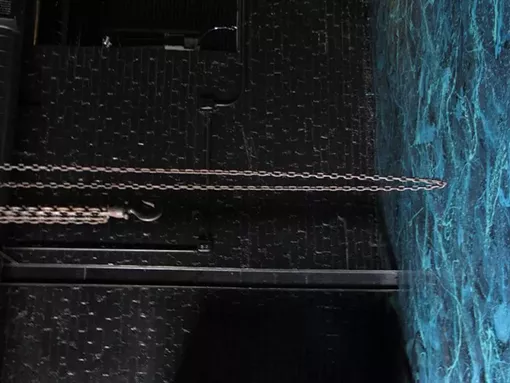 Remnants of the space's former life as a repair place.
A nifty chandelier in the Fox Hole.