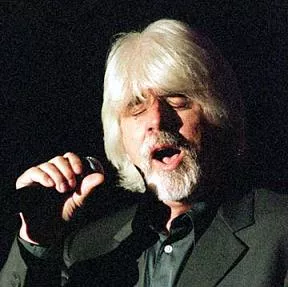 Grizzly Bear'
s show in Brooklyn yesterday made waves yesterday due to the
presence of Jay-Z and Beyonce in the crowd
. (Judging by the
Girl Talk remix of GB's song "Knife"
-- which spliced together bits of the Clipse and Tears for Fears with the haunting tune -- the idea that hip-hop artists might be a fan of the band isn't that preposterous.) And now
news comes today via Pitchfork
that the Brooklyn indie-orchestral darlings have collaborated with St. Louis native
Michael McDonald
. The b-side to Grizzly Bear's song "While You Wait for the Others" features Mr. McD taking lead vocals from Edward Droste. Unsurprisingly, his husky warble sounds fantastic atop the tune, which might as well be a modern update of
Yacht Rock
. The only surprising thing about it, is why nobody's thought to enlist McDonald as a guest vocalist before. Buy it at iTunes, from GB's website or
stream the single at Pitchfork
. McDonald video -- of course! -- after the jump.