Before we begin, a pledge. This review will not use the following words which fall like random keystrokes from a chimpanzee blogger's laptop: rock (or its derivations), crunchy, drunk, Americana, twang, testosterone, Neil Young, alt.country (or its derivations), wasted, and/or dudes.
In other words, we'll keep this short.
Instead, let's talk about health care insurance reform and the attack of the town hall zombie hecklers. "This guy just said I should quit mailing it in," Todd Beene, the guitarist for Murfreesboro, TN band Glossary (who were opening up for the five-years-in-waiting Saint Louis return of Slobberbone) explained, after a staggering, tall-boy-wielding man approached the stage to air his grievances. I was sure the citizen would demand to see certificates of live birth. The possibility of irony in the exchange remains, as does the fact that no one in the room, including the veterans on stage (Glossary has been playing Saint Louis for ten years now), is getting any younger, and we'd be well-advised to 1) not do shots that involve tequila, Ranch dressing and lime (as apparently the band did the night before) and 2) make our end of life plans now, for ourselves and for the sweat-and-song-based, dual-guitar-rammed, red-meat-and-potato, semi-popular music the 150 or so in the room came to hear. There's a death panel waiting to pull the plug on all of it some day.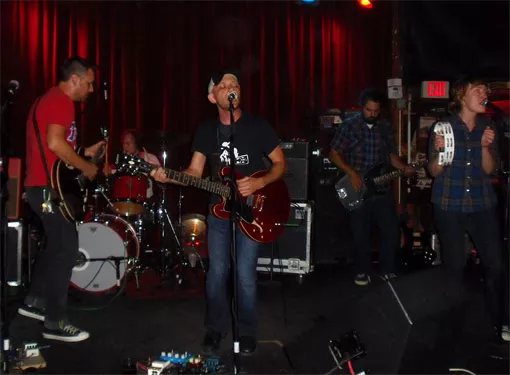 But not tonight, as Glossary started its set with "Gasoline Soaked Heart" (from its last album, The Better Angels Of Our Nature, which, psst, the band is still offering as a free download), and, with nary a pause from song to song, performed the mailing-it-in-equivalent of a fleet of FedEx MD-11s. I overstate the analogy, but songwriter Joey Kneiser has songs to glide and rise, and his on-edge, hooked-in guitar lines, doubled and refracted by Beene, and a sometimes bashing, mostly tight rhythm section, pushed the set through the Southern metal riffage that recalls heavy Thin Lizzy (who the band should cover), Drive-By Truckers (with whom Glossary has toured) and Lucero (whose label will be releasing Glossary's next record). Kneiser sings with a slushy, desperate rasp, calling out over the howling mix like he knows he stands no chance of being heard but fuck all if he cares, as wife Kelly Kneiser raps her tambourine and gives the choruses a fine glow. But by the band's best song, "Poor Boy," with its justly-phrased fatalism -- "Spend your whole life crawling out a hole just to fall back down" -- one pictures where the band might yet go were Kelly to take the lead on half the numbers. The band's new material, from a record to be called Feral Fire (after a line in Cormac McCarthy's The Road), gives "Poor Boy" some competition (even as Kneiser explained that one new tune concerned "trying to get a Christian girl to sleep with you," which at last count is like 9/10 of all songs ever written), and may yet augur the wider audience Glossary deserves, if not a certain breakthrough.
Tall Boy Crew on the Off Broadway Patio
Out on the smoking patio between sets, the PBR tall boys vied for space with ashtray mounds. Brent Best, the original primal hairy country punk, sucked a cigarette to the filter and rushed inside. Rumor was the 'Bone would play for two hours. Doubts could be forgiven, what with the collision of Off Broadway's smoke-free policy (no one, not even this night's health-unconscious assembly, bitches anymore) with the Denton, Texas band's reputation for inhaling a carton night. Could Jess Barr even hit a solo without his friend the cancer stick smoking at the end of his Les Paul? And could Tony Harper chomp Nicorette and keep time? And, more importantly, would the motley, not quite middle-age but quite male and quite PBR-paunched crowd of Caucasians become a mob yelling out for Drams songs? Has it really been five years?
It has, but Slobberbone is still the loud, voluble, wolfhoundish, so-much-more-than-the-sum-of-its-unhinged-booze-band-parts (as Best recognized in our RFT phoner) Slobberbone they were when they called it quits after gentle giant bassist Brian Lane split for Florida. Music biz axiom: If you leave the band for a girl, don't sign a prenuptial agreement. Indeed, Best is showing some scalp beneath his silver-flecked mane, new material was in short supply, Jess's banjo-licks were rather rusty, and it wasn't until the title cut from the definitive album, Everything You Thought Was Right Was Wrong Today, that the band broke a sweat. But that was three songs in, and from there the set, which did in fact break the two-hour mark (if you count the final feedback BLARRGARRAGGAH-fest captured on video), rampaged on, from the as-primordially-stupid-great-as-Louie-Louie "Give Me Back My Dog" to "Springfield, Ill." to the acoustic "Dunk You In the River," featuring Scott Danbom of Centro-matic on fiddle, the slosh-pit of air-guitar heroes got what they wanted: the greatest hits, with only "(I Can Tell) Your Love Is Waning" (aka "Cookie Jar Shaped Like a Cow") and the band's terrific Bee Gees cover "To Love Somebody" being MIA (or have brain cells storing that part of the set gone missing?). Danbom's presence on fiddle and keyboards was a welcome surprise, as was the story of Barr's Les Paul, stolen from the back seat of his car, but replaced by a loaner from the Gibson-sponsored Jason Isbell, and a shout out to Best's old buddies in Nadine, and the more than welcome site of Lane stepping to the edge of the stage for a behind-the-head bass solo.
Brent Best of Slobberbone
There would be no encore, and no need for one, just a set-closing, square-dance-on-zip "Can't Stay Sober" and a final, obscure cover of "Big Time" (from Shakey's Broken Arrow album), which thrashed and careened around the key line "I'm still living the dream we had," and devolved into club-clearing, ugly-beautiful, knob-breaking noise. If, as Best claimed, this summer tour would answer the burning question of whether or not the 'Bone could still have a good time together, no one needed to ask.