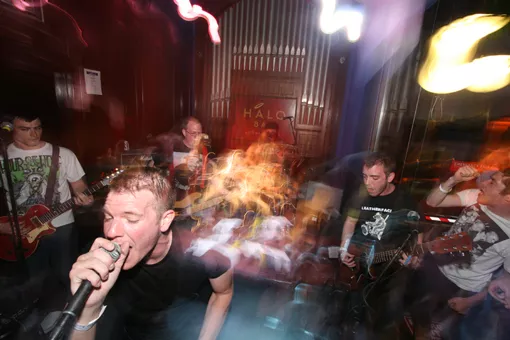 Photo: Nick Schnelle
The Humanoids perform at the Halo Bar during the RFT music showcase back in June.
Things may be a little quieter on the local punk scene in the next few weeks as the Humanoids, Suburban Smash and God Fodder all depart Saturday for tours. Suburban Smash and God Fodder pile into a van (the last report was more than 10 people), while the Humanoids go it alone out East. The two groups meet up randomly on the first date of their respective tours, on Saturday in Indianapolis.
Tonight in Belleville, the Humanoids and Suburban Smash play a tour kick-off show (which also doubles as a welcome home to the Metro East band
Trenchfoot
, which just finished a brief tour of its own). The show is at
Illegal Tone Recordings
(6 South Church Street, Belleville), with
Stymie
(Denton, Texas) and
Sack Lunch
of St. Louis. It costs $5 and gets started at 7 p.m.
After the jump are tour dates -- and maybe you can help.
As you can see, a few of the dates on each tour are still blank, so if you're feeling helpful, contact the bands through their various MySpace pages:
God Fodder
,
Humanoids
,
Suburban Smash
God Fodder / Suburban Smash:
7.25.09 HALLOWEEN HOUSE IN INDIANAPOLIS
7.26.09 COLUMBUS OH @ THE gnargate! (gnar gnar fest)
7.27.09 CHICAGO IL @ 1719 W. Albion (house)
7.28.09 Eau Claire WI @ Nates dungeon w/ dios mio
7.29.09 St.Paul MN ECLIPSE RECORDS W/ IN DEFENCE, THE SINKS, BRING THAT SHIT!
7.30.09 Cedar Falls @ 1103 State St. w/ quick fix(last show)
7.31.09 Des Moines@ The Haunted Basement!
8.01.09 DENVER @ Blast-o-mat! w/ deth box
8.02.09 SALT LAKE CITY UT8.03.09 RENO NV or Sacramento
8.04.09 RENO NV or Sacramento?
8.05.09 SAN FRANSISCO CA @ Submission Punk rock wednesdays w/ Flat Out
8.06.09 LA @ Joes BBQ!
8.07.09 FRESNO, CA @ CHINATOWN YOUTH CENTER
8.08.09 LOS ANGELES (rancho cucamonga)CA@ Erik Sisters house
8.09.09 PHOENIX AZ @ THE SLURP
8.10.09 TUCSON AZ @ Dry River
8.11.09 The Equinox in Las Cruces, NM
8.12.09 AUSTIN TX @ SNAKE EYES VINYL
8.13.09 HOUSTON, TX
8.14.09 Fort Worth TX @ 1919 Hemphil
8.15.09 OKLAHOMA CITY AT THE OKC INFOSHOP
8.16.09 KANSAS CITY MO @ the Ranch

Humanoids:
Jul 25 2009 8:00P - Halloween House w/ Be My Doppleganger Indianapolis, Indiana
Jul 26 2009 8:00 P- Madhatter's w/ Bomb the Music Industry Cincinnati, Ohio
Jul 27 2009 8:00P - House Show w/ Sellin You Short! Cleveland, Ohio
Jul 28 2009 5:30P - Mohawk Place Buffalo, New York
Jul 29 2009 8:00P - Anywhere-Help! New Hampshire? Albany, NY?, New Hampshire
Jul 30 2009 8:00P - Anchors Up Haverhill, Massachusetts
Jul 31 2009 8:00P - Alligator Greenpoint w/ Stolen Parts Brooklyn, New York
Aug 1 2009 8:00P - Anywhere-Help! NYC? New Jersey? Someone Help!, New York
Aug 2 2009 8:00P - Alligator Greenpoint Brooklyn, New York
Aug 3 2009 7:00P - Dr. Egon Spangler Memorial Coliseum w/ Moonhammer, Don't Say I Won't, Casting Curses Branford, Connecticut
Aug 4 2009 8:00P - House Show! Philadelphia, Pennsylvania
Aug 5 2009 8:00P - The Meatlocker w/Manix and Liarbirds Montclair, New Jersey
Aug 6 2009 8:00P - Washington D.C.
Aug 7 2009 8:00P -Charm City Art Space Baltimore, Maryland
Aug 8 2009 8:00P - Nara Sushi Richmond, Virginia