Def Leppard, Poison and Cheap Trick played at the Verizon Wireless Amphitheater last night for an appreciative, packed house. The show was overall satisfactory and fun -- although the sheer amount of Rock on a Monday night left me a little tired. So here are my random highlights/lowlights and truisms about all three bands: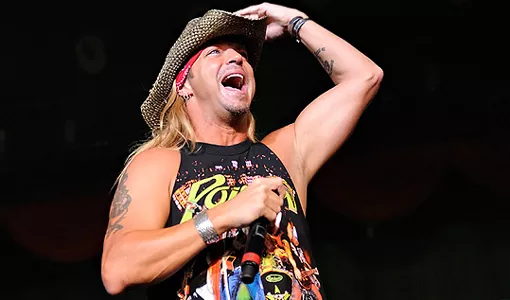 Things that were true about Poison's set last night: Unsurprisingly, "Every Rose Has Its Thorn" was the hands-down, lighter-waving, tear-in-your-beer highlight. Bret Michaels' voice was - to put it kindly - raspy. (Okay, it was pretty torn up.) Even though Cowboy Bret thanked the men and women of the armed forces before "Believe," it was disappointing how much the midtempo song dragged down the entire mid-section of the set. In fact, the pacing of the set was terrible, mainly due to a few clothing changes and a prolonged drum solo. Even "Unskinny Bop" was sort of disappointing.
Michaels was so tan, his skin looked like melted caramel. Rock of Love was only mentioned once; the fact that Poison has been around for 23 years was uttered multiple times. A pandering reference to the Cardinals was the only blatant note of insincere stage banter. Michaels' Axl Rose-esque snake-slither move was pretty great.
Things that are always true about Poison: Michaels remains the only front man in rock who can wear the shirt of his own band, and not seem like a total tool. C.C. DeVille can still unleash shredding riffs like a bad motherfucker. Critical faculties and the ability to feel cynical about the band or its music will dissolve as soon as it busts out "Talk Dirty to Me" and "Nothin' But a Good Time." For as cheesy as Poison can be, it still puts on a hell of a fun show.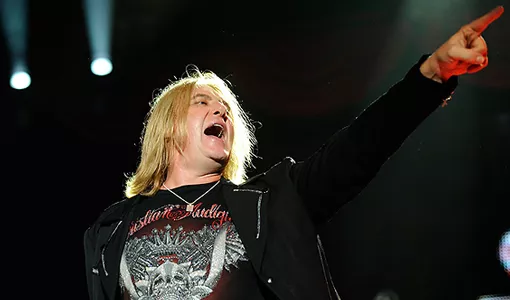 Things that were true about Def Leppard's set: The cougar-leaning ladies in the front row were much more enthusiastic than they were for Poison. (No f-f-f-foolin'.) The band's fantastic cover of David Essex's "Rock On" was an evocative, spooky hellmouth of a song, and a highlight. On the other hand, "Love Bites" - and this hurts my heart - limped like someone with a sprained ankle. A mid-set acoustic interlude with the four instrumentalists (sans drummer Rick Allen) on acoustic guitars playing "Two Steps Behind" and "Bringin' On the Heartbreak" was excellent. The set flew by, mainly because Def Lep stuck to its hits. Its harmonies were spot-on - as was its music, which snarled and stomped like a dinosaur.
Joe Elliott's voice was also lacking the muscle and husky edge of yore, but he had more juice than Michaels did - and as he proved on "Photograph," he can still wail. He also had more clothing changes than Michaels did. Phil Collen emerged onstage pre-glistened with sweat (or so it seemed). Bassist Rick Savage wore one sparkly glove the entire night (homage to Michael Jackson?).
Things that are always true about Def Leppard: The glam-metal-on-steroids quintet does not get enough credit for having cool influences (i.e., Bowie, as demonstrated on "Hysteria"). "Armageddon It" objectively contains some of the most ridiculous lyrics ever uttered - "Yeah, but are you gettin it?/(Armageddon it!)/Ooh, really gettin it?/(Yes, armaggedon it!)" -- but somehow is irresistible. The band has so many classic singles that "Pour Some Sugar On Me" doesn't even need to appear in the encore. The array of pedals and triggers that drummer Allen uses is jaw-dropping.
Annie Zaleski
Robin Zander of Cheap Trick
Things that were true about Cheap Trick's set last night: At 40 minutes, it was far too short. Robin Zander's voice sounded absolutely incredible. Beatle Bob was dancing in the pavilion seats by himself, drawing attention, well-wishers and mockers. Rick Nielsen noticed him - and shouted him out -- from the stage. The set's covers (Elvis Presley's "Don't Be Cruel," The Beatles' "A Day in the Life") were the weakest link. Songs from its latest album (er, The Latest), sounded much, much better live than they did on the album. It did not play "The Flame."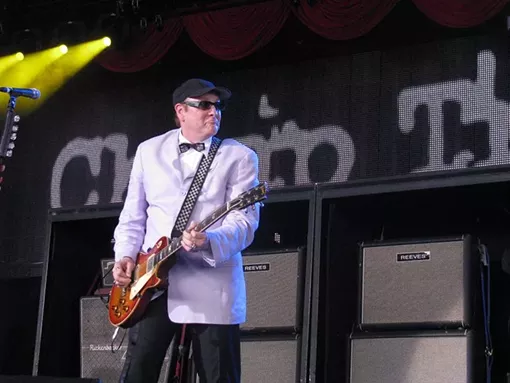 Annie Zaleski
Rick Nielsen of Cheap Trick
Things that are always true about Cheap Trick: Corn-fed power-pop tunes such as "Dream Police," "Surrender" and "I Want You to Want Me" do not age. Repeat: That triptych remains as anthemic, fiery and world-changing as they were the day they were recorded. An appearance of Nielsen's five-neck guitar is always good for novelty applause. It stole the show from the other bands.
Annie Zaleski
Tom Petersson of Cheap Trick
Other stats: The hoosiers to hooters to cougars count went in favor of cougars, of course. The pronounced sideboob I saw while waiting in line to get in, however, almost pushed the results.
Verdict on Bret Michael Wannabes (BMWs) there: Female version of these generally looked super-cute, thanks to cowboy hats; dudes generally looked frumpy, because of cheesy screen-printed tees.
Most unique outfit: A tie between the young man wearing a blue kilt and the girl dressed exactly like a hybrid of Kylie Minogue and Madonna, down to the spiral-curly hair and electric-blue leggings under a tight black skirt.
Best comment overheard in the parking lot: "I shot the neighbor's cat with a BB gun." -- shirtless Poison fan
Personal Note: I'm pretty sure I still have my cassingle of Poison's "Stand" at my parents' house somewhere.
Def Leppard Setlist: (was taking photos; help?) "Rocket" "Animal" "C'mon C'mon" "Foolin'" "Love Bites" "Rock On" (cover) "Two Steps Behind" "Bringin' On the Heartbreak" "Hysteria" "Armageddon It" "Pour Some Sugar on Me" "Rock of Ages" (had to leave to file the story - anything else?)
Poison setlist: "Look What the Cat Dragged In" "Ride the Wind" "Mama Don't Dance" "Fallen Angel" "Believe" "Unskinny Bop" "Every Rose Has Its Thorn" "Talk Dirty to Me" "Nothin' But a Good Time"