Here's an unlikely duo from today's performances at Pitchfork Music Festival: Brooklyn's hyper-kinetic
Matt and Kim
battling for attention with the dreamy melancholy of New York's Beirut.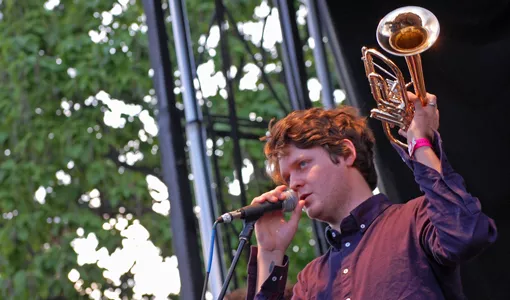 Beruit at Pitchfork Music Festival
Beirut
-- masterminded by Zachary Condon -- played with presence on the Pitchfork stage, eschewing confidence with its brass trumpets and tubas, mandolin strings and accordion keys. Barely into his mid-twenties, Condon acted like a veteran on the stage, although he did admit that the audience was the largest in front of which his mandolin had likely ever performed.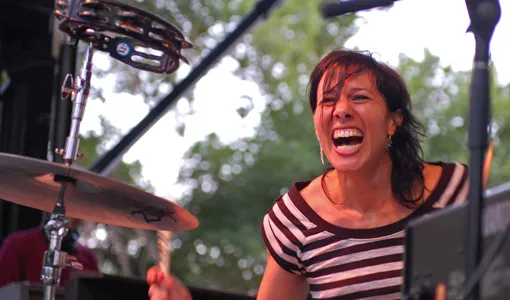 Kim Schifino of Matt and Kim.
Meanwhile, on the smallest of the three stages, Matt and Kim pounded out their dance rhythms and melody, all while wearing those perma-smiles their fans have come accustomed to seeing. They too, owned the stage on which they performed. Matt owned up to making a few mistakes in Chicago in the past and dedicated their song, "Yeah Yeah," although written a few years ago, to the summer of 2009.