Kickball Katy of th Vivian Girls.
Brooklyn-by-way-of-New Jersey's
Vivian Girls
seemed at home on the festival stage at Pitchfork today, although the young trio showed a few signs of being new to the game during its set, at one point asking the audience to all lift their arms in the air ("It looks so cool," said Kickball Katy, the group's bass player.)
And who can blame them for being happy about their relatively early success? With the faceless chatter on the interwebs reaching a fever-pitch over the trio, their favorite bands sharing the festival billing, and critical praise for their 2008 LP hitting its apex, the group has a lot to sing about.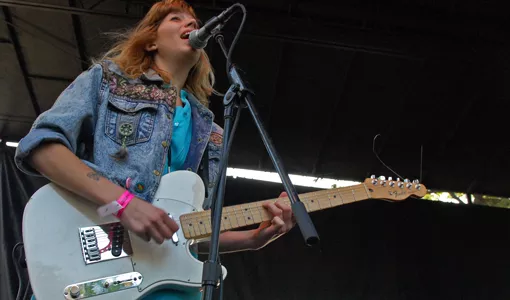 Cassie Ramone of the Vivian Girls
They did just that, rocking through their own reverbalized, punk music. With the green trees of Chicago's Union Park and the sun setting, the group's performance -- visually at least -- also felt akin to the '60s girl groups to whome they are so often compared.
After the jump is a short video interview with Katy.