Everything looked bad but the weather. I crawled through traffic in parts of Cahokia and Sauget that will never make a John Mellencamp small town video. I stared at the lines snaking around the GCS Ballpark half an hour before show time. I forked out $10 for the pleasure of later waiting an hour to get out of the parking lot. And I felt certain the hippie gyro-dudes would have more fun slinging lamb for the tailgaters than I would watching the Bob Dylan Show (featuring The Wiyos, Willie Nelson and the Coug) through a foul ball net 15 rows back on the first base side.
I was wrong; that happens sometimes.
Under blue skies, the occasional landfill seagull blown off course and Cessnas gliding down to the St. Louis Downtown Airport, I wound up in shallow center field at the home of the Grizzlies, which is to say, in front of the soundboard, and 50 feet from the stage. A 12 year old in braces and a Mellencamp tour shirt (kids got in free with an adult admission) stood in front of me. "I don't have a favorite Coug song," he confessed. "I'm not familiar with his music." He was seeing three legends for the first time. I assured him that life wouldn't get any better than this. And the nightlong contact high hadn't even started.
The Wiyos, from Brooklyn (New York, not Illinois), opened with goofy old time blues about chilling out in Cancun: not half bad, but not the Rum Drum Ramblers by a stretch, though the wacky washboard percussion was a nice touch. The kid in the braces dug it.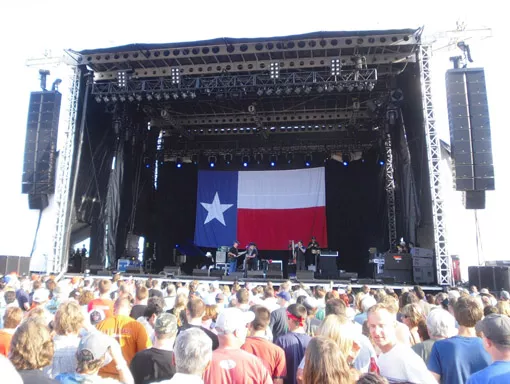 Wille, Family, and Flag at GCS Ballpark
Promptly at 6:00 pm, Willie sauntered onto stage, the Texas flag dropped behind the Family, and dressed in black, with grey and auburn mane tied loose at his waist, he rushed through "Whiskey River" (duh), "Still Is Still Moving," (duh again), "Beer For My Horses" (duh thrice) and "Mama, Don't Let Your Babies Grow Up to be Cowboys" (duh one more time). Loose, you might say, or maybe scattered. Little sister Bobbie's grand piano was all but inaudible, drummer Paul English was all but catatonic and Mickey Raphael all but checked his watch between harp solos. Even the immortals need to warm up. With "Funny How Time Slips Away" -- beautifully deconstructed and time-shifted, with stunning accordion-like harmonica lines -- a solid (as medleys go) "Crazy" and "Night Life" and a ragtimey instrumental "Down Yonder" led by Bobbie on the piano, the band very nearly started to focus, started to sound like a band, as opposed to a fully-baked jam session.
There's no way of saying just what makes for a good Willie Nelson show. Is it how many bandanas he throws to the audience (two)? How many rarities he digs up (one)? How much feeling he puts into a solo on Trigger (a lot)? No. It's the way the set builds, fitfully, aimlessly, to one song, one moment, where Willie reminds you why he's beloved. This night the song was "Georgia On My Mind" the Stardust classic, sung with almost gossamer delicacy and illuminated by Raphael's sobbing harmonica. The rest of the show was pure Willieness, from a hundred waves and blown kisses, to a crushing duet with Bobbie on "Always On My Mind," to a closing blues jam, which dudes next to me tried to shout down with calls for "Whiskey River!!" Memo to ass clowns: Willie's been opening with it for 30 years. And mostly closing with "I Saw the Light," which raised the question of who will fill those clap-and-sing-a-long boots when he's gone?
"Are you ready?" the Coug asked. For what? It's not like he would burn a sound-checking opener with something totally ass kicking and awesome like "Pink Houses." That would be like Dylan opening with "Like a Rolling Stone." Wrong again. Mellencamp and band, black clad, John in grey with a black vest, seemed bent on proving everyone wrong. The Indiana kid can land a punch, and he did so again and again, from career songs like "Paper In Fire," "Rain on the Scarecrow," "Small Town," and "Crumblin' Down," to relative obscurities like "Deep Blue Heart" and dark and convincing retro-blues "Don't Need This Body" and "If I Die Sudden." His band, featuring two electric guitars, bass, drums, accordion and fiddle (shredded fantastically by the very twiggy Miriam Sturm), cooked, though perhaps it would be too much to ask for drums that sound like drums and not 808s. "Small Town" was a knock-out, played by the Coug on acoustic guitar, with a tossed-in self-deprecation: "I wrote this song when my wife was 13." Elaine Irwin-Mellencamp smiled all night from the wings, plying her diminutive hubby with water and fresh guitars. It was the first night of his summer tour with Dylan; he was off to a no-bullshit, all rock start.
Bob Dylan and Donnie Herron at the end of the night
Bob Dylan's second US show of the summer and first ballpark date began with one of his favorite St. Louis openers: "Watching the River Flow." He stood center stage, cradling an electric guitar (yes, he's playing guitar again) with Mel Bay-approved form, and, gasp, soloing like the night was a taping for Guitar Hero. Only Willie plays weirder solos than Dylan. In fact, Bob doesn't solo so much as call-and-respond to himself, then to the band, who watch him as if they were a rescue team holding the blanket for the disturbed guy on the ledge. On the second number, "Don't Think Twice, It's All Right," he jumped a few times, flailing in mid-scalar flight, but landed without disaster. Bob knows he'd be lost without this band, led by unflappably focused and longer-than-long-time bassist Tony Garnier and fairly-long-time drummer George Recile.
On a set (as always, choices were whispered by Dylan in the dark between songs) that seemed to privilege the Love and Theft and Modern Times period--with a manically reworked "Things Have Changed" and a fuming "Honest With Me" being the highlights--the guitarists (Stu Kimball, Denny Freeman and Donnie Herron) just held on for the ride, getting in their licks where they could, even as Dylan darted and weaved and rubbernecked behind the keyboards. Dylan cast a mean shadow above the stage and blew some gorgeous harp on "Forgetful Heart," (the most compelling of three Together Through Life numbers), obliged the obligatory main set closer, "Like a Rolling Stone" (played, as is his recent wont, with tenderness and regret), and cut fast and loose on the night's last song, "All Along the Watchtower," with spacey and spacious keyboard lines worthy of Battlestar Galactica itself. How do you tell if it's a good Bob Dylan show? When the outfield and bleachers remain packed to give the band members, standing like six rock and roll sentinels at the edge of the stage, a final grateful applause.
Set Lists

Willie Nelson:
Whiskey River
Still Is Still Moving to Me
Beer For My Horses
Don't Let Your Babies Grow Up to be Cowboys
Funny How Time Slips Away
Crazy/Night Life Medley
Down Yonder
Me and Paul
Honky Tonkin
Blue Eyes Crying in the Rain
Georgia On a Fast Train
Georgia On My Mind
All of Me
On the Road Again
Always On My Mind
Will the Circle Be Unbroken
Superman
You Asked Me To
Rainy Day Blues
I Saw the Light


John Mellencamp:
Pink Houses
Paper in Fire
Deep Blue Heart
Check It Out
Don't Need This Body
Small Town
Rain on the Scarecrow
The Real Life
If I Die Sudden
What If I Came Knocking
Crumblin' Down
Authority Song


Bob Dylan:
Watching The River Flow
Don't Think Twice, It's All Right
The Levee's Gonna Break
Spirit On The Water
Things Have Changed
Just Like A Woman
Honest With Me
Forgetful Heart
Highway 61 Revisited
This Dream Of You
Thunder On The Mountain
Like A Rolling Stone


Encore
Jolene
All Along The Watchtower