A police organization came out today publicly against a group that wants to open a "teen club" in the building that formerly housed two dance clubs, including controversial venue the Vault.
The former Vault dance club, as it appeared on Wednesday.
"We cannot allow this club to open again as a teen club," said Eddie Simmons Jr., president of the St. Louis chapter of the Ethical Society of Police chapter. "The owners of this club have not made one single effort that I am aware of to let this community know how they are going to run it."
Simmons held the small press conference Wednesday afternoon at the Ethical Society of Police office at 625 N. Euclid Avenue, just a few blocks from the proposed venue, located at 4915 Delmar Boulevard.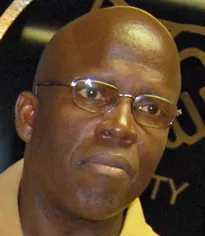 Simmons also added, "If you speak to any owner of a teen club, they will tell you it is about the money, period. They don't care how many problems they create."
Simmons said the underage clubs are a magnet for violence, noise, loitering and trash.
"Unsupervised young people and uncaring owners make for a bad combination," Simmons said, reading from a prepared statement.
The contact person for the proposed club is a Vanessa Allen D'Jango, of the 1500 block of Grape Avenue. Repeated calls Wednesday night to a phone number listed as D'Jango's were met with no comment.
The building formerly housed Club Mercedes, which operated during the 1990s, but closed around 1999, Simmons said. The building then sat vacant for two years and opened around 2003 as The Vault, before closing in 2006.
A sign on the door of the shuttered venue.
The Vault received some
favorable reviews
and had
a following
during its tenure as a venue. However, its legacy, according to Simmons, was the
unauthorized Girls Gone Wild party
there in September 2005, which attracted police and media attention.
"It was just the armpit of the neighborhood," Simmons said of the Vault.
On Thursday morning, a conditional use hearing will take place to consider issuing a license for the club to operate.
We'll have more details after the meeting.