PHOTOS AND REVIEW BY JASON TOON "In most cities in the Midwest," Dillinger Four's Paddy Costello said between songs Tuesday night, "the people we knew in '99, or especially '96, or even 2002, are all bike messengers in Berkeley now, delivering cocaine. Or they got some gig as a DJ in London and they don't want anything to do with you. But in St. Louis, I can run into Phil from Motion Sickness (zine) and he's partying next to the Humanoids? Goddamn, St. Louis! Just keep on being you, girl."
Inevitably, Dillinger Four's first St. Louis show in seven years was half a homecoming for '90s punk veterans and half a rapturous tent revival for younger believers finally in the presence of the true cross. On record, the Twin Cities quartet's appeal is down to its distillation of all the good things about punk (dizzying speed, dynamic songs, enormous hooks, anthemic melodies, intelligence, unpretentiousness, humor) without any of the groupthink or the stupidity that can make punk such a bore in the wrong hands. Onstage, D4 delivered all of that, plus an irresistible personal charisma. The kids wave fists, the kids shout along, but they're all smiling while they do it.
Up front, bassist Costello plays the tattooed, shirtless punk leprechaun, forever exhorting the crowd to dance sexier ("You know why the rave kids keep exploding while the punk scene is dying? Because they know how to get laid.") or stirring them up with clock-puncher agit-prop ("How many people here have to wake up for work in the morning? Paris Hilton never has to go to a day job. Never! Doesn't that piss you off?")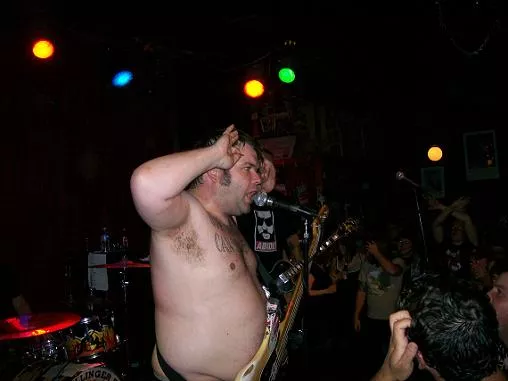 Off to his right, guitarist Eric Funk is the Abbott to Costello's Costello, the obvious spokesman for the band, his sincerity and relative maturity anchoring the antics. The two share lead vocals, with linebacker-built Billy Morrissette taking the occasional vocal part while his guitar provides the band its rock snarl. And then there's Lane Pederson behind the drums, looking every bit the clinical psychologist he is in real life, pushing along every pop and crash with Charlie Wattsian serenity. He was barely fazed by the half-full beer can that landed on his skull in exactly the same spot that a falling light brained him in Detroit a few nights prior.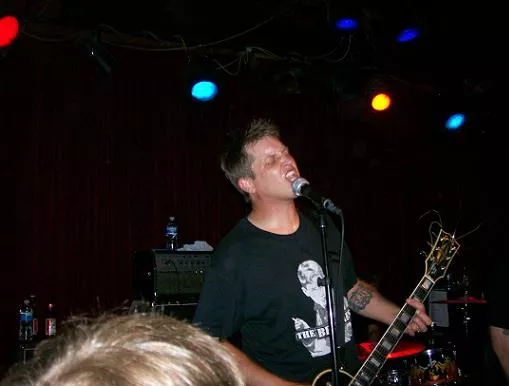 They're all a little paunchier than they were when they used to play St. Louis a few times a year in the mid-'90s. There's more growl in Costello's vocal bellow. And away from the stage, they're presumably more jaundiced about a punk scene whose ideals of community and freedom never quite match reality. So it's all the more that they were able to pack so much emotion and humor and hook after hook into 15 or so songs on a Tuesday night (as Costello said, "The best Friday night I've ever had on a Tuesday in St. Louis"). Just ask the sweaty vegan-smelling mob who demanded, and got, "Holy Shit" and "OKFMDOA" for an encore. Rarely have Off Broadway's roots-rocky walls been shaken like that.
Bands this great are accidents. Not musically, exactly; at this point D4 know exactly what they're doing. But just about anybody can write a good song if they keep at it long enough and know who to steal from. What can't be learned, or imitated, is the energy and charm that make you say, as you stumble out giddy and wired, "My life should be this exciting all the time."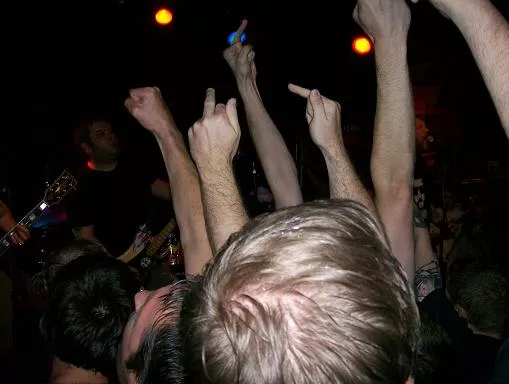 Apologies to the Humanoids, the best punk band in town, for missing their set. It appears Off Broadway is serious about enforcing start times, a welcome development even if it burned me this once. Northern Illinois quartet the Brokedowns delivered a solid set of the kind of shouty beard-punk that seems made for cramped basements or gigantic "fests". As the odd men on the bill, performance-arty Brooklyn duo Japanther resorted to a couple of Ramones covers to liven up the bewildered, impatient crowd. They needn't have bothered: their minimal pop tunes hold their own in just about any setting except maybe a roomful of kids anxious to realize a dream seven years deferred.