Bryan Webb of the Constantines
The good news for the
Constantines
is that on a Wednesday night in St. Louis, with no buzz and no promotional exertions, their draw is good for 100. That's double the attendance (I'm told) of their last show at the venue, some two years ago.
The bad news is their draw is good for 100.
None of this should matter, but when a rock band this good, this critically adored, this awarded by Canadian judges, this veteran (ten years is a lifetime in indie rock), is selling their government grant-funded CDs for $5, pleading for lagers on stage, and a guy in the audience (a member of an indie rock band in town) calls out, "That's my Dad's favorite song!" (response from the stage: "Cool dad"), you get a sense that the Constantines' career course has run, they're doomed to a diminishing cult following, and they're just going to have to go on making smart, tense, steely rock music for its own sake -- which for an hour-plus show, is exactly what they did.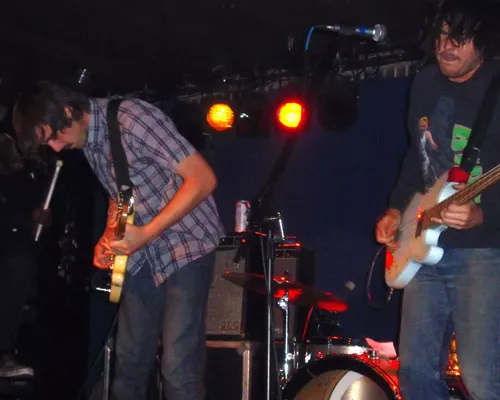 Local openers
Old Lights
started with a swift nine or so song set, the last of which I caught, and if their drummer could use some wood shedding, they sounded engaged and energetic, making keyboard-deepened
Spoon
rock, especially on songs like "Furthest From the Tree." They gave away CDs at the end of the show. "You've gotta try," the guitarist confessed.
Crystal Antlers
from Long Beach, California followed, with considerable bitching about their sound (it wasn't that bad, dudes) and a drummer who ripped off his shirt with the second song. That's almost all you need to know, but not quite, as the Antlers' approach, something like a mash up of the Animals and Catfish Haven, with echoes of Comets on Fire and maybe Laurie Anderson, if high, minimalist keyboard drone counts as art rock, is hookier and less conceptual than
Man Man
. Those comparisons aren't intended to sound dismissive; the band makes the heavy psych and hipster percussionist battering work.
As a singer, bassist and leader Jonny Bell makes
Craig Finn
seem
Berklee
-trained, but he has something like pitch and control in his guttural cries. The set was angry, hard and surprisingly fun, especially the great cover of "It's All Over Now Baby Blue" (played straight out of the
Them
arrangement) which actually, believe it, had a few indie kids doing something like dancing.
The Constantines end songs better than most bands conceive of songs to begin with. Their set began with "Nighttime Anytime," perhaps the closest thing to a hit in their catalog, a handclapping, paranoid warm-up that sprawled (for this band, five-minutes is epic) and then stopped out of nowhere.
They mixed material from their four albums and recent recut EP
Too Slow For Love
, aiming at the heart of each song, with string-breaking strength, and a tightness within the chaos, driven by drummer Doug MacGregor. He's the secret force behind the Ontarians, a focused, no-bullshit player who balances the art-dented jitteriness of guitarists and singers Bryan Webb and Steve Lambke, pushing them to play louder and faster, one song to the next.