Here's a ridiculous story a friend passed to me last night. Apparently,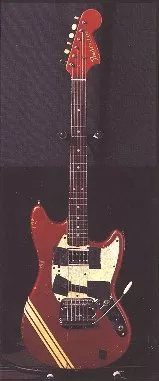 www.sonicyouth.com/mustang/eq/gear.html
a red Fender Mustang guitar stolen from
Sonic Youth
's Lee Ranaldo a decade ago --
one on this list here
;
note about theft here
-- resurfaced recently on eBay. Who bought it? Why, a HUGE SY fan who had no idea it was contraband from one of his favorite bands until after he bought it, from a seller who said he got it from someone in California (the location from where I guess the guitar was pilfered). The buyer messaged someone who works for Ranaldo, via the message board, and is still waiting on word from the band as to what's up. SY's new record,
The Eternal
, is out on June 9.
I'm trying to find a good video of the guitar, but failed, so here's a video from the band's 1986 Mississippi Nights show.
[Update, 11:45 a.m. Calendar Pimp passes along a story about Ranaldo getting other of his stolen guitars back, and a good photo of the guitar.]