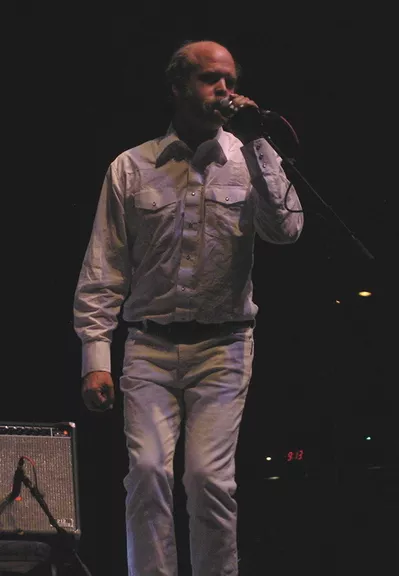 photos by Keegan Hamilton
I wasn't quite sure what to expect from Bonnie "Prince" Billy. I'd never seen him perform before and the eccentric singer/songwriter/actor formally known as Will Oldham has such a deep and diverse catalogue that I had readied myself for nearly anything, including, I feared, solemn, solo renditions of every song from his somewhat disappointing new album
Oldham's flirtatious chemistry with Mize was particularly enjoyable. The violinist did her best June Carter impersonation as the pair sang several duets, turning lethargic songs like "So Everyone" from the band's 2008's stellar album
Lie Down in the Light
, into sexy, rollicking scorchers.
When it was time for somber numbers like "Bad News" and "I See A Darkness" (the final two songs of the encore), Oldham's bandmates backed him up with multi-part vocal harmonies that lent the sparse folk songs an almost operatic sense of tragedy. At those points the group felt like a more serious, grown-up version of Fleet Foxes.
It was an all-around outstanding show and save for a few folks who felt compelled to shout out song requests (seriously St. Louis, wtf?), the good-sized crowd was respectful and engaged.
Catch the quirky Oldham (read Randy Roberts'
excellent feature
on Bonnie "Prince" Billy from this week's RFT for a better sense of his strangeness) on a night where he's less energetic or in more sober mood and it's probably a completely different experience. Last night, however, was perfect for sitting back, sipping Maker's Mark, and taking in some good ol' down home vibes.