(This review is a co-write by me, Annie Zaleski, and my evangelical-Moz pal Kami, who is in town from New York for this show. Her qualifications include the lyrics "Trouble loves me/Trouble needs me" tattooed on her ankles and the fact that this is her fourth show of Morrissey's 2008 spring tour she's attended, among other things. All photos by
Todd Owyoung
.)
Me: Morrissey's 2007 birthday show at the Pageant was amazing - but it was also unfortunate, because it set the bar really high for any future Moz shows in St. Louis. So while this show was definitely solid, it never really connected emotionally, the way his previous show did. I blame the setlist and the crowd.
Kami: I'm trying to decide if it really was Moz/the band that bummed me out, or if it was the crowd. The band was great. He's being backed by a group of awesome musicians and I can't imagine them playing a bad show.
Me:
Agreed on the band. Matt Walker is a fantastic drummer -- his bass/gong solo at the end of "How Soon Is Now?" felt like a tornado roaring overhead. And like guitarist Jesse Tobias, Walker's fearless playing brings much-welcomed rock oomph to Moz's newer material. Highlights there included "Black Cloud" and "I'm OK By Myself," both of which recalled the glam-pop circa
Your Arsenal
, and single "I'm Throwing My Arms Around Paris," a classic Moz jangle-mope. Long-time guitarist Boz Boorer is a consummate professional and makes performing look so effortless - whether he's playing the guitar or the clarinet, which he did ear-splittingly at the end of "Death of a Disco Dancer."
Bassist Solomon Walker also impressed, whether playing the upright bass -- on the rockabilly-styled "The Loop" and lovelorn lullaby "Seasick, Yet Still Docked," both of which were highlights -- or unleashing a wicked solo at the end of the aforementioned "Myself." (And it's hard to have a bass solo not sound self-indulgent or wanky.) In fact, the band is so steady and impressive, it's almost too easy to take its chemistry and talent for granted.
Kami: However, so much of Moz for me is about theater. The drama, the passion, the emotions played out to ridiculous levels -- and I didn't feel that tonight. He seemed cranky. There was so little attention to the crowd. He'd walk toward the edge of the stage and instead of reaching out to touch, he'd turn his back and walk away. At one instance of this it felt particularly deliberate -- he waved his fingers as to mock a touch, and then turned his back to the crowd. He wasn't responding to things being yelled at him. Sure, he stopped to take gifts and sign things (Annie note: He signed an autograph during the show on a front-row fan's LP, while gifts included a pillow with Moz's face on it, several records, a handkerchief and a flag), but it wasn't the normal level of interaction. I'm used to someone yelling that they love him, and Moz delivering a cheeky comeback about his inability to be loved and the like.
Me: That's very true. There was very little self-deprecation, really. Even his stage banter was minimal - and somewhat goading. He said, "I don't drink Budweiser beer, do you?" Folks booed slightly. Then he returned with a trilling, "Yessss." At another point he said, "Of course we're privileged to be in the hometown of the great Kristeen Young." A murmur and then a scream went through the crowd. Moz responded: "Oh, she is here." Later in the set, he said twice - twice - "We had a great time in Kansas City. Oh, you'll be jealous." He made up for it later by saying they had a great time in "Saint Louis" (pronounced "lou-eee"), but I get the sense people definitely didn't know what to make of it.
Kami: Not to be an apologist, but I can't say I blame him. I don't know that I'd go out of my way to love people who aren't giving it back. As the security took the stage and began the set, I braced myself for the throngs that would inevitably rush the stage. No one moved. People yelled. The rather loud, enthusiastic gent standing next to me made multiple attempts to tell Boz that he's better than Johnny Marr. (Sadly, this man also kept running his mouth during songs.)
The ladies standing in front of me, leaning against the barrier -- I'm not sure either moved once. Stephen Patrick Morrissey is standing in front of you and you're not freaking out? Why are you in the front? And then one complained about the way people were acting. Hi. Again, this is Morrissey. If you don't like it, go to the back and have a seat with the middle-aged couples on dates.
Another lowlight for me was the couple that made homophobic comments and AIDS jokes during "Seasick." First, that's one of the best songs they're doing, and tonight I paid to hear him, not you. Second, while Morrissey's sexuality has been long contested, I think we all suspect which team he's batting for. If you really have a problem with his missus being a mister, what are you doing here? And AIDS jokes? REALLY? Kids, global pandemics aren't funny. (Unless it's SARS. That was a laugh riot.)
Me: Seriously? Wow. That's really uncalled for and shitty, in my book. Why are you at a Morrissey show making gay jokes? What the hell? Good lord, St. Louis. I've been to enough shows to experience the rudeness and inattention, but homophobic remarks? Fuck that.
Hearing this is even more galling, because something that occurred to me during the show was that Years of Refusal - the name of his new album - seemed to imply that this refusal lead to years of regret. He changed the lyrics of "How Soon is Now?" from "I go about things the wrong way" to "I lived my life the wrong way," and many other setlist choices - like the Smiths rarity "I Keep Mine Hidden" and the Vauxhall & I song "Billy Budd," whose protagonist appears to lose his job over forbidden love -- seemed focused on shameful longing and taboo sexuality. While not exactly new Morrissey themes, putting them in context with Refusal's self-confident and assured lyrics traces an interesting progression from uncertainty to contentment.
Kami: This is a man who had a long-time residence in the state that brought us Prop 8 (California). In context with the news of the day, it's apt he's touching back on his coy references to homosexuality - something it seems like he had gotten away from in recent years -- and accepting deviance from the status quo. It's empowering. As much as I love that, my favorite lyric switch-up has been in "Ask," when he changes "the bomb" to "macho military might" when referring to what would "bring us together."
Me: Too bad "Ask" sounded really weak last night. And something just seemed off in general. I mean, the Smiths' "Some Girls Are Bigger Than Others" sounded great - second time this tour only! - and "How Soon is Now?" hit like a jagged lightning-bolt. And "Seasick" was just gorgeous, a placid pause to mourn and long, in a show that was super rock-oriented. I suspect that maybe Morrissey was sick or getting sick - he coughed once during the encore song, "The First of the Gang to Die," and he only took his shirt off once. (According to a website, the fight for remnants of said shirt went on for thirty minutes!) "Gang" too felt sort of abrupt, like it ended in a really jarring way.
Kami: This was a more rock-oriented show, but Refusal is really rock oriented. There's been so much chatter on the Internet about the portion of the show dedicated to new material. I think it escapes people that this isn't a tour in support of twenty years of music -- it's a tour in support of a new record. I'd love a night of cry-along-with-Moz weepers. i'd love to hear songs I haven't head in years. But this is a man who, despite his ability to sell seats, has a real problem moving units. I don't blame him for playing things like "Paris" in the hopes that you go home humming it and shell out cash for the record.
Me: True. The problem wasn't the quality of music, for sure - his new stuff holds up well. I think I'll just chalk it up to an off night. And besides, an "off" Moz night is still better than 95% of what's out there anyway.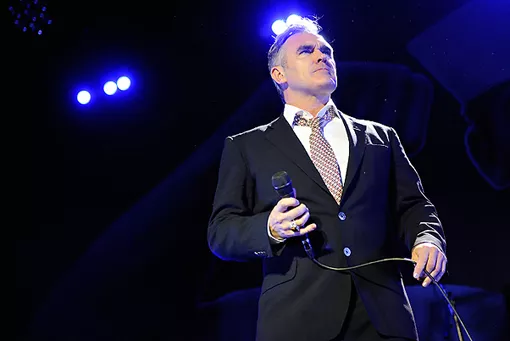 Setlist:
This Charming Man
Billy Budd
Black Cloud
How Soon is Now?
Irish Blood, English Heart
When I Last Spoke to Carol
How Could Anybody Possibly Know How I Feel?
I'm Throwing My Arms Around Paris
Some Girls Are Bigger Than Others
Something Is Squeezing My SKull
Seasick, Yet Still Docked
The Loop
The World Is Full of Crashing Bores
Death of a Disco Dancer
Best Friend on the Payroll
I Keep Mine Hidden
Sorry Doesn't Help Us
Ask
Let Me Kiss You
I'm OK By Myself
Encore:
The First of the Gang to Die