Even before the show began, the boys in the Hold Steady had a challenge set before them. The celebrated Brooklyn group, widely considered to be one of the best working bands in indie rock or anywhere else, was booked at Washington University's Gargoyle club, a venue that most post-collegiate show-goers avoid with good reason: shitty sound, poor sightlines and a no-booze policy. All this for a $20 general-admission ticket? Look, I understand what a "get" the Hold Steady is for a college campus and I bet the student show-bookers are proud of the snag, but forcing a band of this magnitude and popularity to play a basement show is a waste of resources.
But if shows at the Gargoyle are usually endured rather than enjoyed, the Hold Steady tipped the balance, however slightly, with last night's show. The quintet played an unassailable set list, full of favorites from its four-album catalogue as well as a handful of rarities and b-sides (only "Your Little Hoodrat Friend" was missing, but you can't win 'em all). But the 90-minute set didn't quite create the sense of community and rock & roll salvation that much of the crowd was hoping for.
Although the Gargoyle is a dry venue, many had Coke bottles in hand.
Taking the stage to Cheap Trick's "Southern Girls" (a perfect warm-up song if ever there was one), the Hold Steady launched into "Massive Nights," a Modern Lovers-style raver from 2006's
Boys and Girls in America
. It was a fitting first song, with the lyric "we kissed in your car and we drank from your purse" slyly acknowledging the verboten imbibing that many flask-carrying patrons were practicing. "Constructive Summer," the opening cut from last year's
Stay Positive
, came next, setting the template for the kind of populist anthem that the band has perfected over its last few records.
Singer Craig Finn is as good of a front man as you could ask for, and it has little to do with his speak-singing style of delivery. In concert, Finn creates an alternate dialogue within the song, first singing the lyric into the microphone, then stalking the stage and repeating the line, off-mic, to the first few rows. To see him perform is to realize the love Finn has for these songs and his own ego-less amusement at his creation. It's like he has to fill up all possible space with words, even during the instrumental parts of his songs.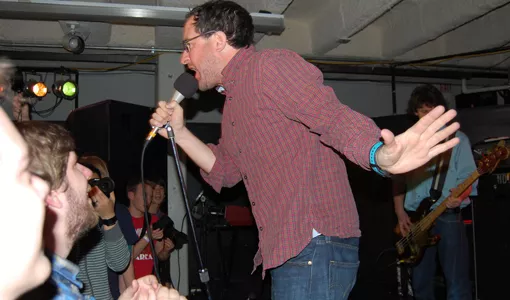 Craig Finn of the Hold Steady
But even Finn's best efforts at carnival barking were muddled because of the atrocious P.A. system, which favored guitar and bass at the expense of the vocals. This is annoying when it happens to most bands, but with the Hold Steady - a band whose lyrics are very much the centerpiece of the experience - the muddy mix was nearly a deal-breaker.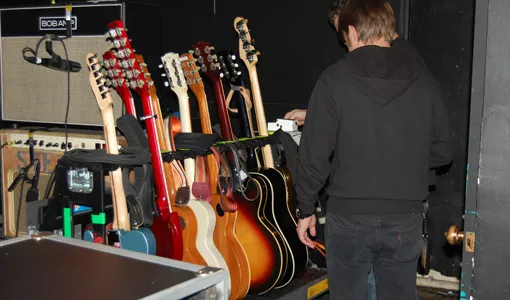 Seven guitars and one bass, backstage.
For his part, Finn battled on, both vocally and physically. His spastic, nervy tics were eaten up by first few rows, a motley lot of dudes who pumped fists and pointed fingers along with all of Finn's declarations and observations. But the enthusiasm waxed and waned during the first half of the set, as some of the lesser material from
Stay Positive
("Yeah Sapphire" and "Magazines" in particular) got lost in the haze. The show made a turn with "One for the Cutters," a harpsichord-fueled morality tale about a spoiled college girl and the townie she murders for kicks. Maybe it was the few stray whiffs of pot-smoke talking, but it struck me as this generation's "The Lonesome Death of Hattie Carroll."
From there, the band mixed old and new, encouraging a sing-along with "Sequestered in Memphis" and bringing it down slightly with the beautifully bittersweet rarity "Modesto is not That Sweet." By the end of "Party Pit," Finn engaged in the first on-stage chatter with the crowd; normally, he's fairly gregarious between songs, but last night felt a little workman-like, as if the band were plowing through the songs in hopes of catching the end of the NCAA championship. The musicianship was top-notch (in fact, the band has gotten unbelievably tight thanks to non-stop touring), but the communal contact-high was sadly absent.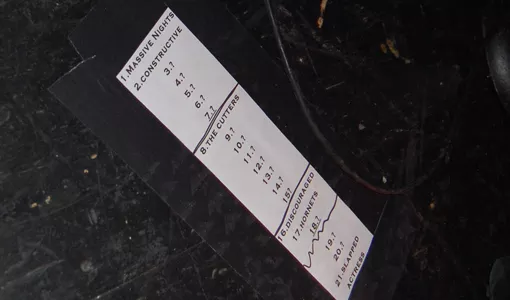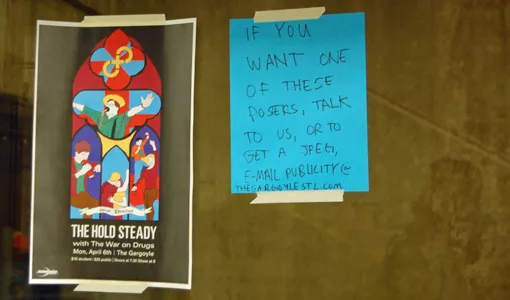 The proper set ended with the bookends to 2005's epic Separation Sunday, "Hornets! Hornets!" and "How a Resurrection Really Feels." The three-song encore kicked off with "Stuck Between Stations," perhaps the best model of what the Hold Steady is capable of: drama, depth and emotion sandwiched between unfaltering rock licks and impassioned performance. The night ended with "Slapped Actress," a song about the artifice of rock & roll entertainment and the struggle to make something real, lasting and vital. And even if last night's show didn't quite meet those standards, you can't argue that these songs set their sights on something bigger and more grand, and more often than not, the Hold Steady hits those heights.
Other Notes
*Guitarist Tad Kubler pulled off a jaw-dropping solo at the end of the piano balled "Lord I'm Discouraged."
*Kubler later donned a double-neck guitar for "How a Resurrection Really Feels."
*Finn, a noted baseball fanatic, only made passing reference to opening day, giving a shout-out to his Minnesota Twins before launching into the Minneapolis-specific "Hornets! Hornets!"
*Openers The War on Drugs played a great, fuzzy set of noise and drone that reminded me alternately of mid-'90s Yo La Tengo and a psychedelic Waterboys.
The Hold Steady's setlist from last night's Gargoyle show.

1. "Massive Nights"
2. "Constructive Summer"
3. "Hot Soft Lights"
4. "Yeah Sapphire"
5. "Navy Sheets"
6. "Chips Ahoy"
7. "Chicago Seemed Tired Last Night"
8. "Magazines"
9. "One for the Cutters"
10. "You Gotta Dance With Who You Came to the Dance With"
11. "Sequestered in Memphis"
12. "The Swish"
13. "Party Pit"
14. "Modesto is not That Sweet"
15. "Same Kooks"
16. "Stevie Nix"
17. "Ask Her for Adderall"
18. "Lord I'm Discouraged"
19. "Hornets! Hornets!"
20. "How a Resurrection Really Feels"
Encore
21. "Stuck Between Stations"
22. "Stay Positive"
23. "Slapped Actress"