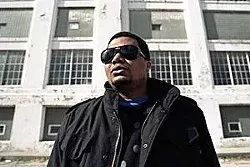 http://media.phoenixnewtimes.com
There aren't enough beefs in hip-hop anymore. I seriously miss the golden era-- back in the days of East Coast/West Coast feuding and Pac/Biggie rivalry-- when there was a new beef starting up damn near every week. Not only did that era inspire the best diss track of all-time, Tupac's "Hit 'Em Up," it was a real-life soap opera turned tragedy that gave people something to talk about.
Maybe that kind of nostalgia explains why the hip-hop blogosphere can't seem to get enough of the recent rift between St. Louis' own Black Spade and New York's underground sensation
Charles Hamilton
.
If you haven't already heard, here's the Cliffs Notes version of the dispute: Both Spade and Hamilton were on the bill at
SXSW
. Spade heard Hamilton perform a song called "Shinin'" that sampled the
Frankie Beverly and Maze
song of the same name. Spade thought the song bore more than a passing resemblance to a beat called "Shinin'" that he produced a few years back and put up on
his MySpace page
.
After the show, Spade says he approached Hamilton, complimented him on creatively using the beat, then asked him where/how he got the track. Hamilton claimed he produced himself using ProTools. Spade felt he was being lied to (he now alleges that Hamilton stole the music off of MySpace) and a once-innocent argument over who did what first and how has since turned into a
war of words
on
Internet message boards
and a whole lot of
bad publicity
for Charles Hamilton.
Here are the two respective songs so you can hear for yourself:
Shinin - Charles Hamilton
Read quotes from Black Spade on how he's handled this situation and why it may benefit his career after the jump.
Also after the jump are videos from both artists trying to offer up evidence that they were the first to produce the beat/song in question.
Spade explains confronting Hamilton:
"I heard the Frankie Beverly sample and I was like, 'Man what if, the actual beat come on and its mine.' Then it actually was mine so I went over and I'm like 'Yo, the shit is fresh. I'm just curious, how'd you get it? Because I produced it.' He said 'No I produced it with some other guy.' Mind you, he could have said the guy who gave me the sample thought it was sample or maybe it came with a gang of Frankie Beverly samples. I think somebody gave him the stuff and he took it and edited it but still he continues to lie and says he did the beat, the track the vocals everything. The lie is what rubbed me the wrong way. At the same time I still love the song, I think the dude does some decent music."
Many of Hamilton's supporters are pointing out that the guy is known for borrowing beats without permission for his seemingly non-stop stream of mixtapes (for a good example, check out his
Sonic The Hamilton
concept album, and his clever and definitely un-cleared sample of
John Mellencamp's "Jack and Diane"
). It's a trend that's common these days in hip-hop mixtapes, where there aren't really and hard and fast rules about when you need permission to use a sample or production.
Spade himself admits that he didn't clear the sample with Frankie Beverly's people
, choosing instead to sing the vocals himself and play the music on the keyboard, a tactic that sometimes works under creative use laws.
Here's Spade's take on whether he should be sweating Hamilton's use of what is (supposedly) his beat: "He has this thing if you dwell on it, then
it's you versus a young kid whose trying to get known as the mad rap boy
. It's the old versus the new to me, and it's cats not showing respect."
Is Spade going to sue or take other legal action? And how is this going to affect his career? Here's what he said:
It was never legal action to be took. It was a straight apology I was looking for. I can't clear that sample, period. It just cost too much...I really don't care either way.

He's helped me out now. It was more like promotion for me.

I guess I'm saying 'Hey, thanks' in so many words. Seriously, I'm doing what I was doing before any of this. Making a mixtape, working on a new album and doing shows. If I'm unknown, I'm unknown. That's what he [Hamilton] said about me, that I'm 'an unknown nigger.' That's his thing, it's his arrogance toward people that's on a little bit. He's trying to put somebody down that's trying to speak up for some shit. That's week.
Now them's some fightin' words.
Hamilton continues to maintain that the song is an original work and any similarity is a coincidence and he's defending his honor by posting comments on blogs like this one. An e-mail to Hamilton attempting to get his side of this story was returned with this auto-reply message:
The last thing I want Starchasers/supporters to think is that I've totally cut them off. I just wanna protect myself a lil bit better since the whole "CH stole my beat" bullsh1t. So

I'm not accepting music/beat submissions until further notice.

I still do respond to email, so you're gonna see the auto-response first, then maybe an email back from me if time permits. No one is going Hollywood (read that email a few times... lol), and even if I was, shouldn't you be proud of me? I been Harlem this whole time. lol holla back... Before anyone even starts, that doesn't mean I went Hollywood (lol-ing Chris) ~~Charles Hamilton~~ ***beep***
Here are videos with both parties attempting to prove their ownership of the song:
One nice change about this beef over the days of Bad Boy/Death Row feuding? The rappers are trading blog posts instead of bullets.