In a return that could reasonably be described as triumphant, the
Ting-Tings
partied and pleased at last night's Pageant show.
Making its first appearance in town since last July, the U.K. pair (for better or worse) traded the intimacy of the then-Bluebird
for the air-conditioning of the more spacious venue. Early on, guitarist/vocalist Katie White remarked on the more favorable conditions and her love for climate control in general.
The 10-song set they played coincided neatly with their only LP -- which features those same ten songs, albeit in a different order and with different (in most cases, shorter) arrangements. The LP clocks in just shy of 40 minutes, so to fill the extra 20 they played, most or all songs included extended jams, pregnant pauses easily mistakable for conclusion--the classic poser-identifier turned on its ear--or otherwise varied executions. Hesitant though one might be to go so far as to call the extended versions "soundscapes," they nonetheless retained all the catchiness and flavor of their parent compositions, and appeared to adequately please the Ting Tings' constituency in attendance. So too did some brief and apparently disconnected samples of "Walk This Way," "Rapper's Delight," and "Ghostbusters" to the waiting masses upon the re-entry for the encore.
From the pit, the crowd didn't seem quite as diverse as last July's show. As indicated then, demographics far and near seemed well-represented. From a vantage on the floor of the Pageant, one could scarcely believe they'd ever drawn such an audience. There, the 16-30 group dominated, most of those in the lower third or half. Among them many were bearers of prescription-free plastic glasses, costumes akin to those worn by the Ting Tings themselves (Katie White's getup from the "That's Not My Name" video, or Jules De Martino's now-trademark colorful cheap sunglasses), and--well, the accompanying slideshow can tell the remainder of the story.
The size of the bunch that turned out this time also seemed somewhat larger than their earlier host venue could have housed. Not everyone had a lousy time at the last Ting Tings show -- for my part, I loved it -- but the accommodations made available by the Pageant this time, especially in terms of size, did make for a memorably danceable good time with little to merit complaint.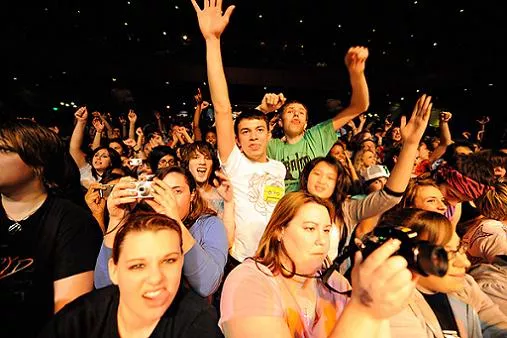 Openers Hottub were no disappointment, either. If, as expected, many attendees present last night were there to dance, then such an opportunity was proffered in full by the sassy beats and rhymes of this Oakland, California trio (plus two) of energetic and occasionally scantily-clad gals. Dancing on the stage, on the tables, and in the crowd, the synth-heavy warm-up they provided for the much-anticipated Ting Tings was sufficient at worst; at best, a raucous romp to get everyone moving.
Ting-Tings set list:
We Walk
Great DJ
Fruit Machine
Keep Your Head
Traffic Light
Be The One
Shut Up And Let Me Go
Encore:
Impacilla Carpisung
That's Not My Name