A few miles away from the Masshysteri-a at the Wedge, The Rural Alberta Advantage played a short but sweet set culled from its 2008 album, Hometowns. (Flickr set; critpick) In front of a small, appreciative crowd, the bass-less trio spun songs about everything from rockslides to running away. Acoustic guitar, keyboards, the occasional double drum and random percussion laid the groundwork, while vocalist Nils Edenloff's softened nasal-twang drove the songs forward. Think the Decemberists in Creative Writing 101 instead of Advanced Fiction Workshop.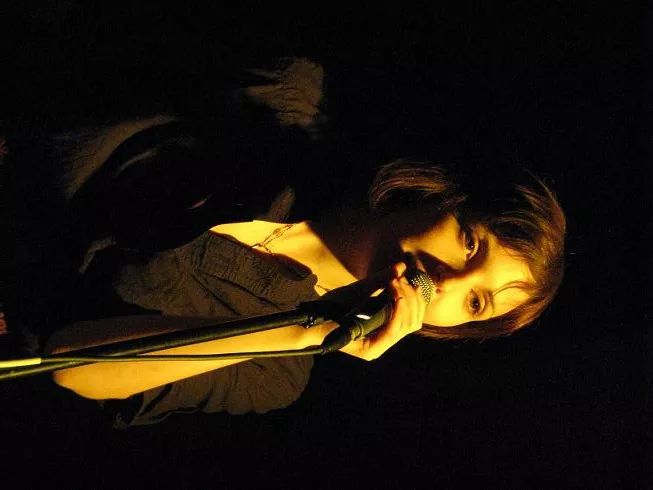 Annie Zaleski
Amy Cole of the Rural Alberta Advantage
(Yes, that's a good thing.) The RAA is doing something countless other bands are doing: playing thoughtful folk-pop based on the tiny realities of everyday life. But the group's set was never boring; little flourishes -- Cole alternating banging on a tambourine atop a drum and the drum itself or shaking maracas, and Banwatt's take-no-prisoners drumming -- added spice to the songs, while Edenloff's emoting was passionate without being overwrought or trembly. Above all, the band's songwriting and its instrumental chemistry stood out: Both things were honest and to-the-point, a nice balance between the sentimental and pragmatic.
Annie Zaleski
Paul Banwatt of the Rural Alberta Advantage
The trio was also down-to-earth when relating to each other -- they playfully teased vocalist/guitarist Edenloff for his charmingly awkward banter and noted that drummer Paul Banwatt was in a new place onstage, the far left. (Huzzah!) This casual demeanor didn't detract from the subject matter, but it did help the group's songs become bouncier, looser and far more compatible with spazz-pop tourmate the Spinto Band.
Annie Zaleski
Nils Edenloff of the Rural Alberta Advantage