A.C. Newman's solo show at Blueberry Hill's Duck Room last night was better than the New Pornographers show last year at the Pageant. There; I said it. The differences between the concerts were small, but important. For starters, Newman and his five-piece band were clearly having a ton of fun - from stalwart drummer Jon Wurster and violinist Tara Szczygielski all the way down to the horn-playing multi-instrumentalist and the keyboardist/guitarist who bopped around onstage like his employment in the band depended on effort and enthusiasm.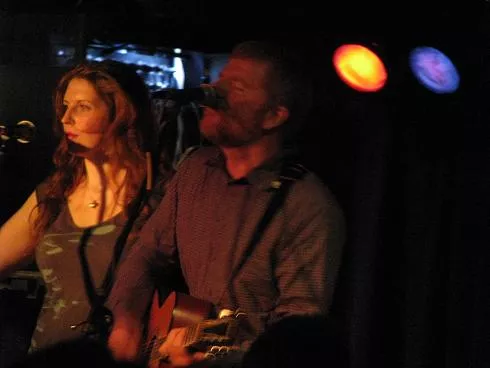 Annie Zaleski
Crappy photo of A.C. Newman
The live renditions of songs from Newman's latest,
Get Guilty
, also far surpassed their studio versions (a hint that perhaps my dislike of the album stems from production that sucked the life out of the songs). The sugar-pop swirl "The Palace at 4 a.m.," ebullient "The Changeling (Get Guilty)" and what Newman took care to note was a waltz, "Young Atlantic," brimmed with energy, while the four(!)-part harmonies at the end of "All Of My Days and All Of My Days Off" were dead-on.
Newman's older solo work also merited a visit - sometimes in different forms. A reworked, slower version of The Slow Wonder's "Then Drink to Me, Babe" was fantastic, the added violin making the song resemble a Go-Betweens tune, while "Come Crash" was even more slow-burning and deserving of head-banging (as Newman encouraged before it started). Faithful, pop-hook-happy performances of "Secretarial," "Miracle Drug," "On the Table" and an ELO-like, set-closing rendition of "The Town Halo" spiced up the set and kept the sizable crowd dancing.
The tall redhead was also in high spirits, bantering with the crowd about any number of topics, including the real time vs. bar time, Chuck Berry's indiscretions with cameras in bathrooms and, most often, about Starbucks. He has a cover of a-Ha's "Take On Me" on a new compilation sold there - although didn't play it because he said he didn't remember the chords, even going so far as to ask the audience how it started - and vacillated between cheeky support for the chain and cheeky exhortations against it.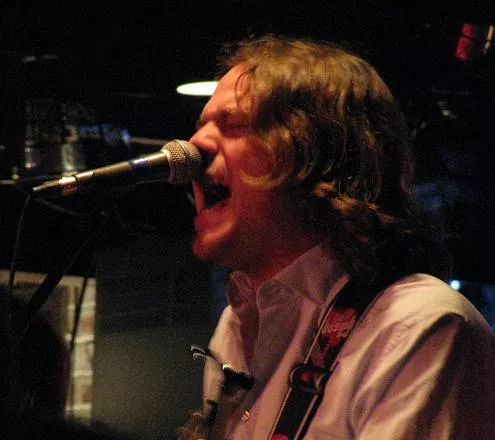 Annie Zaleski
Broken West
The Broken West improved mightily on its last opening slot in town (that would be for the Long Winters a few years ago), with a fantastic set of pure-pop rock. Songs such as "Gwen, Now and Then" threatened to veer off into psychedelic jangle - but never quite jumped over the edge - while other tunes resembled the new-wave snappiness of folks like the Knack.
My show companion Christian Schaeffer wins the comparison of the night award for noting that the Los Angeles band was a dead ringer for Wilco circa Summerteeth, from vocalist/guitarist Ross Flournoy's shaggy hair and stage mannerisms down to the band's buoyant piano/power-twang combination. Still, highlight "Ambuscade" - which featured an extended outro - lived up to the dark, Church-like version found on last year's Now or Heaven, as did the funky "House of Lies."
Reporter's notebook: The drunk but happy fan next to me swore that the Broken West's set-ending tune "Perfect Games" resembled a Cody Chesnutt song, "Look Good in Leather." They're sort of similar. Maybe. Kind of.
In case you were wondering: The Broken West missed its Vintage Vinyl in-store because they had "navigational difficulties."
By the way: Congrats to our contest winner for the tickets, Dewey Jones.
Oh, And: Sorry no photos of A.C. and co. Dim, reddlish light projected onto a guy with red hair means absolutely no chance of getting a decent snaps. See above.