Imagine, if you will, the worst possible way to spend a day at
SXSW
, one that doesn't involve an emergency colonoscopy or a
Marnie Stern
showcase, and then imagine something even more tedious and despairing, a day of utter humiliation and loathing. And then it really starts to go downhill.
I should have spent the afternoon at
Flatstock
and the night shooting kamikazes in one of Austin's 43 slut bars.
Cheer up, I told myself, as I sat for three hours in the Creekside Lounge at the Hilton, for a showcase sponsored by
The Bedford
, a semi-legendary South London music joint, at which (as I'd been informed by a South By insider) a certain
L. Cohen
would be making a surprise appearance. Buck up, I said. At least I was witnessing the first SXSW showcase broadcasted live on
Second Life
. It's a world historical moment, the eye of the matrix, the herald of what will be. First we take Manhattan, then Berlin, then we upload to a virtual SXSW where the open bar is always open and DJ Shadow, Devo and PJ Harvey (all in attendance at this year's conference) form a super group and play for tips.
My source was high, I was high, and Leonard Cohen never showed, but you guessed that, which left me and
my 46 Twitter followers
wondering what the hell I was thinking.
I was thinking I had two hours left of my Thursday evening and had best choose my redemption wisely.
But before the day went to hell, I was hopeful. The line for the
Paste
and
Brooklyn Vegan
afternoon party, where semi-legendary New Jersey band the
Wrens
were playing, was snaking along Sixth Street and my timing seemed right. As I entered, I failed to consider that the teen gangs ahead of me were there to see their primitive, demented manchild idol
Daniel Johnston
, and they weren't about to make room for my auteur rock fetishism.
"I can almost see him!" one waif cried at the edge of the cattle-car packed tent. What she would have seen is DJ, trembling with a microphone in his hands, reciting his primitive obsessions (yes, I know the P.C. phrase is "outsider art") over a reasonably rehearsed rock band. The alternative icon did make for an excellent rock documentary (
The Devil and Daniel Johnston
) but his supposed genius is a myth at best and a hipster gawk-fest at worst.
Johnston also went over time by 20 minutes, which meant the Wrens, not known for speed or efficiency, would foil my hope for seeing the
Hold Steady
at the Found Magazine party a few blocks away. I fled before the drums were swapped out, dodged a battalion of Segway tourists, got in line at Red 7, and made my peace with only two daylight hours wasted. Once inside the Communist themed bar, I ran into my old boss and
Drink of the Week
founder
Randall Roberts
, got a beer and waited out the
Lucero
set. On paper, the alt.country band should be in my wheelhouse, but something (nay everything) about singer Ben Nichols makes me cringe for the cult of trailer trash poetry. And the band's too-too-serious Southern rock bombast doesn't help. The Boschian sea of body artists swelling around the outdoor stage would beg to differ.
After a ridiculous introduction by
Andy Kindler
, a comic friend of the Hold Steady, the best live band in America walked out over the overture of CCR's "Travelin' Band," and then exploded into "Constructive Summer," a smashing opening, with a wild squawk box solo from guitarist Tad Kubler.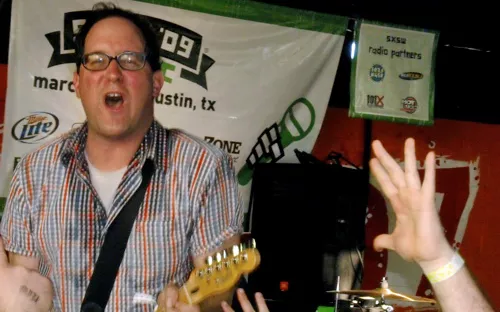 Roy Kasten
Craig Finn of the Hold Steady
Craig Finn did his maniacal sign-language-interpretive gesticulations, and by the third songs, "Multitude of Casualties," the moshing and crowd surfing had begun, with just one beer thrown at the stage, and for only a moment I imagined Craig Finn was imagining just what he'd wrought. He's the least likely of the great rock front men, utterly in love with reaching an audience, unable to contain the joy of that feeling, but also somehow unable to believe that all of this is happening, that there really are 500 people crammed body-to-body and singing along with every tongue-twisting line of "Sequestered in Memphis."
For me the set's biggest surprises were the piano-based ballad "Cheyenne Sunrise," a bonus track from last year's Stay Positive, and "Slapped Actress," a minor song from the same album, which was transformed into a roaring, wild, beer-spraying finale.
Roy Kasten
Tom Hickox
My first clue that the aforementioned non-materialization of Leonard Cohen would in fact be a non-materialization should have been London singer-songwriter
Tom Hickox
, the first act at the Creekside Lounge, who threw-down a non-stop sequence of
American Idol
crooning and nonsensical British romanticisms. Good keyboard player and nice handkerchief, however.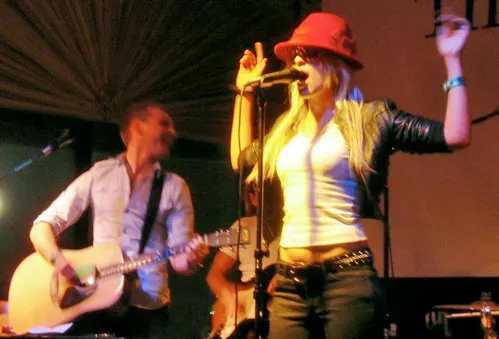 Roy Kasten
Laura Critchley
And on the evening went, with
Laura Critchley
, a Britney Spears knock-off without the moves or the hooks.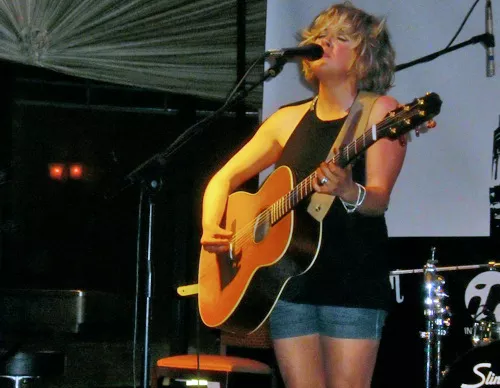 Roy Kasten
Amy Wadge
Then
Amy Wadge
, a Welsh strummer with sincerity to burn but little else. I finally put a stop to the absurdity of my situation by doing what I should have done to start: Confirming with the showcase host that while Cohen's back-up singers, the
Webb Sisters
, would be performing, the poet would not.
Roy Kasten
Blind Pilot
At least there was still Portland's
Blind Pilot
at Club Deville, who began the evening's redemption with a large band set of quick, gorgeous folk and pop, all vibes and stand-up bass, trumpet and four-string banjo, and terrific harmonies from Israel Nebeker and Kati Claborn. The band was supposed to play St. Louis this winter, but canceled; they really must try again.
One a.m. came quickly, yet I managed to squeeze into the basement bar of Prague for another chance at the Wrens, who, it's true, are working on a follow-up to the 2003 stunner Meadowlands.
Roy Kasten
Kevin Whelan of the Wrens
Kevin Whelan was in an especially ebullient mood, rallying the crowd at every chance, passing his bass over the audience with the second number, and leading the band through most of Meadowlands' scarred and scared songs, a band that sounded and felt like a heart bursting with rock joy, love lost and chances missed -- but making the absolute, electric most of what moments we all had.