On Sixth Street in Austin, it's Day One of SXSW 2009 (for Day Zero,
go here
) and the promotional and busking stunts are on: A couple of kids dressed in epidermally fused body suits to hype (sweetly) their outer space band
Frontier Brothers
, some Transformer mechano-dude on stilts, a posse with a sign for
"Free Hugs,"
and more hippies banging on pickle jars than I care to recall with a hangover. Not bad, but I want fire next time. And Secretary Geithner, since you've thrown everything else at the markets, try this: Turn AIG into a bratwurst stand on Sixth.
(View more SXSW Day 1 photos in our slide show and here: "Live at the Red Eyed Fly and Stubbs BBQ")
Roy Kasten
Caitlin Rose
My day started at 1 pm in Emo's parking lot tent for the Swedish indie pop of
Marching Band
, whose album
Spark Large
was a sweet surprise last year. But with a pick-up rhythm section from LA and no horns or strings in sight, the group was merely charming, without the zing or zest of their record, though the hooks in songs like "No Plans" remained. Up the street at the
Austinist
party at Mohawk,
Caitlin Rose
was finishing a solo set of rather cloying folk twang (when will the tryouts for the next
Juno
soundtrack close?), but
J. Tillman
, Fleet Fox drummer and intense songwriter in his own right, was next, and he and his beard cut through the metal din grinding from the stage next door.
Roy Kasten
J. Tillman
In an unwashed undershirt -- rocker dudes, enough with the bogus aesthetic statements -- Tillman still sounded searing, his voice and lightly strummed Martin guitar rang resiliently. A dis of Kanye West -- who had just announced an appearance at South By -- might have been gratuitous but Tillman's songs weren't.
Roy Kasten
Gringo Star
The same, really, couldn't be said for Atlanta's
Gringo Star
, who showed up on Mohawk's smoking patio stage, bearing just a little too much irony and a style that doesn't quite separate the band from uncountable others. Moments of keyboard destruction and a few power pop crunchers were, however, welcome.
Roy Kasten
Elvis Perkins
I was more interested in catching up with
Elvis Perkins
, who has maddeningly skipped St. Louis since the release of his debut
Ash Wednesday
two years ago. His new album,
Elvis Perkins in Dearland
isn't quite as intense, but his band has shaped their freak folk rock into something wonderful and spontaneous, with Salvation Army drum thump, trombone and sub-woofer-low keys. They may never quite explode, but they don't need to. They clatter, whistle and whirr as one, and even a bass-less rockabilly tune like "Stop, Drop and Rock and Roll" sounds fresh and alive.
Generally speaking, the last place in Austin I'd care to spend my first night of South By is a Presbyterian Church (no beer and no bathrooms), but that's where indie label 4AD was having its official evening showcase, so I found a spot in seventh row pew, filled out a visitor card with the stub of a pencil, and somehow found it in my anti-theist heart to forgive
Anni Rossi
, the night's first act, for crimes against Andrew Bird. She's no whistler, but she plucks and thumps her viola with great skill but few songs, and her vocal technique, stressing every twelfth syllable with a high, half-yelp, quickly devolves into vocal ticks. Her drummer, however, gets high minimalist marks.
Roy Kasten
M. Ward
I'd come to see
M. Ward
, not because I'd never seen him before, but because his newish album
Hold Time
(on Merge, not 4AD), remains the 2009 album to beat. Sporting only his guitar and a harmonica, he opened with the quizzical picking of "Chinese Translation" and then a beautifully blistering and noised-up instrumental that tested the chapel's acoustics. Ward is a remarkable, self-made guitarist, like unto only himself, wrestling with the instrument as if it were frightened animal in need of calming. He played mostly old favorites, like a gorgeous "Fuel For Fire," along with a new reworking of Don Gibson's "Oh, Lonesome Me," and a final, glimmering grand piano take on the title track of the new album.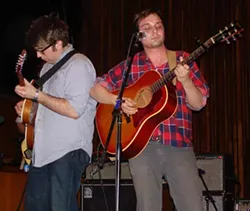 Roy Kasten
Department of Eagles
The
Department of Eagles
had no chance of following Ward, but they tried anyway, and while there's something eerie and lovely about Daniel Rossen's voice, the vocal looping tricks felt like messianic affectations, or at least faux-Gregorian chant, and I kept hoping for the small band to let loose of something, preferably their grad-school-drop-out sheepishness. And when one's most memorable lyrical line is a dully repeated "When the morning comes," the news one brings will never good.
Roy Kasten
Robert Gomez
Down Sixth street, the line for
Echo and the Bunnymen
was prohibitive, and I instead took my chances at Maggie Mae's for
Robert Gomez
, a Denton, Texas native with string section, French horn and a Depression-era typewriter for percussion. The set was sweeping and lovely, though only myself and 25 others cared to listen. Over at the alley-side Ale House, I caught a deliriously surprising set from
Hoots and Hellmouth
, a Philly bluegrass-minus-banjo rock band, who stomped the floorboards from their first song to the last. Soaked in sweat and string band punk, the four piece was not texting it in. (
Twangfest
would do well to book them now.)
I would have been happy to end the night then and there, but just down the street free American Spirit cigarettes called my name and
Billy Bob Thornton
and the Boxmasters echoed the refrain.
Roy Kasten
Billy Bob Thornton singing for The Boxmasters
Much as Thornton is one of country music's most purely unlistenable singers, he did tap dance with Angelina Jolie (a fact pointed out to me by no less than five random dudes) and he did promise some excellent between-song banter, delivered in the form of a weird lecture to a young woman at the front of the stage. "Never pass a singer a note just when he's starting a song," he said. "I'm sorry you can't hear my voice, but if you'll notice, the speakers are over there, so of course you can't hear my voice. If you want to hear my voice, buy the record. You can hear the band, can't you?" She could, as could I, and the six piece Boxmasters, dressed in matching black suits, were simply sick, tight as Thornton's plastic surgery and a bargain at twice their veteran fees. They even made a cover of the Ozark Mountain Daredevils' "IIf You Wanna Get to Heaven" sound less like a classic rock joke and more like the country truth.