Best Track: "Tiny Dancer." Maybe it's just because this is my favorite Elton John song anyway, but it was one of the only tracks that didn't seem completely bloated and overblown with the 88-piece orchestra booming behind it.
It's the little touches that accent John as he belts out the first verses---symbols and auxiliary percussion mostly. The strings and horns come in at "Jesus freaks/out in the streets" and then back off a bit before booming again at "oh how it feels so real" and building to an extended crescendo as Elton wails, "Hold me closer tiny dancer..."
I still think he says "Tony Danza" instead of "Tiny Dancer" sometimes, though.
Worst Track: "Sixty Years On." Don't get me wrong, this is a great song--except in this particular case. First there's Elton's voice, which sounds hoarse since the double-disc orchestra album was the second half of a live show--he'd already perfomed with his 13-piece band earlier that night. It was also the last stop on a 13-city Australian tour. Oh, and it was also his last performance before he underwent throat surgery to remove polyps from his vocal cords, causing him to lose his falsetto.
So by this point he sounds like he'd been out smoking unfiltered cigarettes in bushwacker bars with Crocodile Dundee for two weeks.
Oh, and the orchestra, with all their weeping string arrangements and extra crescendos, makes John's over the top songs sound like the cheesy score to a Disney movie. Even moreso than the actual cheesy scores he did for Disney movies.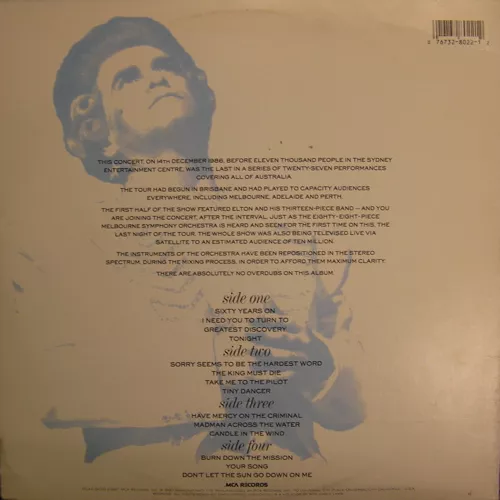 Who you can thank for the amazing cover art: Design and art direction by David Costa. Yes, Elton John is wearing a George Washington-style gray wig with curls.
The Facts: -Sir Elton Hercules John was actually born Reginald Kenneth Dwight.
-Has sold over 200 million records, had 56 Top 40 singles (9 number 1's), won five Grammy's and one Academy Award.
-Failed a lead vocalist audition for King Crimson.
-Started going by Elton John while fronting his first band, Bluesology
-Has performed dressed as Donald Duck, Mozart, and the Statue of Liberty, among others.
-Was once part owner of the British soccer team Watford F.C. When his team lost to the Everton Blues in a championship match in 1984, Everton fans held up a large banner that read "Sorry Elton--I Guess That's Why They Call Us the Blues."

-Told Rolling Stone in 2006 that he wants his next album to be in the R&B/Hip-hop genre, saying: "I want to work with Pharrell, Timbaland, Snoop, Kanye, Eminem and just see what happens. It may be a disaster, it could be fantastic, but you don't know until you try."
-Has ten godchildren, including the Sean Ono Lennon, Elizabeth Hurley's son, David Beckham's sons, and Seymour Stein's daughter.
-According to Wikipedia, he has performed under several psudonyms, including: Rockaday Johnny, Raggae Dwight, Lord Choc Ice, and Nancy Treadlight