"Hello,"
John Prine
said when he walked onstage at UMSL Friday night and picked up a guitar. Then he reeled off seven songs from his prodigious back catalogue before delving into his most recent collection, 2005's
Fair & Square
.
That was just dandy with the audience at the sold-out Touhill Performing Arts Center. Including the drunk fella sitting right behind me, in the very last row of the orchestra section, alternately hollering encouragement and singing along.
It was an interesting opening salvo. I'd half-expected Prine to introduce himself via "Some Humans Ain't Human," a topical song on
Fair & Square
that skewers the recently departed White House occupant with this spoken passage near the end:
Have you ever noticed
When you're feelin' really good
There's always a pigeon
That'll come shit on your hood
Or you're feelin' your freedom
And the world's off your back
Some cowboy from Texas
Starts his own war in Iraq

But Prine's never really been about the easy laugh. In fact, he didn't play that song at all on Friday night. Instead, after the iconically nutty old chestnut "Spanish Pipedream" (
Blow up your TV, throw away your paper/Move to the country, build you a home/Plant a little garden, eat a lotta peaches/Try and find Jesus on your own
), we got the barstool's-eye view of "The Torch Singer" (
Whiskey and pain both taste the same/During the time they go down
). Said Prine after that one: "I ain't sang that in about 25 years." And then, out of the blue, "Six O'Clock News," a real day-brightener about an out-of-wedlock offspring who kills himself after learning that truth via an old diary (
The whole town saw Jimmy on the six o'clock news/His brains were on the sidewalk, and blood was on his shoes
).
Which is not to imply the evening was a down one. Far from it. Just a little...unpredictable.
Seeing Prine at sixty-plus was a little jarring, initially. I tend to visualize him the way he looked on the cover of his third album, 1973's
Sweet Revenge
--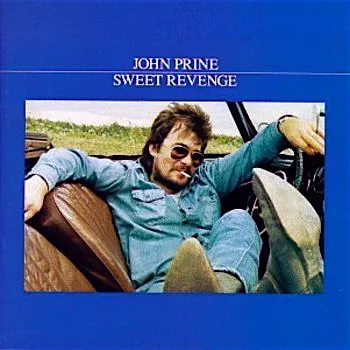 -- whose characterization in
the original Rolling Stone Record Guide
I still recall nearly thirty years after first reading it: "...[H]e sprawled unshaven in the front seat of a convertible, pointy-toed cowboy boots thrust out and a hungover fuck-you expression beneath his shades."
But if surgery for neck cancer a few years back has left Prine with a rounder-than-before body and the posture of someone who seems always to be saying not "Fuck you" but something more along the lines of, "So whaddaya think about
that
?" -- well, things could be a lot worse. The three-piece band -- Prine, dressed all in black, bassist Dave Jacques and lead guitarist Jason Wilber -- came up just shy of two dozen songs, playing nonstop for nearly two and a half hours. After the seven opening oldies, Prine played three songs in a row from
Fair & Square
. Then the supporting cast made for the wings, leaving the main man to his own devices for crowd favorite "Angel From Montgomery" and a few other similarly seasoned songs.
Prine mostly stuck to business, though he engaged the audience with an introductory anecdote now and again. About "Souvenirs," he said, "I wrote this song while I was still delivering mail in Chicago. People used to ask me what it was like, delivering mail. I told 'em it drove me to songwriting." The night's best quip, deadpanned in response to a volley of shouted requests: "I know 'em all."
And he does. The set traversed a wide swath of Prine's four-decade songwriting career, with an ample supply of popular favorites ("Please Don't Bury Me," "Fish and Whistle," "Hello in There," "Sam Stone") punctuated often by obscure-ish choices ("Storm Windows," "Unwed Fathers," "That's Alright By Me" -- that last is one of four bonus cuts from the vinyl edition of
F&S
that only recently were made available on a CD EP).
Prine was joined onstage for the three-song encore set by opening act
Carrie Rodriguez
, who dueted on "Unwed Fathers" and "In Spite of Ourselves." The Austin-based fiddler had been up to the task of warming up the crowd for a legend despite the fact that the airline had lost her
tenor guitar
when she flew into town earlier in the day. (She gave a grateful shout-out to the local shop
Killer Vintage
for coming through with a loaner of the hard-to-find instrument.)
Cancer and its consequences
dropped Prine's voice a key or two
-- that and the countless cigarettes that led up to the health scare -- and at times he drove that voice like a valet who just got tossed the keys to
a '59 Porsche
. But the old guy behind me at the Touhill sure as hell didn't mind, and neither did the rest of us.
Setlist
(note: sound files removed at artist's request)
:
Spanish Pipedream

The Torch Singer

Six O'Clock News
Please Don't Bury Me
Souvenirs
Storm Windows
Fish and Whistle
Glory of Love
Long Monday
Crazy as a Loon
Angel From Montgomery
Dear Abby
One Red Rose
It's a Big Old Goofy World
Sam Stone
Bear Creek Blues
That's Alright By Me
Great Rain
Hello in There
Lake Marie


Unwed Fathers*
In Spite of Ourselves*
Paradise*
John Prine
: Guitar, vocals
Jason Wilber
: Lead guitar, bottleneck guitar, mandolin, harmonica, harmony vocals
Dave Jacques: Bass
*Carrie Rodriguez
: Fiddle, vocals