Artist: Captain & Tennille
Album: Dream
From: Vintage Vinyl
Year: 1978
Label: A&M Records
What it sounds like: Jimmy Buffett + The Beach Boys + Barbra Streisand + Elton John/Scissor Sisters + Diana Ross = Captain & Tennille.
Best Track: "You Never Done It Like That." From the famous team of Howard Greenfield and Neil Sedaka (who penned 60's hits "Oh Carol!" "Happy Birthday Sweet Sixteen" and "Breaking Up Is Hard to Do") comes a song about a woman who realizes her man is cheating because he suddenly develops some new moves in the sack. Lyrical highlight: "Who's been teaching you/Hey little man/ I want to shake your hand/One kiss from you/And I feel just like Columbus/ I did discover/ You're some kind of lover"
This one screams 1978. There's an Elton John/Scissor Sisters piano vibe coupled with the patented Beach Boys-like multi-layered vocal harmonies and frisky Margaritaville tropical percussion with congas, shakers and tambourines.
Worst Track: "Love Me Like A Baby." Beyond the WTF title, there are the WTF lyrics, written by Tennille with the help of Howard Greenfield: "Love me like a baby/Hold me like a child/This day is behind us/Let the love come and find us."
At her best, Tennille sounds soulful, like she's doing her best white girl impersonation of Diana Ross. At her worst, she sounds like a lounge singer with a hard-on for Barbra Streisand. This one sounds like a Richard Cheese-style Babs impersonation, with corny soaring vocals accompanied by Captain pounding away on the ivories.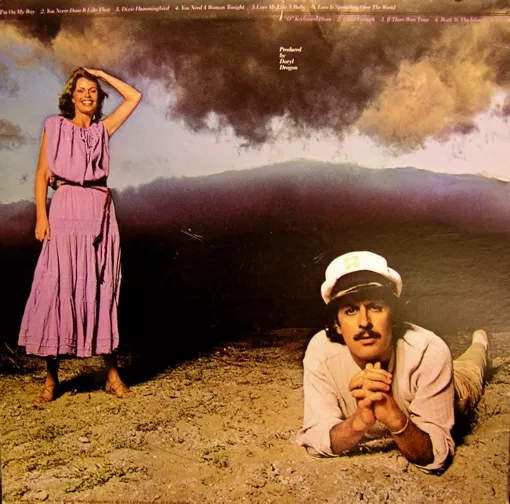 Who you can thank for the amazing cover art: Art Direction: Roland Young. Design: Junie Osaki. Photography: Norman Seeff
The Facts: The husband and wife duo Captain and Tennille are best known for their 1975 hit, "Love Will Keep Us Together." And for the episode of That 70's Show where Jackie replaces Donna's Led Zeppelin poster with a Captain and Tennille one.
Five of their first six albums either went gold or platinum. Dream was the one that didn't.
Captain's real name is Darryl Dragon. He also produced this record. He has several famous siblings and relatives, including his father Carmen Dragon, who scored several films in the 1950's, including Invasion of the Body Snatchers. He got the nickname Captain from Beach Boys lead singer Mike Love when he was a keyboard player for the band in the early '70s.
Toni Tennille married Dragon in 1975. They met when she was a backup singer for the Beach Boys. She also did back-up vocals for Elton John on "Don't Let the Sun Go Down On Me" and on Pink Floyd's "The Wall."
Their other '70s hits include such charming titles as, "Muskrat Love," "Do That To Me One More Time" and "The Way I Want to Touch You."
According to Wikipedia, they quit A&M records when the label signed the Sex Pistols. It also says that in 1976 first lady Betty Ford invited the group to perform in the East Wing of the White House for the president and Queen Elizabeth II.
Tennille spent the '90s as a lounge singer at Harrah's Lake Tahoe and starring in a production of Victor/Victoria. In 2006 the pair voiced and wrote songs for a Cartoon Network animated series that I have never heard of, called Casper's Scare School.
Info from: The Official Captain and Tennille site, Wikipedia, AllMusic, and ClassicBands.com