Better than: A crowded dorm-room party with cheap beer and cheap vodka drank out of red plastic cups, awkward grinding and an iTunes playlist full of cheesy dance hits. Actually, wait - that was kind of what the show was.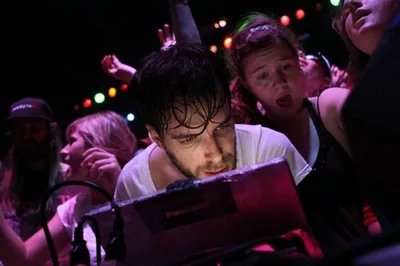 There's no easy way to review last night's Girl Talk show, mainly because there was no formal structure to the performance. At 9:45 p.m. or so, the lights went down and rev-up music started. Main man Gregg Gillis, sporting a gray hoodie and red jogging pants, appeared and ran to a laptop set up in the middle of the Pageant stage. A swarm of kids wearing brightly colored clothes - ranging from casual to party to hipster in style -- rushed onstage, ready to bump, grind, raise the roof and let loose for 75 minutes. As the show proceeded, people on either side of the stage shot rolls of toilet paper over the crowd.

All the while, Gillis mashed together music from different eras as if he was mismatching plaids, stripes and polka dots. He layered Khia's filthy "My Neck, My Back" over Dexy's Midnight Runners' "Come on Eileen." Kelis' sassy "Milkshake" strutted over the immortal riffs from White Zombie's "Thunder Kiss '65." MGMT's "Kids" tangoed with Kid Sister's "Pro Nails," which in turn bled into Tag Team's "Whoomp! There It Is" - which itself ended up layered over a triumphant-sounding Big Country's "In a Big Country."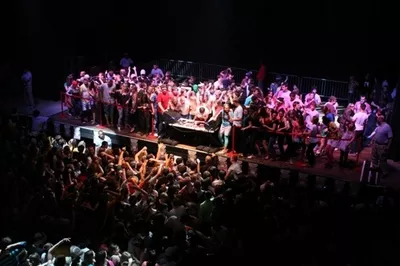 Gillis was having the most fun out of everyone, it seemed -- he crowd-surfed several times, stood on top of his laptop table, headbanged and generally spazzed out like a giant nerd. How comfortable he was with a lack of personal space was impressive to see - dancers were all up in his business for the duration of the set - as was how well his equipment stood up to the crush of people around him. Give credit for this to what looked like Gillis' technology bodyguard, a long-haired dude wearing a Sepultura shirt who reminded me of a skinny, more J Mascis-like Silent Bob.
The entire show actually felt like one dirty frat party, down to the puke in the bathroom and packs of glassy-eyed guys being douchebags. Still, plenty of people were stopped at the door before they even made it into the Pageant - too much pregaming, I hear - and I personally saw security guards throw several people out of the place, ostensibly for insubordinate behavior. And as far as I know, nobody was tased.
But you know what? The show was fun, for what it was. I grooved a little, to some of the more ridiculous songs. (Holla to Busta Rhymes' "Woo-Hah! Got You All In Check" and Ludacris, "Move, Bitch.") But I stayed sober and I wasn't in a dancing mood - I'm getting over a cold and my knees were hurting, wahh, I'm old - so I felt a little removed from the party atmosphere. Sometimes the show dragged and the novelty of hearing so many mash-ups waned (a common problem occasionally on GT's latest disc, Feed the Animals). Sometimes watching the dancers onstage grew very, very boring - and since they were the only show "props," that influenced the show atmosphere.
These quibbles just make me sound old, cranky and out of touch. And Girl Talk really isn't an artist or show that calls for deep thoughts or analysis, no matter how many critics want to find transcendent planes of meaning in his livelihood. He's just out to create a good time. And he certainly did at the Pageant last night - and that's good enough.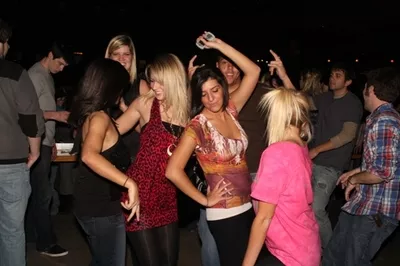 Slide Show
*Other songs I remember hearing: Radiohead's "15 Step" and "Paranoid Android." Spencer Davis Group, "Gimme Some Lovin'." Elastica, "Connection." Sinead O'Connor, "Nothing Compares 2 U." Cheap Trick, "I Want You to Want Me." Blackstreet, "No Diggity." Digital Underground, "The Humpty Dance." Elton John, "Tiny Dancer." Ramones, "Blitzkrieg Bop." Cameo, "Word Up." Van Halen, "Jump." Rick Ross, "Hustlin'." Fergie, "Glamorous Life." The end of "Layla" by Derek and the Dominoes. Songs by INXS and Eminem.
*Moments which drew the biggest ovations: The rumbling bass backdrop of Kanye West's "Love Lockdown." The Jackson 5's "I Want You Back." Every moment of Kelly Clarkson's "Since U Been Gone." A combo of Weezer's "Say It Ain't So" and Lil Wayne's "A Milli." Girl Talk's immortal tune, "Pump That Pussy, Don't Back Down."
*Moment I Felt Old, Part I: The joyous reception to Daft Punk's "Around the World." Old Lady Zaleski bought the album that song's on (Homework) the day after her senior prom in 1998.
*Moment I Felt Old, Part II: Knowing immediately what song it was when I heard the backdrop of Spacehog's "In the Meantime."
*Patrons who get an "Epic Fail": The girl in line for the bathroom who peeled off a shirt and said obnoxiously, "I'm going to show Gregg Gillis my titties!" The guy in front of me who did three whiskey shots in a row. The skinny, pasty guys on stage - Gillis excluded from this - wearing nothing but boxers/jean shorts.
*Patrons who get an "Epic Win": The guy onstage dressed head-to-toe in a green body stocking, face included - and his twin, who tried to crowd-surf to the stage and failed.
*Fashion choices that get an "Epic Fail": Guys wearing loafer-slippers. Guys wearing shorts. Leggings, in all colors, textures and lengths. Hawaiian shirts and visors.
-- Annie Zaleski