East St. Louis has never really had a hip-hop artist blow up nationally. Raw Resse, Beano, and Da Bangaz all had local club hits that led to record deals but little else--nothing on the level of Nelly, let alone 314 money-makers like Jibbs or Murphy Lee.
The latest hope for the Eastside comes a pair of female emcees who call themselves Unladylike.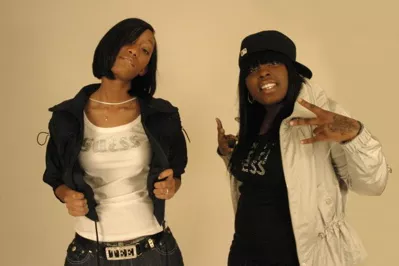 In November the pair, who go by the names Tee and Gunna, inked a record deal with Voicez, a recently created branch of Def Jam. Last month they relocated from East St. Louis to New York City, where they've been holed up in a recording studio with their longtime producer 3D, working on their first full-length album.
The story of how they landed their record deal is kind of heartwarming, as far as the music industry goes. According to Tee (on the left in the picture), who spoke on the phone from her Long Island apartment, they got a lot of help from the folks who own the East St. Louis nightspot Club Casino.
In November, Unladylike wanted to enter a music showcase in New York sponsored by musicmegastar.com. The only problem was finding a way to get to the Big Apple to perform. Ced and Keisha Taylor, Club Casino's owners, stepped up and hosted a benefit show that helped pay for their rental car and some of their traveling expenses.
They were named the top artists at the event, where they hooked up with Sita Lewis, daughter of Butch Lewis, a former boxing promoter who founded Voicez Music Group, one of Def Jam's newest subsidiaries. Lewis, in turn, took them to meet legendary Def Jam chairman L.A. Reid who liked them enough to green light their recording contract.
"Ced and Keisha have always been behind our music 100 percent," Tee says. "If it wasn't for their help we probably wouldn't have made it to New York for the competition."
DJ C-Note, a mainstay on Casino's turntables, says Unladylike has been making waves on the East St. Louis club circuit for most of 2008. "I been supporting them for the past year, they had a record that was a go-to record, a club banger called 'Go Sit Down.' I been playing that one for over a year, that record goes hard in the club."
As for the pair's sound, it isn't the typical Salt-N-Pepa soft girl rap. It's high-paced hi-hat and booming bass crunk beats with in-yo-face, get-the-fuck-up-and-dance rhymes.
"It's a new type of style, not crunk, just a whole Midwestern type of flavor," Tee says. "We have a different sound. We bring energy to our music, excitement. We bring the fun back into hip-hop, especially coming from two females. We're out to show other female artists out there that it's still possible to do it."
While they await their major label debut, the pair is prepping a mixtape with the St. Louis/East St. Louis crew the Derrty DJ's that's due out in the coming months.
Here's hoping they make it big time and break out of the cycle that's brought down so many other rappers from the Ill-side.