Picture the dirtiest dive bar you know. Stale cigarette smoke loiters in the air. Hockey or basketball plays on a TV over the bar, which has signs everywhere advertising cheap beer specials. The bartenders always look tired, their skin leathery, their fashion dated.
Usually, the dive bar has karaoke. But tonight, there's a band playing -- an out-of-town band from L.A. While there's a certain excitement that a band from the big city is here, everyone knows that nobody with real talent plays at this bar. Or rather, this is the place where bands who used to be famous perform - because nobody else will have them.
Everyone in the quintet is dressed nicely, but the rail-thin singer is especially dressed to the nines: dapper black suit, white dress shirt, long tie, smart fedora - all of which accentuate his razor-sharp elbows and knees. You can tell that at one point in his life he was somebody.
But tonight, there's an element of fallen angel about him. The self-pride you might expect from someone in that outfit is missing. His demeanor is detached, indifferent. Accordingly, the bar is nowhere near packed, and the energy of the audience is low.
That's the recurring scenario I had running through my head during Scott Weiland's headlining show at the Pageant last night. Saying that it was a trainwreck is being kind.

Slide Show
The band opened with a cover of the Smiths' "Reel Around the Fountain." The guitars were rather off-key, and while the song is slow, the drummer's beats plodded. A lot. Perhaps the tinted sunglasses he sported were hindering things. Weiland attempted to croon like Morrissey. But what emerged was some wavering, off-key lounge act that sounded tired. The five-minute song felt twice that long.
The next song, "Killing Me Sweetly," was from Weiland's new solo album, "Happy" in Galoshes. It's a slinky bossanova track in the studio, but live it sounded like one of those horrible Santana crossover hits. Again, things are plodding, and Weiland's vocals are raspy and unfamiliar. His onstage movements are odd - very deliberate, slow and listless. Perhaps he's going for elegance -- but weird, spider-limbed old man is the reality. It's hard to grasp that this is an actual, real performance.

The crowd is not amused. People start leaving in droves. Some boo and catcall for Stone Temple Pilots songs. Weiland is not amused; he makes some crack about how the show isn't billed as one from STP. Clearly, his past is something he can't escape, even if he wants to. The one concession he does make, "Interstate Love Song," features hackneyed distorted guitar and almost disdainful passion in the vocals - as if the rapturous crowd response to it just fills him with spite.
Things don't improve. In fact, the set gets worse - more and more like a trainwreck from which you just can't tear your eyes away. The band chops haphazardly through a power-pop older song, "Mockingbird Girl," and tacks on a very unnecessary extended ending. Another tune sounds vaguely like a cover of the Flaming Lips' "Waiting for a Superman" -- because it is a cover of that. but it's apparently a new song called "Pictures & Computers (I'm Not Superman)." Fake smoke curls around the band like a witch's brew during "Big Black Monster," and the nod to excess is laughable, during a show with negative rock star magnetism.
Now Weiland sounds like a lounge lizard with a raging head cold. Or more precisely, that appears to be him echoing David Bowie's inimitable velvet vibrato, and instead coming off like that guy who's always enthusiastically doing bad karaoke really off key. The drummer's black shirt and red tie are starting to be even more douchebag-like and irritating, as his playing continues to drag down every song. An irate, whiskey-filled friend comments that the guitarist sounds like he's playing the cheesy Beverly Hills 90210 theme.
By the encore, things start to feel like a David Lynch film. Two women in the bathroom discuss the pros and cons of generic Prozac. In the back by the bar, a mismatched couple passionately makes out - a jowl-burdened, overweight middle-aged man and a curvy woman with long blonde hair and a short skirt. Strangers know exactly who I am and what I do.
Onstage, dense magenta lights and weird video spirals played as Weiland fumbled through "Beautiful Day," with mumbled lyrics about "keeping up with the Joneses." A fan walked out angrily, screaming "You suck!" as he left. By the time Weiland played the single "Missing Cleveland" - with a mumbled intro that was barely coherent - I decided to split. Most of the crowd had left before me anyway -- disappointed, confused and downright disgusted at having wasted their money on such a waste of a show.

I could go on for probably another 1,000 words on what this show meant and why it was bad and its emotional implications -- but you know what? There's really no need, and no point. It was sad. Period, end of story. Love or hate STP, but the band dominated '90s hard-rock radio, and had some pretty groovy glam elements in the mix by the time it originally split. A lot of this charm had to do with Weiland, whose sandpaper rasp and serpentine moves made him a charismatic frontman. Whatever magic the band had then was nowhere to be found last night. And that's the cold, harsh truth.
It's almost unnecessary to say that Eagles of Death Metal was the best band on the bill. In fact, a sizable number of people left after it played. Jesse "Boots Electric" Hughes - with an impressive 'stache and sunglasses firmly in place -- slunk around the stage manically, like a ChiPs version of Iggy Pop. (Ever the rock star, he made sure to strut to the ends of the stage and pose with his guitar multiple times, to accommodate cameras in the front row.) A friend noted that the group's in-sync slashes brought to mind Rocket from the Crypt, but the whole '70s vibe and carefree classic-rock homages conjured Urge Overkill to me. And that's a good thing.
Although a few slower songs here and there killed the momentum, the band's fast numbers killed, largely thanks to Queens of the Stone Age's Joey Castillo, who sat in on drums. Castillo absolutely slayed "Kiss the Devil," which requires insanely fast stick-work alternating with slower boogie, and anchored crowd faves "I Want You So Hard," "Wannabe in LA" and "Cherry Cola." Sometimes Queens guitarist Dave Catching and regular bassist Brian O'Connor were no slouches either, handling the sleazy guitar work and grooving bass on tunes like the fantastic set-ending garage-goth spike, "Speaking in Tongues."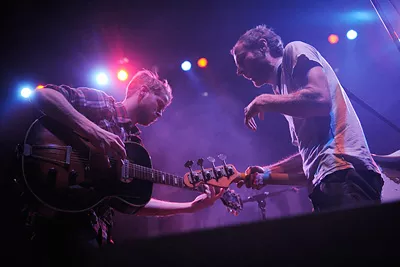 Cold War Kids' opening set was hit or miss. The California quartet certainly exhibited plenty of emotion and passion (hell, they kept running into each other), in its burnt-out blues-grunge tunes, but often the music was just boring. "Hospital Beds," which found singer Nathan Willett pounding on a piano while forcing out his wild-eyed choir boy vocals, and the final song "Saint John" - a Beck-like number full of maracas, frenzied piano and lurched vocals - were its best and most interesting.