Artist: The Schola Cantorum of SS. Cyril and the Methodius Seminary, Directed by Rev. Henry A. Waraksa
Album: Christmas In Poland
From: Vintage Vinyl
Year: Unknown.
Label: Capitol Records
What it sounds like: Christmas in Gitmo.
Best Track: Side 1. There's no individual tracks, just a medley of traditional Polish Christmas songs. It's sung in Polish by an all-male choir of priests in training.
According to the notes on the back, side one is "Pastoralki," informal folk songs whose "melodies and dancing rhythms are not suitable for church." Naturally, this was my favorite side. It has a lot of polka-inspired accordion and some organ bits that sound like the type of thing you hear at a baseball game.
Since I don't speak Polish, all the lyrics kind of sounded like gibberish (well, a mix of Russian and German gibberish). Here's what I wrote down in my notebook for lyrics, "A cha cha, ah ha ha ha, looks good leap job blah blah blah." That was from the song, "Dzisiaj W Betlejem," or "Today in Bethleham"
After awhile it kinda sorta started to sound like English and I came up with, "Yay, treasure, gonna call ya, yeah yeah, boy it's cool, so cooool," as the lyrics. Not sure if that's right, but it's what it sounded like.
Worst Track: Side 2. The flip side is full of medleys of "Kolendy," the traditional church hymns. This was much, much slower and sounded like American Christmas hymns being played backward on the record player. Maybe if I'd have spun the disc in reverse I'd have heard some kind of secret, hidden message like on the White Album.
The back of the album describes one medley as having, "lilting, gay rhythms, eminently suitable for seasonal social gatherings."
One of the songs sounded a little like "The Twelve Days of Christmas" while another reminded me of "Hark the Herald Angels Sing." This was probably hallucination though, because after about ten minutes of this record I cracked like a 5-year Gitmo detainee.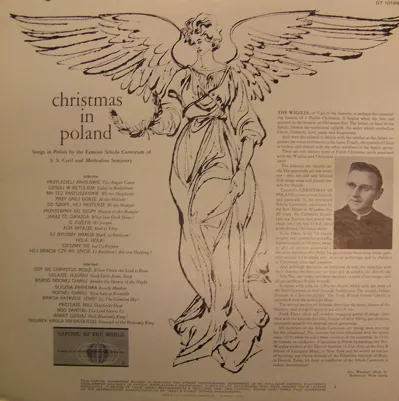 Who you can thank for the amazing cover art: The pic of the good Reverend on the back is from the "Modernistic Photo Studio."
Interesting Facts: Final bit of info from the back of the record: this choir was aired nationally on the radio during Christmas week every year by the Columbia Broadcasting System.
More on Polish Christmas from PolishWorld.com: On Christmas eve, "Animals are said to talk in human voices and people can tell the future."...."Girls who grind poppy seeds on Christmas eve can hope for quick marriage. After dinner, they leave the house, and the direction of the first dog bark points to where their future husband will come from."...." From the small hours on December 24, women were found cleaning and sweeping the entire house. An ancient belief had it that forces of evil would dwell in all things left dirty on that day. If the first person to enter a house on Christmas Eve was a woman, it was a bad omen, meaning that only heifers would be born in the farm in the coming year."
I searched for Polish Christmas on YouTube and this was my favorite result: