In 2001, the Faint released Danse Macabre, which practically created the template for the new-wave/dance-punk revival which occurred two years later. Since then, the Omaha quintet has stayed barely under the radar and just ahead of the curve. Keyboardist Jacob Thiele took a break from the band's hectic European tour to speak about touring in a broken economy and Fasciination, the band's first self-released album. The Faint plays with the Pragmatic and the Show is the Rainbow on Friday night, December 12, at the Pageant. Tickets are $17.50 if you buy 'em today, $20 tomorrow.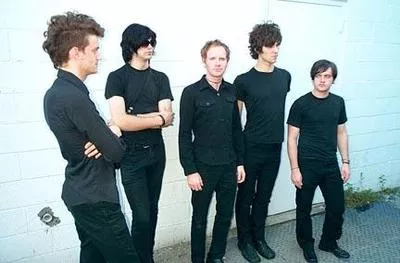 It sounds loud over there!
Yeah, a little bit. We're in Porto, Portugal and the venue is a huge concert hall that has lots of different rooms. I'm backstage right now. We're playing an upstairs bar adjacent to a large hall that we saw a symphony perform in last night. Tonight there's some piano things going on, some Schoenberg and stuff like that.
It almost sounds like [Omaha's Saddle Creek-run venue] Slowdown.
Almost, except this is a 77 million dollar structure. It looks like one of those giant cargo things in Star Wars that the Jawas live in.
Ecomony issues in UK touring?
It's hard to say because we don't tour over here as often as we do in the states. I know the European economy is struggling along with other parts of the world, but the crowds seem really normal over here this time. We haven't played here in three years prior to this year, so maybe if we were here more often and things were the same every time, I'd say it was affecting us. But it's hard to notice it here right now. In the US we can see it because we're there a lot more often and we have certain expectations. Some of our shows in the states are getting moved to smaller venues. And it's unfortunate, a lot of promoters are really struggling right now.
Why did you go decide to release Fasciination independently?
It has just kind of been our mentality to be very DIY about things lately. For Fasciination, we did all the production ourselves, so by the time it was time to release it, we had already decided to do something different and not release it on Saddle Creek. We wanted to extend our creative control to the business side of things and to have our hands on everything. It's a little risky. We kind of look at our careers as something we'd like to sustain, and we don't really just want a quick buck by signing to a new label, so it was a good thing for us and maybe we've opened up our own doors for future releases if we want to.
It seemed like a strange move, just because the Faint has always been identified with Saddle Creek.
Yeah, well, that label used to be something different than it is now. When we were starting out, Saddle Creek was more of a collective and the artists were a lot more involved with the business end, but that eventually became impractical. So the label became more of a business, which happens to almost any label when there are that many people involved. And that's cool, but we kind of missed being a part of the decision-making process and having creative control, not that they ever limited our creativity in any way. With Wet From Birth, we felt like we weren't really branching out to any sort of new audience, and we kind of knew exactly what would happen if we released another album on Saddle Creek. We were excited about doing something more uncertain. Like I said, it's risky, but in the end we're a whole lot happier and now we can hopefully use this as a vehicle to put out more Faint records and maybe some other records that we like.
The Faint, "The Geeks Were Right":
Some Faint members have been involved with producing other people's records lately, right?
Well, we have our own studio now called Enamel. Joel [Petersen] has done some recording and mixing with Beep Beep. And he mixed The Show is the Rainbow's next record.
And you're on tour with The Show Is The Rainbow in the States?
Yeah. The Show Is The Rainbow is Darren Keen, he's kind of a one man band/performance art kind of thing and he rented out a back room in our studio and kind of worked in our building writing all of the songs for his new record. We were roommates for a while so we heard the record in process while we were just walking past, so that made it sort of a group effort. So Darren recorded it himself and then Joel mixed it.
In full disclosure, Darren is a buddy of mine, and I just wanted to hear what you had to say about him.
Oh, well in that case he's a tool and a jackass. He's a hack and he has a bad haircut. (laughs) I like Darren a lot. He's got more personality than my entire graduating class.
Was the decision to self-produce Fasciination any sort of reaction against Wet From Birth?
Well, we kind of wanted to take a step back from where we were with Wet From Birth. We had relied on some embellishments and big production, which [resident Saddle Creek producer] Mike Mogis had a hand in. We were kind of trying to take it back to where it was just each instrument being represented in the best way possible, whether it was guitar or drums or what. We just concentrated on getting the right sounds and the right takes and not putting anything superfluous in there and making sure every part of the arrangement sounded as good as it possibly could, rather than doing a ton of layering.
Yeah, it's easy to run into that, "This doesn't sound so great, let's double it or mask it with something else" mentality in the studio.
Yes, and we're very familiar with that sort of technique and we wanted to go the opposite route. We wanted to make sure everything was deliberate. For us it's a matter of just not overdoing it. I think Wet From Birth may be a little overcooked, not that we have any regrets, but stylistically we wanted to move in a different direction. We took it to an extreme with that record and we're just moving away from it.
It seems like being in a band like yours would be difficult because a lot of people like you for a lot of different reasons, so it's almost impossible to make everybody who likes the Faint happy.
I'm not trying to sound callous -- but I know I'm going to -- because we don't really think about what the fans will think of our music when we're writing it. We really just want to make music that we like, and that's always been our mentality. And if people like us, then it's working, and if they truly like us, then they'll be on board with something that we feel strongly about. As far as making the band happy, sometimes it's tough because we'll have something four of the five people like. Our policy is that we try not to compromise. If one person doesn't like a part, then we try to make it completely different instead of watering down that part to make it likeable.
-- Ryan Wasoba