Artist: Rufus and Chaka
Album: Masterjam
From: Vintage Vinyl
Year: 1979
Label: MCA Records
What it sounds like: The awkward, disco, Jan Brady middle child between Kool and the Gang and Thriller.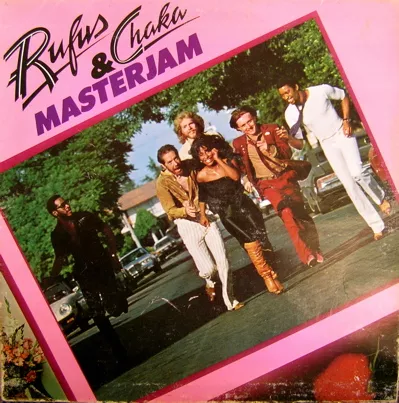 Best Track: "Love In Me." Chaka Khan is at her usual sultry self on this one, singing some downright saucy lines like, "I'm burning up inside/So give me the love I need" and "Let's get down to what it takes to get me satisfied."
Musically, the song is a fake-out. It starts out like a slow-jam, then kicks into gear with a sly, taut bass line and a little finger-picked guitar hook.
Worst Track: "I'm Dancing For Your Love." Every single track on this record is either a cheesy song about dancing or a cheesy song about love. This one takes the best worst of both worlds.
Tony Maiden, Rufus' lead vocalist, takes the reins from Chaka, singing "I see that guy you're standing near/ I know you think he's fine/He gets you hot with his dancing gear/But you ain't had one of mine...oooh!" and "If you want to party and have some fun/ I'm the guy you should see."
It's the standard disco production, with a horn break and some kitschy keyboards. The only redeeming quality is a funky bass line from the always-funky Bobby Watson.
Who you can thank for the amazing cover art: Art direction: George Osaki, Photagraphy and Design: Ed Caraeff. My co-worker says the front looks like they're escaping from the asylum. Also, it's hard to make out with the small picture, but on the back it looks like Chaka just shot a strawberry out of her butt.
Interesting Facts: Wikipedia tells us that Rufus should not be confused with the band Ruffus, who represented Estonia in the Eurovision Song Contest 2003 with the song "Eighties Coming Back".
This Rufus was one of the most successful funk groups of the '70s, and is probably best known for their Stevie Wonder-penned jam "Tell Me Something Good."
Rufus formed in Chicago in 1970, they were originally called Smoke, then Ask Rufus, and eventually just plain ol' Rufus. Chaka Khan (born Yvette Marie Stevens) joined the group in 1971. She was the front woman off and on for the next twelve years.
Masterjam was the band's fourth album to top Billboard's R&B Albums chart. The album includes the singles "Do You Love What You Feel", their fourth #1 hit on the R&B Singles chart and also #30 on Pop, "Any Love" (US R&B #24, 1980) and "I'm Dancing for Your Love" (US R&B #43, 1980).
Chaka received title billing on Masterjam for the first time in the band's history after she quit and rejoined the group in 1979. Her last real appearance with the group was in 1983, for the album Stompin At the Savoy- Live which produced the group's last hit, "Ain't Nobody."
The record was produced by the legendary Quincy Jones. Jones also produced Thriller, has been nominated for 79 Grammys, and was the keynote speaker at my girlfriend's college graduation.
--
Keegan Hamilton