At the end of a rambling bit of stage banter about
Fall Out Boy
being known as "emo boys made good" or being a "douchebag pop band," swoop-haired bassist Pete Wentz (who noted that he is/was often on the receiving end of the douchebag tag) said, "We're okay being your guilty pleasure."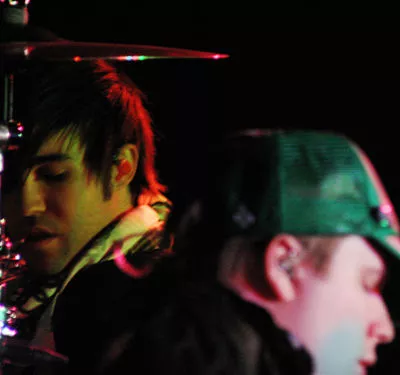 Slide Show
That throwaway quip sums up the appeal of the Chicago quartet to many -- although those who crammed into the Creepy Crawl on Wednesday night were diehards who weren't ashamed of their FOB fandom. (Rumor has it a few people started lining up at 8 a.m. Tuesday, to guarantee they would get tickets at the door. We're talking tents and air mattresses, people. Since rumor also has it that the show didn't sell out -- srsly, St. Louis,
really?
-- that's dedication.)
Judging by the number of over-25 Facebook friends of mine who came out as Fall Out Boy fans after I posted about having an extra ticket, it's not just kids with scene hair and giddy teenagers who like the band. And why should there be shame?
The
band writes good songs
. Good pop songs, too, with hooks that stick in your head like taffy and lyrical turns of phrase that snap to attention. That was evident last night, as the group spent nearly 90 minutes meandering through their entire catalog and a couple of covers in an entertaining, loose fashion.
The band soldiered forward in spite of atrocious sound (which was to be expected at the Creepy Crawl -- first song "Thnks Fr Th Mmrs" was so muddled initially that it was unrecognizable) and a pushy but enthusiastic (and camera-toting -- good
lord
, must
everything
be documented?) crowd. Many, many times during the set someone in the band had to plead with the audience to step back. ("I feel like such a librarian," vocalist Patrick Stump, who sported a green baseball hat, said at one point after admonishing them.) But the energy given off by the band was entirely positive. A cover of Michael Jackson's "Beat It" smoked, as did the slow-fast-slow rave-up "This Ain't A Scene, It's an Arms Race" and a tongue-twisting "Dance, Dance."
The quartet didn't feel out of place on the smaller stage -- in fact, it often seemed more comfortable than the times I've seen them on a larger stage (i.e., two times at the Pageant). While always an uneven live act, the band sounded much tighter and more focused, especially on older tunes like "A Little Less Sixteen Candles..." and new tunes, like the groove-heavy single "I Don't Care." Without the extra glossy layers and backing tracks found on its albums, the band sounded solid -- proving that it's still a credible, back-to-basics pop-punk band. Credit for this certainly goes to shirtless-and-tattooed drummer Andy Hurley, whose frantic beat-keeping gave the band a raw edge from song one, and wild-haired guitarist Joe Trohman, whose slash-and-burn riffs cut deep.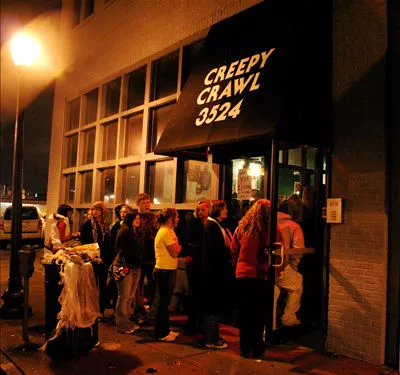 Slide Show
Fall Out Boy's stage banter was personable and loose as well. The old Creepy Crawl got a shout-out -- the band claims it earned many scars from playing there -- as did the group
Not Waving But Drowning
. Wentz at one point amusingly even came out as a Dallas Cowboys fan -- perhaps because his sister-in-law Jessica Simpson is reportedly dating QB Tony Romo.
But this (and Wentz's warning that they weren't hanging out after the show, as he had a new baby to see tomorrow) was the only hint of the band's mega-popularity. Because even though mainstream radio, MTV and magazines have warmed to the band, it's not as though stardom has inflated their egos -- or really changed their m.o. No amount of studio gloss can change that Fall Out Boy is still a scrappy live act influenced by hardcore, screamo and punk -- and in recent times, hip-hop and new-wave. In fact, it's about time that the band receives way more critical credit for its songs -- which make theatricality acceptable, bridge genres and push artistic boundaries, and entertain while mangling the heartstrings. Fall Out Boy is one of the most self-aware (and self-deprecating) bands out there, one that embraces fame while at the same time keeping a safe, ironic distance from it. This keeps them relatable and human -- and always makes for a damn good live show.
Setlist:
"Thnks Fr Th Mmrs"
"Car Crash Hearts (Thriller)"
"A Little Less Sixteen Candles, A Little More 'Touch Me'"
"Nobody Puts Baby in the Corner"
"I Don't Care"
????
"I'm Like a Lawyer the Way I'm Always Trying to Get You Off"
"This Ain't A Scene, It's an Arms Race"
"Where Is Your Boy Tonight"
"I Slept With Someone in Fall Out Boy And All I Got Was This Stupid Song Written About Me"
NEW SONG (this was "
Headfirst Slide into Cooperstown on a Bad Bet," right?)
"America's Suitehearts"
"Beat It" (Michael Jackson Cover)
"American Boy" (Estelle/Kanye West cover) -- "Sugar, We're Going Down Swinging"
"Hum Hallelujah"
"Dance, Dance" (preceded by slow bit of new song)
"Yule Shoot Your Eye Out" (dedicated to Gabe Saporta)
"Saturday"
--
Annie Zaleski