I wrote the cover story this week in the RFT. It's centered around Magnolia Summer and the Undertow Collective, and how the principles are utilizing technological advances and industry smarts to fashion a futuristic DIY aesthetic. (Don't be scared; it's not totally theoretical.) The idea of community and collaboration -- of sharing resources and pooling talents in order to make a difference -- is essential, and something I hope people take away from the article.
Many of the Undertow bands happen to be coming to town this week (or soon). So without further ado, please enjoy some audio and video below!
Centro-matic (and the band's quieter alter-ego, South San Gabriel) will be at Off Broadway on Tuesday, November 11.

Centro-matic - Rat Patrol and DJs from Undertow on Vimeo.
Glossary will also be playing at Off Broadway, along with Two Cow Garage on Saturday night, November 8. You can still download Glossary's album The Better Angels of Our Nature right here (as I talk about in the article), and enjoy some MP3s below.
MP3: Glossary, "Little Caney"
MP3: Glossary, "Nothing Can Hurt You Now"
David Bazan will be at the Billiken Club on December 5, with another Undertow management client, Via Audio. His new DVD, Alone at the Microphone, is now available to purchase.
MP3: David Bazan, "Cold Beer and Cigarettes"

David Bazan: When They Really Get To Know You from Undertow on Vimeo.
Local darlings Theodore will be opening Magnolia Summer's CD release show on Friday, November 7, at Off Broadway. We've reviewed its latest album, Defeated, TN, right here, and interviewed the band right here.
(Theodore)
MP3: Theodore, "Wade's Lament"
MP3: Theodore, "Defeated, TN, Part 1"
And last but not least is Springfield, Missouri's Someone Still Loves You Boris Yeltsin. Sadly, it's not coming to town anytime soon, but I did hear the band is making a new record early next year. Joy! This year's Pershing is one of my faves.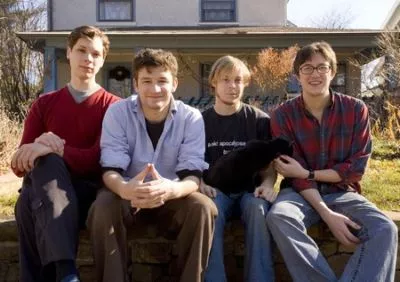 MP3:Someone Still Loves You Boris Yeltsin, "Another Satellite" (XTC cover)
MP3: Someone Still Loves You Boris Yeltsin, "Glue Girls"