In this week's paper, Tom Finkel interviewed Hayes Carll, who released the album Trouble In Mind earlier this year. The troubadour patiently bent the RFT's ear by phone from Austin last month, having just returned from a month-long tour of Italy and the U.K. -- during which time a sizable chunk of his old East Texas stomping ground was pulverized by Hurricane Ike. You can read the abridged version of the conversation here, or you can gaze at more-thorough goods -- complete with musical interludes – below.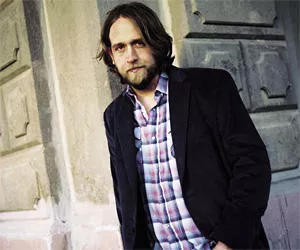 For even more music, search the audio portion of archive.org, which contains a veritable treasure trove of Carll live concerts for anyone to download. To catch him in person, head to Blueberry Hill's Duck Room (6504 Delmar Boulevard, University City; 314-727-4444) tonight at 9 p.m. Tickets are just $10, and the John Evans Band opens.
Tom Finkel: How did the European tour go? Hayes Carll: It was a tough time to be gone -- we had a hurricane that hit my home base while I was gone and it was just psychologically kind of a struggle to be on the other side of the world when your hometown's sort of washing away. So it was tough.
That would've been Ike? Yeah. My folks live in Houston and I started out playing in Galveston and a town called Crystal Beach, which is a little peninsula that sort of took the direct hit of the storm there and washed almost entirely away. We throw an annual music festival there and I lived there for about three or four years and that's where I got my start singing. So yeah, it was my folks' home, my grandmother's home, both washed away, and it was just a really tough time to be that far away.
To shift things to a little more positive subject matter, what was the reception like in Europe? For the clubs that we were in, we were doing pretty well. It's an older demographic over there, which is what I sort of started off playing for -- and I encourage all people, all ages to come to my shows. But the combination of being a sort of 60-year-old-plus crowd along with the British knack for remaining entirely silent during a show made for some kind of long nights.
So, it's a little contrasted with the audiences you're reaching here? Somewhat. Like I said, when I started out, a lot of my crowds when I'd leave the beach would be older -- folk crowds. I started out playing solo acoustic and listening rooms. I was also doing honkytonks and dives on the weekends, but I was really aspiring for a "lonely songwriter" vibe, and as a result the only people that seem to really dig that are people that were along for the first big wave of guys like that.
Over the years I've gotten a band, and my demographic has gotten a little bit younger. We play all kinds of things, from churches to keggers, so there's different kinds of crowds every night. But when you get night after night of incredibly polite people who don't say or do anything and just kind of stare at you, it's sort of a weird deal after a while -- you're not quite sure whether they like you or not.
I always tended to think about it the other way around -- like you think of somebody like Robert Earl Keen, who found himself playing to crowds that were really big and boisterous. He got that whole frat-boy following and had to blend that in with a more well-behaved crowd. Well, it's a weird mix, and it's something I think about a lot. Because I started out wanting to follow in that singer-songwriter tradition, where I think the crowds probably are -- in all countries -- respectful, attentive, and they're listening to what you're saying. And I sort of held in lower esteem anyone who had people singing along to their songs and pouring beer on their heads -- you know, stuff like that.
And when my second record came out, I started getting some of those people. I realized that there's a lot of fun to be had in that too, and that you can -- while I've never wanted it to be just a gimmick and everybody comes out just to be at a certain show and the music is irrelevant, which is what sort of happens sometimes in this scene -- I never want it to be that, but I think a healthy balance is good. I try not to play too much into the fraternity-crowd world, and, on the same hand, I avoid the complete solitary confinement of the coffeeshop land as well.
Are there any performers you've learned how to do that from? Or is it pretty much the school of the road, where you've got to figure it out for yourself as you go along? It's probably both. I mean, I certainly pay attention to other people's careers and where they've ended up. And Robert is an example of where on the one hand he's got a great career where he's got fans all over the country that will come out and support him, but I've always looked at it that he's a great songwriter but that sometimes gets lost because of the mania that follows him at his shows at some point.
And I would hope it wouldn't have to be a trade-off -- that you can get good fans and still have them there for the right reasons.
And it really is an interaction -- you're kind of driving, but the crowd has a lot to say about where you go. Yeah. I mean, I grew up obsessing about Bob Dylan, but I've never been able to just go out and say, "Crowd be damned," you know -- "I don't give a fuck; I'm just gonna play where my muse leads me." There's times where it means less to me than others, but the crowd very much affects what you're doing. And if they are not in a mood to be rocked, then it's really not gonna be that much fun to smash 'em over the head with it, especially when you know that they can appreciate some other stuff that you can do.
Listening to your latest record, you have all those aspects. I don't want to say it's all over the map, but it covers a lot of territory. Was that a conscious thing? I went in without a real clear vision of what I wanted to do when I made the record. It had been three years since my last one, and I'd kind of dabbled in a lot of different things that I liked. And I tried with a couple of ideas -- I said, "I'm gonna make this a Neil Young-sounding record," or a Dylan or a Waitsian record; I could have a real theme throughout.
But at a certain point, we just started going song by song and I ended up cutting, I don't know, 25 songs or something, and when I went through and picked the ones that I liked the best, I realized there wasn't necessarily a coherent musical theme to it but that that was OK.
So rather than just declare, "I'm gonna make a country record," or a "rock record," I just did what I do and hoped that that worked out. I always wanted to go in and make a concept record or something with a theme to it sonically, but at the end of the day that just wasn't what I had. And I still liked what we came up with, so I figured that would be fine. I don't think it all has to sound like it has something coherent running through it at all times -- you can have a good record with a lot of different colors.
But so many record companies just tell you to go fuck yourself if you're not going to fit into the mold they want you to fit into. Yeah. Well, I haven't had that problem at all with Lost Highway. It's been a really surprisingly good relationship. When I say "surprisingly," I mean that, you know, I spent most of my youth watching Behind the Music and reading musician biographies and autobiographies, and my concept of the record business -- like I'm sure a lot of people's -- is just that they would try and take away all the artistic soul that I had and turn me into some kind of product.
And that was why I resisted being with a label. Even when Lost Highway came, which I thought was a great opportunity and had a lot of my favorite artists, I still was hesitant about it at first, just because of the feeling that they would try and affect what I was doing as an artist and take away my independence.
And it's been really the opposite. They just said, "Do what you do." They didn't sign me because I was so incredibly good-looking or my voice was so amazing. They realized that there was something unique about just what I had been doing. And that's what I told them, too: that if this is going to work, it's because it's me, not because I'm trying to be like somebody else. That's not my strong suit, and it's not what got me to where they were interested me in the first place. And so let's don't mess with that. I'm not saying I'm always gonna come out with great stuff, but at least I'm gonna sink or swim on my own terms. I'm not gonna go out trying to do a Tim McGraw look or whoever the guy is that's selling records -- I'd rather have another job.
And they were fine with that, they had the faith that they could work with me. When I turned in the stuff, they had suggestions. But at the end of the day, they let the decision be mine as far as who the producer was and what kind of players I used, what kind of songs I ended up cutting, the sequencing, and all of it.
Hayes Carll She Left Me For Jesus Music video

Were there any suggestions they made that you used that stand out in retrospect? Yeah, various things, whether it was the tempo of a song or in some cases the song itself. Like, "She Left Me for Jesus" was not something I was even planning on putting on a record in any form. But I was kinda short on demos when the first batch was due, and so I just laid it down in the studio, thinking, "At least that'll make them think I'm not wasting their time." And then they said, "Oh, yeah, we actually really liked that song." I thought they were joking at first. And the dust hasn't totally settled, so I don't know if that will be the bane of my existence or something that lives on in a good way...
Or maybe both. Yeah, quite possibly. But for the life of this record so far, it's certainly helped sell records and brought some new fans into it. I guess that was one example, but we tried everything. Almost all the songs, I do a slow version and a fast version, or alter it. I did two or three takes or attempts at every song, kinda to feel them out.
I'd love to hear some of those alternate takes. It was fun. I mean, I'm very inexperienced in the studio, and like I said, I was a solo act for six years, eight years, whatever, and only in the last couple years I actually started playing with a band. So it's still really new to me in terms of, "What's it gonna sound like if we put it to a waltz or put it to a Stones beat," or, "What does a steel guitar sound like on this?"
You know, these are all things that I had never really gotten to play around with. So when I took the songs in, I wanted to flesh out a lot of them.
That's really interesting, because I think that applies to what a lot of people do, in terms of the longer you're at something, the more comfortable you are envisioning what it's going to be like. The transition from writing a song to recording a song is sort of a weird one, in that I generally write by myself or with somebody else but sitting around on acoustic guitar. And then getting into a studio, where all of a sudden you have all these tools you can use. Like, "Hey, we can put a banjo on this." Or a drum can change everything.
On this record, "Faulkner Street," which is a fairly up-tempo shuffle, was written as a really slow, probably eight-minute, song. That happens a lot to me, where something that I meant to be really slow or was writing as a really wordy sort of folk song ends up being a rocker. And then vice versa, sometimes things that I thought were really, you know, a little more aggressive turn out being ballads.
A song like "Knockin' Over Whiskeys" -- is that a song that went the way you expected to? It does have more of a straight-ahead-country vibe to it. I think it's one of the best songs on the record, but it's one that sounds like it would have been naturally what it is, and not something that you would have been surprised at the way it came out. Well, it was actually. When I wrote that one, it was more like a Waylon foot-stomper, kick-drum, shoutin' song. And then I got in the studio with Brad Jones, who produced it, and he kind of brought the idea of toning it down and sort of getting this rolling, "Gentle on My Mind" sorta kinda banjo-guitar roll going, and we tried that.
And there was something I just really liked about it. I think it's probably the least-noted song on the record by most people. No one really comments on it, but I really like it. When we were trying to figure out what to cut and what to keep, I kept coming back to that one because it was on the list of things that might not make it. I don't know what it is about this song, but there was just something about it that has a really magical feel to it and was sort of representative of what I'd like to do. And it's subtle -- I don't think it jumps out at a lot of people, but there was just something really nice about the sound that we created on that one. But originally it was more of a beer-chuggin', foot-stompin' thing.
So you moved it from about eleven o'clock in the evening to about three o'clock in the morning. Yeah, exactly.