Tonight! Octopus Project, So Many Dynamos, Hunter Gatherer at the Bluebird
The Octopus Project plays at the Bluebird tonight. So Many Dynamos and Hunter Gatherer -- a new project featuring Robbie from Say Panther/Ghost of the Forest/many other bands -- also open. Here's what Kristy Wendt said about the headliners this week:
Endemic to this instrumental band is unusual execution, and by juggling a handful of instrumental specialties, it produces compelling electronic tracks that retain all of their innocuous glory. Hello Avalanche beams up listeners with what might be the musical backdrop for a little alien boy's Sunday afternoon bicycle ride.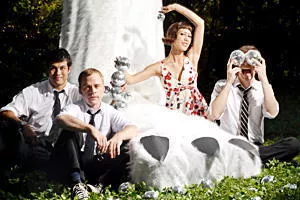 Decide for yourself:
MP3: Octopus Project, "Bees Bein' Strugglin'"
MP3: The Octopus Project, "Truck"
Support Local Journalism.
Join the Riverfront Times Press Club

Local journalism is information. Information is power. And we believe everyone deserves access to accurate independent coverage of their community and state. Our readers helped us continue this coverage in 2020, and we are so grateful for the support.

Help us keep this coverage going in 2021. Whether it's a one-time acknowledgement of this article or an ongoing membership pledge, your support goes to local-based reporting from our small but mighty team.

Join the Riverfront Times Club for as little as $5 a month.