(Photos by Todd McKenzie and Annie Zaleski; words by McKenzie)
One can always count on a few things happening at a Robert Pollard show. First, everyone in attendance will consume an obscene amount of cheap booze. Second, Pollard and whatever band he's fronting will pack a staggering number of punchy, no-frills indie rock songs into a marathon-paced set. And finally, in attendance will be a core group of rabid followers who know the words to each and every one of Pollard's 1,000-plus songs.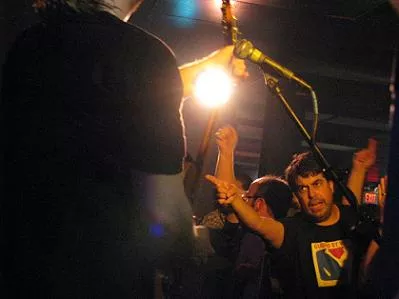 Slide Show (Zaleski)
But in spite of a back catalog that stretches over two decades, the ex-Guided By Voices main man chose to dedicate the majority of last night's two-hour, 41-song set at the Bluebird to material he's released in just the last six months.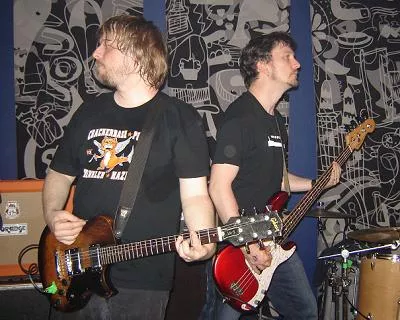 Slide Show (Chris Slusarenko, Jason Narducy, by McKenzie)
His new band, Boston Spaceships, consists of ex-Guided By Voices member Chris Slusarenko and Decemberists drummer John Moen (Guitarist Tommy Keene and bassist Jason Narducy joined for the tour.) Brown Submarine, its first album released last month, as well as Robert Pollard Is Off to Business, Bob's latest solo album released in June, were both played in their entirety. A few choice cuts from The Planets Are Blasted the Spaceships' new album due early next year, also made their way into the main setlist. Uncle Bob is a busy man.
Since GBV split in 2004, Pollard has already released more albums and started more side projects than most musicians will in a lifetime. But this act of career reinvention isn't as Herculean as it may seem. See, the problem with Bob (or the genius of Bob, depending on your POV) is that he's content to work in the same unpolished, Kinks/Who/Cheap Trick formula he always has -- regardless if the name on the LP cover reads Boston Spaceships, Guided By Voices, The Takeovers, or his own. The point isn't to break new ground; it's to survive the endurance test of his endless parade of songs.
Slide Show (Setlist, page 4 of 4. Yes, four pages. McKenzie.)
The show itself was a workout. When the band started in with the jagged, destructo-rock of "Psych Threat," Pollard stood back and did some warm-up stretches, shaking his wrists and adjusting his spine; smart moves for a man about to turn 51 in a few weeks. Bob wasn't as limber as I've seen him in recent years – he only attempted one or two power kicks, but he was clearly enjoying himself. At least he wasn't as fall-down drunk as I've seen in the past. (The five cases of Miller Lite I'm told were on the tour rider for the entire band is quite the reduction from his usual consumption.)
But if Bob was a sweaty, slobbering mess by the end of the night, he wasn't cutting us any slack, either. Uncle Bob's rock & roll exercise routine broke down like this:
About thirty minutes into the set and you're feeling pretty good: Your blood's pumping, the songs are rocking, and the pace is reasonable. "I can keep up with this," you think.
Sixty minutes in, you're starting to feel the burn. Your air guitar isn't played with as much gusto, some of the unreleased and obscure side-project songs are starting to blur together, and you're wondering if that last PBR was really necessary.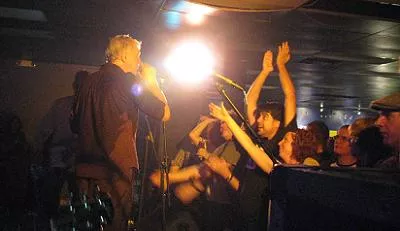 But by the ninety-minute mark you've found your second wind. Songs like "Weatherman and the Skin Goddess" and "Ready To Pop" sound a hell of a lot better than you remembered, and thankfully Bob has started to pass out refreshments in the form of a Jose Cuervo bottle to the front row.
Two hours in and you're starting to experience what people who do real exercise call a Runner's High. Alcohol and natural endorphins are coursing through your bloodstream and euphoria replaces muscle pain. Every garbled phrase that dribbles out of Pollard's mouth sounds weirdly prophetic, and every Tommy Keene guitar solo sounds like it was beamed in from another galaxy.
Slide Show (Savages! McKenzie)
The longer the show ran, the better it got. It's no surprise, then, that the biggest reaction came at the encore, when Bob finally kicked out some old GBV classics: "Cut-out Witch," "Tractor Rape Chain," and the all-around ass-kickin' "Game of Pricks." Improbably, the crowd demanded even more songs, so the Boston Spaceships returned with two of Alien Lanes' finest: "A Salty Salute" and "Motor Away."
The real highlight from last night, however, came from openers the High Strung. Arguably the most talented and underrated band in Detroit today, the High Strung sound like a cross between a more artful version of the Who and a more bombastic version of the Shins. When I wasn't grinning at Josh Malerman's erudite, helium-voiced lyrics, I was too busy picking my jaw up from the floor in awe of Chad Stocker and Derek Berk's rhythmic insanity. Next time they come to St. Louis, I only hope the venue is more than a quarter full.