(Photos and words by Annie Zaleski)
(Luke Pritchard, Kooks vocalist/guitarist)
I've never been a huge Kooks fan. In fact, I've gone on record as hating the Brighton, England, band's second album, Konk. But the quartet won me over at its well-attended, main floor-only Pageant show last night, thanks to plenty of charisma from vocalist/guitarist Luke Pritchard -- who's a dead ringer for SNL's Andy Samberg; see below -- and stellar musicianship.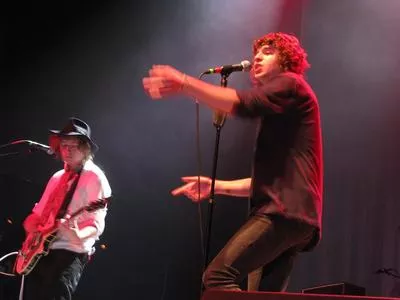 On disc, the Kooks mainly resemble carefree skifflers the Libertines and the cheeky Arctic Monkeys, thanks to Pritchard's pronounced accent and some nonchalant tempos and riffs; lesser influences include mods like the Jam and the Who. But live, the band is far more muscular and aggressive, its grooves far more incisive -- "Do You Wanna" in particular was an absolute highlight, its stomping rock reminiscent of Primal Scream when that band wanted to be the Stones. "Naive," the hit single from Inside In/Inside Out, came next, and its lazy surf-rock vibe (as in Jack Johnson, not the Ventures) paled in comparison. Other standouts include Konk's "Mr. Maker" and the super-poppy "Always Where I Need to Be."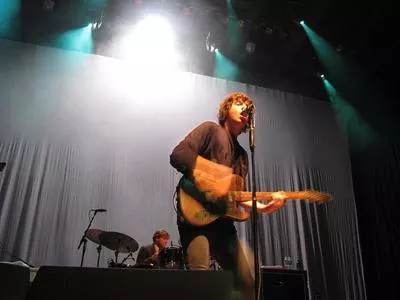 The lanky Pritchard is the band's star, thanks mainly to his charisma. He stalked the sides of the stage, got in the faces of the front of the crowd and strutted around with confidence, but not arrogance -- I'd qualify him as having attitude. (And that's a good thing.) His chirpy vocals at times conjured James Mercer of the Shins -- and in fact, so did the rest of the Kooks' tunes (thanks, Shae).
(guitarist Hugh Harris)
Lanky was also a good word to describe Whigs guitarist/vocalist Parker Gispert, whose spindly legs nevertheless supported some truly impressive physical feats. At one point near the end of a song, he hopped on one foot at the same time he was playing his guitar -- at least ten times in a row, if not longer, and never lost his balance. That's not counting the times he threw his body back and forth violently in a full-body headbang, as on the end of Mission Control's "Already Young." Drummer Julian Dorio, who looked like Animal from the Muppets thanks to an unruly head of hair, also got in on the fun; he tossed his drumsticks aside violently several times and threw his entire body into bashing out beats.
(Gispert photo, taken at Toadies show, 7/30/08)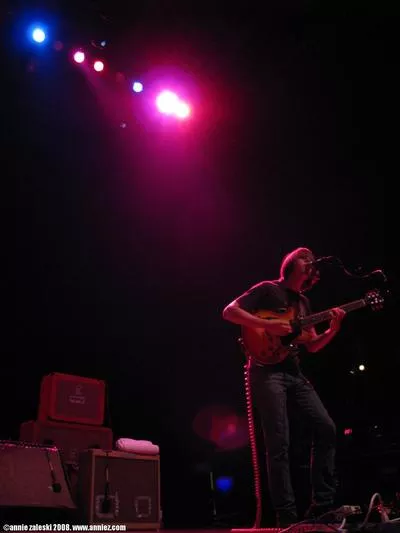 Confidence is only growing stronger within the Whigs. This was the fourth time I've seen the Athens, Georgia, band this year, and it was by far its best performance. All of the touring the trio's done this year has made it a supremely tight, entertaining band. Mission Control songs such as the "Right Hand on My Heart" and the ragged blast "Like a Vibration" exploded like supernovas, while songs from its debut, Give 'Em All a Big Fat Lip such as "Half the World Away," "Technology" and "O.K., Alright" -- some of which were augmented by rich organ -- were much more strident and than their studio versions.
Above all, the Whigs were clearly having a fantastic time playing to an appreciative audience. Third time's the charm for the band, obviously (that's how many times it's been to St. Louis this year). Good news for those who just discovered 'em: The band will be back opening for Kings of Leon on November 3.
After the show, a sizable portion of the crowd filed into the adjoining Halo Bar for "London Calling." We've posted a slide show of photos from the after-party.