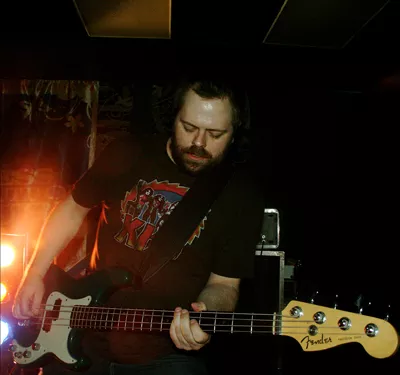 Last night's lineup at the Bluebird was a tinnitus-inducing gang hell-bent on infiltrating ear drums with the pounding fury of a Japanese Taiko drummer. Billed as "The Final Rockdown," the show was the last for local "rawk" preservationists Riddle of Steel -- and in typical fashion for the band, the night was truly epic.
Shame Club opened the show and set the bar (and the volume knobs) very high. It's puzzling why this local quartet hasn't yet received more national attention. Plenty of pseudo-throwback-classic rock bands have come around in the past five years, but Shame Club's brand of guitar slingin' pays homage to everything great about rock & roll without sounding sterile or calculated. The gritty urgency of its sound and the technical proficiency of each member adds up to one of the best live shows you're going to see anywhere these days. The band's blistering thirty-minute set was highlighted by a barnburning version of hyper-speed blues jam "I Ain't Surprised" from its latest full-length Come On.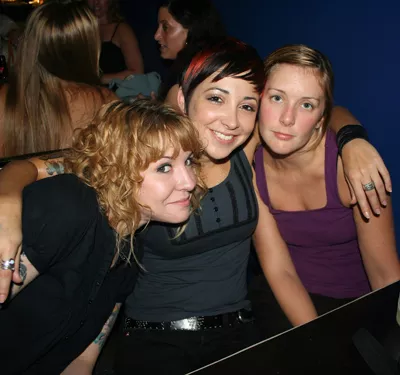 San Francisco's Roma 79 -- the first of three bands last night to incorporate the skills of Riddle of Steel drummer Rob Smith – was next. In Roma, Smith is something of an auxiliary player who covers everything from keyboards and guitar to backing harmonies and percussion. The band blazed through air-tight versions of songs from its 2005 album The Great Dying, blending ethereal, synth-driven smoothness and dynamic post-rock guitar bursts that sounded like a prog-influenced Promise Ring (thanks, Annie) or a more melodic Dismemberment Plan.
Third on the bill was Midwest post-rock veterans Traindodge, the other drumming vehicle for Smith. This Oklahoma trio has quietly released a handful of records over the past decade that deserve more attention than they've been given. The closing number "United Skeletons" (from 2006's On a Lake of Dead Trees) was the set highlight, a song which showed off both Traindodge's heavy side and its ability to incorporate dynamic shifts that pull the rug out from under the audience. The band also played several new cuts that will be included on its upcoming full-length, which it's currently recording with John Congleton (Explosions in the Sky, Modest Mouse); on these, the band sounded as powerful as ever.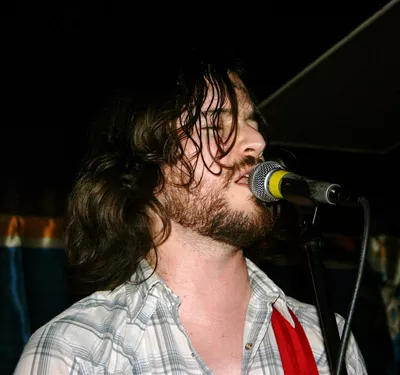 By the time Riddle of Steel took the stage at around 11:20 p.m., it was hard to imagine how they could top the three openers. But as the band blazed through a 90-minute set, the trio once again showed that they really were a force to be reckoned with as a live act.
From the start of the set it was clear that vocalist/guitarist Andrew Elstner was having trouble with his voice; he sounded a little hoarse, although he was still spot-on pitch-wise and held nothing back on set opener "The Lovers of Nothing," from 2005 full-length Got This Feelin'. His voice never did completely go out over the course of the long set, probably due to the fact that he was able to split vocal duties with bassist Jimmy Vavak on much of the band's early material.
The setlist included nearly twenty songs taken from each of the band's four Ascetic Records releases (including all of the band's debut EP, Burn). The band's first drummer, Ken McCray – who's now Shame Club's drummer -- even jumped onstage for two songs, a reminder that Riddle was never short on amazingly skilled stick-wielders. (Another ex-drummer, Dave Turncrantz, now plays in respected Chicago act Russian Circles.)
Elstner's signature open-tuned guitar sound was particularly ferocious and incendiary at times; his low, drop-tuned notes sounded like they were going to rattle the screws loose in his speaker cabinet. The guitar-tapping barrage of "Our Guitars are Haunted" was air-tight and Vavak and Smith provided a never wavering backbone of a rhythm-section which worked the crowd into a maniacal head-banging frenzy.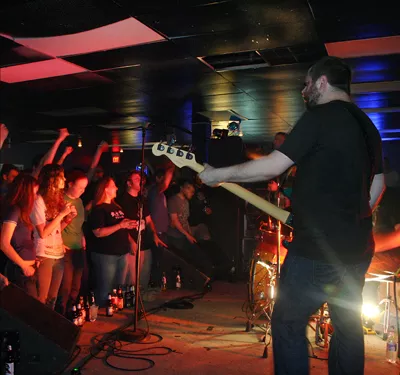 The trio's popularity outside of its hometown was proven when Elstner gave props to all of the people who traveled to see last night's show, calling out far-flung places such as Ohio, Denver, Atlanta and Dallas. (It's easy to forget how much the band toured, especially a few years ago when it released Feelin'.)
But the show also brought local people out of the woodwork, too -- and at times felt like a reunion for the dearly departed Rocket Bar. In a nostalgic sense, last night's show almost felt like a passing of the torch from Rocket Bar to the Bluebird. While some would call it blasphemous to even compare the two, the similarities are actually uncanny: both venues started from very humble, no-frills and not exactly ideal beginnings, and went on (and in the Bluebird's case, continue) to host some truly amazing shows and attract the kind of touring bands that might otherwise skip over St. Louis.
A band with Riddle of Steel's ambition, originality and dedication doesn't come along very often in our fair city (or anywhere else for that matter), and it was great to get one final face-melting, bone-rattling, ear-drum punishing spectacle from a truly great rock band. My ears are still ringing.
-- Shae Moseley