(RFT freelancer Roy Kasten is attending the Austin City Limits Festival in Texas this weekend, and kindly offered to blog about it for us. Here's his first dispatch; all photos by Dana Plonka.)
At past ACLs, I've had some of the finest musical moments early on in the day, before the waves of humanity and crushing sun. On Saturday I played it safe, and bet on Jesus. The gospel tent featured Shields of Faith, an established touring band from San Antonio, Texas, who testified like there really were a few sinners needing saving, instead of a small group checking over their schedules. I loved the Shields, easily the best singing of the day, at least until Robert Plant and Alison Krauss at the end of the night.
(Alison Krauss)
I drifted over to one of the main stages for a set by Mugison, an Icelandic singer and songwriter who wins comparison to Beck, one of the day's headliners. Curse the blogger who started such a grassroots misunderstanding, as Mugison (aka Örn Elías Guðmundsson) is more like pre-batshit Ryan Adams, without the songs, unless you count "Jesus is a Good Name to Moan" as a song. I could only wonder what occult ACL politics landed the dude on a main stage, even this early in the day.
I turned next to Fleet Foxes, with my skepticism set to unstunnable, and almost instantly found my inner critical asshole exorcised. Its Sub Pop debut isn't nearly the freak-folk apotheosis some would claim, but on stage they're funny, getting off some good investment bank jokes and confessing a terror of bees, and free of pretense, even when locking into the most martial of Bearded Children of the Corn rhythms. Their three-part harmonies quivered between sublime and excruciating, and lead singer Robin Pecknold suggests Ben Bridwell of Band of Horses.
"Sun Giant," with the line, "What a life I lead when the sun breaks free," was an ideally harmonized opener, and the set built modestly and gracefully, with some novel dynamics, pretty melodic turns, bowed bass and one hand drumming. Their pastoral nursery rhyme lyrics fit the Beach Boys moments on "White Winter Hymnal" and Nick Drakean "Oliver James," a request the rest of the band hadn't rehearsed, so Pecknold played it solo. "I don't know if we're well suited to this live festival thing," Pecknold said toward the end of the set. A couple thousand kids, moms and dads, and at least one jaded critic begged to differ.
(The Fratellis)
I had an early lunch of a dry $7 falafel, with the Fratellis in the background, and the Scot rockers sounded sharp and smart, even at 100 yards. I was waiting for Sharon Jones and the Dap-Kings, who reprised nearly the identical set as played earlier this year in St. Louis -- a short hand way of saying they were hellacious, getting the hippies to do more than just the hippie dance. But some bands really aren't suited to the live festival thing, and tight, sweaty JB funk revivalists would be among them.
(Sharon Jones)
On the other side of the park, the Erykah Badu band was setting up, and I somehow managed to squeeze toward the front. At 37 years old, Badu is a sweet and unpredictable presence (and about five months pregnant). Her teased-out fro shook in the Austin breeze and the Dallas native made a point of her politics with a long, mid-set riff on occupation and the Zapatistas and the coming World War featuring the people against the system. If she's an analog girl in a digital world, she gets a flexible, bass-thumping groove from her big band, featuring dueling beat pads, live drums, flute and three tightly rehearsed back up singers/dancers. The sea of festival freaks never stopped bouncing.
(Erykah Badu -- CLICK FOR THE FULL EXTENT OF HER AMAZING HAIR)
My second day ended with John Fogerty and Krauss and Plant. The former stunned me. He played hit after hit, sing along after sing along, and he made a point of reminding everyone what a ridiculously great guitar player he's always been. If he ever comes back to St. Louis, beg, borrow or steal for your tickets.
(John Fogerty)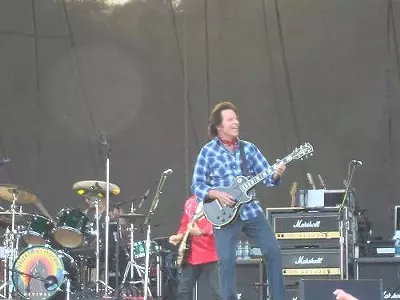 Krauss and Plant, with T Bone Burnett and Buddy Miller on a dueling clinic of guitars, closed out the night. I was in a crush near the front of the stage, and every other fellow crushee buzzed of nothing but Led Zep. Sure, it's as close as most of these young and old heads will get to their God, and sure, the versions of "Black Dog" and "When the Levee Breaks" were brilliantly reworked. But it was Krauss who owned the night, with the a cappella glory of "Down to the River to Pray." There were no encores and no one shouted out, "Does anyone remember laughter?" and that could only mean that day two was done in a grand, drama-free, but still dramatic style. (Read the RFT's review of last Thursday's Plant/Krauss St. Louis show here.)