Artist: Cock Robin
Album: Cock Robin
From: Vintage Vinyl's 99 cent bin.
Year: 1985
Label: Columbia Records
What it sounds like:. Equal parts Joy Division, early REM, duet power ballad, and John Hughes film soundtrack.
Best Track: "Just When You're Having Fun." The song opens with a tinkling, flute-like synthesizer and features vocals exclusively from female lead Anna LaCazio. What really seals the deal on this song is the catchy little "oh oh ohh oh oh" backup vocals that punctuate some of the lyrics, which are actually kind of clever.
The singer never says what happens "just when you're having fun" but you still get the impression that it isn't anything good. Example: it ends with, "just as my intentions have become worthwhile/and I've taken the steps to be walked down the aisle/just as I stand tall from out of my seat/ and the ground has come up firmly under my feet/ just when you're having fun." Perhaps her partner was Cock Robin for fun.
Worst Track: "When Your Heart Is Weak." The single from this album is a stinker. The music has an Air Supply kind of pre-emo vibe to it and the male lead vocalist Peter Kingsbery is falling well short of the a David Bowie trembling über-sexed vocal range he's aiming for. The only problem is that it sounds like he's emphasizing all the wrong syllables. Oh yeah, and the lyrics are so creepy they make the Police's "Every Breath You Take" sound like "Wouldn't It Be Nice."
Check it: "Cause when your heart is weak, I'm gonna pick the lock on it/ my fingertips won't faaailll me/ no matter what you do." And then at the end "I'm gonna come without warning/when your defenses are down and your in a desperate need, oh I bet you then, you'll welcome me."
Who you can thank for the amazing cover art: Cover co-ordination: Kelly Ray/Anna LaCazio, Makeup: Wendy Osmondson, Clothes: Gwen "It's" Sagona "Rain" (It really says that, I swear.)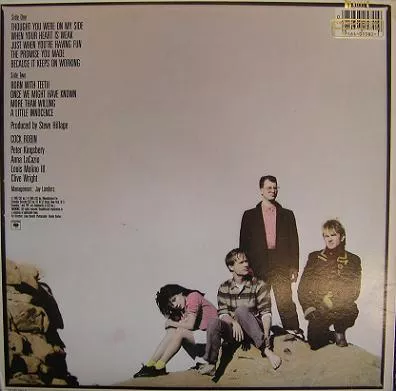 Interesting Facts: Via Wikipedia: Cock Robin reportedly takes their awesome name from a 17th century story titled "The Marriage of Cock Robin and Jenny Wren." There's also a Wiki page for a nursery rhyme of the same name, which has something to do with Robin Hood.
Cock Robin, which hailed from California, were enormously successful in Europe and not so much in the States. "When Your Heart is Weak" peaked at eighth on the charts in Germany in 1985 and seventh in France. In 1986 "The Promise You Made" (also from this album) reached number one on the charts in the Netherlands. Their second album After Here Through Midland and third First Love Last Rites enjoyed similar success. According to Wiki: "It remains somewhat of a mystery why Cock Robin was never afforded the same success in English speaking countries…as they were in Europe." A mystery indeed, call Scooby Doo and the gang.
After the group split in 1987, lead singer Kingsbery went on to release a handful of solo albums with middling success. Upstaging him, LaCazio went on to sing backup vocals for Corey "Sunglasses at Night" Hart.
The band reformed in 2006, released a new record titled I Don't Want to Save the World and triumphantly toured Europe where they are still loved.
Best video is here (embedding disabled). Otherwise:
ahref="http://www.riverfronttimes.com/feedback/index.php?author_email=keegan.hamilton@riverfronttimes.com">Keegan Hamilton