Lorna Doom is the bassist of LA punk band the Germs, whose story is told during the recent biopic, What We Do Is Secret. The movie premieres on Friday, September 12, in St. Louis at the Tivoli Theatre. Show times are at 5 p.m., 7:20 p.m. and 9:15 p.m. Friday. The film runs through Thursday, September 18. (Annie Zaleski's review is here.)
Jenny Lens
Lorna Doom
Nick Lucchesi: What are you up to these days?
Lorna Doom:
Nothing really. August was a really incredible month. I'm getting back from enjoying that particular adventure. All the premieres, Warped Tour. Getting inducted into the
Guitar Center RockWalk
in LA on Sunset Boulevard. That's all really funny. It's pretty amazing. Then there was the LA premiere. After that we played some more and I'm just kind of getting back to what it's like not to be in LA.
Do you still go by Terri Ryan? Does anyone call you that? No one (laughs.) No no no. We still all go by our AKA's. That's how we all know each other. I guess it would similar to a nickname. It helps us stay in character.
Jenny Lens
Bijou Phillips as Lorna Doom
After not playing bass in the Germs since 1980, what was it like performing again more than 25 years later?
? To be honest, I was a little scared. But then it's like remembering how to ride a bike again. The more you do it, your confidence builds. It was kind of an eerie experience. For the (
What We Do Is Secret
) wrap party, we just rehearsed one afternoon before. Then when we actually started deciding we wanted to continue on with the Germs. I think we had a month of rehearsals – but this time around we didn't do it in
Pat's
garage, we actually had a rehearsal space this time around.
Jenny Lens
Darby Crash
Bijou Phillips as Lorna Doom
When did the Germs members decide they wanted to continue on as a band with Shane West (who played Darby Crash in the movie) on vocals? The wrap party was the decision-maker. The moment we knew. Nobody had to mention it, we all knew in our heads immediately what this was like the movement.
What did you do in the weeks and months immediately following Darby Crash's death? I moved to New York and was married. I did various things. I guess I was waiting for Shane to be born and to grow up and resume the position. Everybody got along with Shane. He was a great person. That's why it was so perfect. I moved to New York the day after Darby died (December 8, 1980); it was the day John Lennon was shot. I stayed there 16 or 17 years.
Production was on-and-off for a while because of a lack of money. What was that like for you and the rest of the band members? Did you ever think that the movie wouldn't be finished? I know life just went on. There are no guarantees, you know. I think it was more on Rodger's end that was more frustrating. For me, we all just started playing in the meantime in between. We just picked up and continued going on playing as the Germs and then the movie would start up again.
Pat Smear, who plays guitar in the Germs, became a rock star with Nirvana and the Foo Fighters. What was the reunion like with him as globetrotting rock star? When we first got together after all this time, he wasn't doing anything. He was just at home with his wife and he was ready to do something again. When you make friendships, just because somebody became famous... He was still the person I know when I grew up. We were all ready to go and do this again.
Does it surprise you that this band you were a member for a brief time when you were a kid is now the basis for a movie? I think about it all the time. I think a lot that this is the craziest thing that has ever happened to me; that this little group you thought you would never see or playing again, is now performing again. it's about as crazy as you can get. It's a good crazy.
Has the movie caused you to reunite with old friends from the LA punk scene? There's a few. Because Rodger (Grossman, the director. Read interview with him) made it a point to really get in touch with as many people from that time, the movie has also brought all the other characters together. It's kind of like a high school reunion of sorts.
Favorite parts of the movie? When the (Germs) were forming in Pat's garage, when Darby gave me the Germs burn and the final scenes in the movie are extremely touching and moving.
Jenny Lens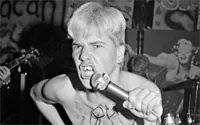 Darby Crash
Some in punk rock, including Jello Biafra of the Dead Kennedys and Fat Mike of NOFX, have criticized the band's decision to tour again with Shane West on vocals as the Germs. Do you think their criticism is valid?
We expected (criticism.) It's not a surprise when it happens. We all knew that (Shane West) was going to get -- for the first number of shows, the crowd wasn't that into it. Then for some reason it just changed. It very rarely happens at shows any more. (Shane's) parents were punk rockers. He's grown up with music his whole life and been in bands. It's not like he as an actor trying to recreate Darby at all, he is Shane.
Now that you've seen the movie, is there anything about it you would go back and change? Yes. We told Rodger this -- he couldn't get into the fact that Darby was so funny. He was the comic relief in the band. There's a slight regret that Rodger wasn't'able to capture that part of his personality as well. (Darby) was hysterical.
Can you describe the LA Punk scene in the time of the Germs? lots of hanging out, lots parties and lots of different kinds of music and bands to go see. Everybody's band was just so different, every night was a new night to see a different kind of band and different kind of music and since it was such a small scene in the beginning obviously we all went to each other shows and hung out and went to parties together. looking back on it, it was a pretty incredible time.
Read an interview with Rodger Grossman, who directed What We Do is Secret.