Many were disappointed when the Misfits dropped off Tuesday night's Motorhead show at the Pageant. (Many were not.) Still, the band was in the news this week for a bigger reason: D.X. Ferris at the Cleveland Scene discovered that current Misfits leader Jerry Only is allegedly the reason why a reunion of the original Misfits didn't happen. Ferris was kind enough to send along some outtakes and background from his article, which you can read here. His text starts below. -- Annie Zaleski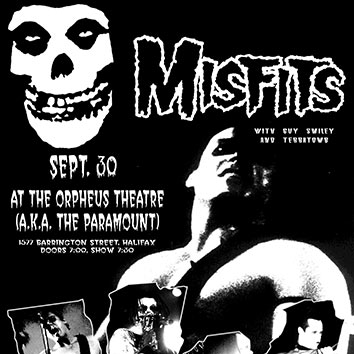 Doyle Wolfgang Von Frankenstein – the former guitarist of both the old and new Misfits, currently leader of Gorgeous Frankenstein – says new Misfits singer-bassist-bandleader Jerry Only scuttled a reunion between the group and 'Fits founder Glenn Danzig.
"We were actually going to do a Misfits reunion with Glenn," Doyle told Cleveland Scene. "But Jerry put a fuckin' monkey wrench in it. [In] 2002. We had meetings... And [Jerry] kind of fucked it up, him and his manager. We were going to do a record, do a tour, and everything. So let all the Misfits fans put that in their pipe and smoke it."
Read the entire with Doyle – where he discusses the aborted reunion, the new band, its set list, and his new hot sauce and custom guitars – right here.
Danzig and Doyle reunion reunited for 2005's Blackest of the Black tour, which saw Doyle play a set of Misfits classics with Danzig. The good times kept rolling on the 2007's self-titled debut of metallic hardcore trio Gorgeous Frankenstein, which Danzig produced. Doyle and Danzig played all instruments on the disc.
Danzig forrmed the Misfits in 1977, and Only joined shortly thereafter. The band broke new ground in melodic punk, and pioneered metallic hardcore with 1983's controversial Earth A.D. album. Only recruited his younger brother Doyle to play guitar in 1980. The two subisdized much of the band's activity by working at their father's New Jersey machine shop, Proedge. Long-running tensions came to a head in 1983, and Danzig disbanded the group.
The band remained an underground sensation. Metallica covered the Misfits' "Last Caress" and "Green Hell" on 1988's Garage Days Re-Revisited EP, sparking interest in the band. Danzig remained busy leading Samhain and later Danzig. Only launched a long legal struggle for rights to the Misfits name.
The two parties settled in 1994. Only reformed the group with Doyle, singer Michale Graves, and drummer Dr. Chud. That lineup recorded two new records: 1997's American Psycho and 1999's Famous Monsters. In 2000, Doyle left the band, walking offstage during a concert. Graves and Chud followed suit shortly after. Only continued the group as a three-piece, fronting a lineup of ex-Black Flag singer-guitarist Dez Cadena and former 'Fits/Black Flag drummer Robo.
Over the years, rumors swirled that Danzig would reunite with his former bandmates, but the singer always venomously denounced them.
At the time of 2005's Blackest of the Black tour, Danzig declared, "This is the closest to a Misfits renunion you're going to see."
Gorgeous Frankenstein takes its name from Doyle and his wife, former WWE/WCW/ECW wrestler Gorgeous George. She doesn't play on the record, but performs live with the group on its current tour.
"She was a featured [dancer], and I used to be her stripper tech," Doyle told Scene. "I [would] watch her dance to Marilyn Manson and Rob Zombie and Pantera, and she was great at it. Everyone was like, 'If this was a rock band and if she was in it, I would really fuckin' like this.' Everybody likes to watch strippers, so we might as well have one while we're rockin'."